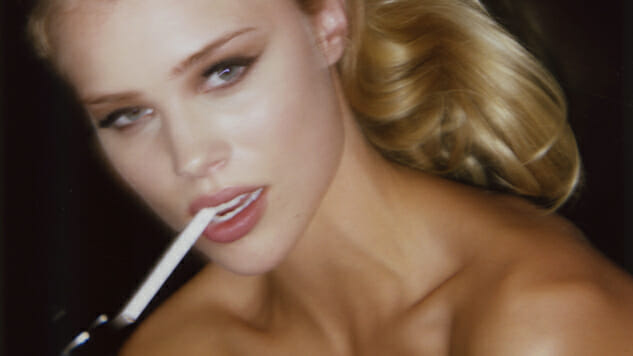 With his provocative works often finding their way to gallery walls and the collections of art connoisseurs, photographer Jonathan Leder stands out in today's contemporary art world. Leder told Paste his goal is to explore the female form, in a more modern way than Egon Schiele and more natural way than Alberto Vargas. He stays away from harsher terminology, such as the word 'erotica', to describe his work. One of his bigger projects a few years ago was starting a pornographic magazine, Jaques, but he insists the print magazine aimed for an Americana old-school feel rather than hyper-sexualized format.
Although Leder began his photography career in fashion, he says his career truly began in 2012 when he began experimenting with the works included in his current show, Polaroids. He loves living with his works for five to ten years before showing them in a formal setting. The 120 intimate photos currently on display have rarely been seen in public.
Leder's process is less conventional than most photographers and he confides that he works more slowly than others. The act of shooting, that technical process of photographing is not what drives him. Instead Leder told Paste he is chasing an end result, content on focusing on what the photo itself will create. Leder became a fan of (basically extinct) polaroid film when he first moved upstate where a photo lab wasn't just a subway ride away. He's drawn to the fact that there are finite number of photos possible and enjoys the instant gratification of seeing the results of each shoot right away.
There is an obsession today with the minutia of technique in shooting with digital cameras. Polaroid film, on the other hand, encourages an intimacy and spontaneity that Leder explores in honest detail. There is intention behind his work and a mission to fill a current void of the art world, where many female form artworks fall into one of two boxes: high-fashion or highly abstract.
Leder is inspired by photographers like Bruce Weber, Annie Lebo, Ellen and Diane Arbus. He feels that as a photographer it takes life experience to really be able to create good picture (with some exceptions, he notes). His advice to young photographers? "Live your life and then come back to it in ten years, you can't really force it."
Like many contemporary nude photographers, Leder has faced controversy over several of the images included in his Polaroids exhibition. One of the models featured, Emily Ratajkowski, shot a series of graphic NSFW nudes with Leder when she was starting her career several years ago. Her agent at Ford Models reportedly signed a release granting rights in a future book of polaroids. Ratajkowski, who often poses fully nude for modeling shots, argues that Leder is not letting her have a say in when and how she wants to display her sexuality.
Leder told Paste that he was able to capture a completely different side of Ratajkowski than what she normally chooses to show and hoped that she would be on board with the exhibition. Due to Ms. Ratajkowski's objections, Paste is declining to share promotional images with readers. The images are widely available on the Internet or you can view all of Jonathan Leder's Polaroids for yourself at Castor Gallery at 254 Broome St in NYC until February 26th.
---
Carolina Mesarina is a regular Paste Arts contributor.