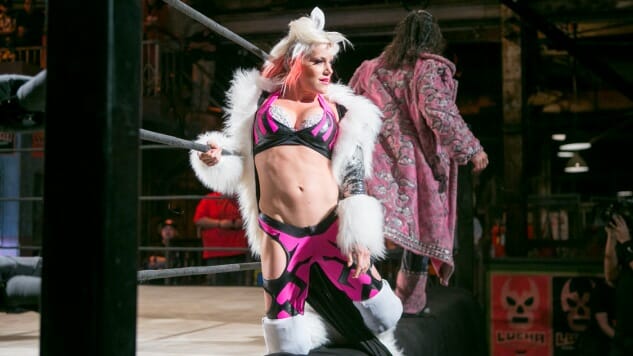 Taya has done a little bit of everything.
Even before establishing herself as one of Lucha Underground's top stars, Taya was making a name for herself across the world. A trained dancer and a fitness competition champion, Taya's charisma and athletic skill make her the kind of natural star whose rise to prominence seems almost inevitable, with her turn as one of Lucha Underground's top rudas less a break-out role and more a natural next step in an impressive career. Both driven, charming and relentlessly chasing out new opportunities, Taya Valkyrie the indy wrestler and Taya of Worldwide Underground are two sides of the same coin.
But despite gladly seizing a trios championship opportunity and embarking on a new career as Johnny Mundo's personal documentarian, Taya's presence in recent episodes of season three has been sorely lacking. As the show gears up for tonight's midseason return, what's in store for the multitalented Taya?
"My character has so much more going on in the second half of season three than I did in the first half, so don't worry!" she says. "You'll get your fix of wera loca [colloquially, "crazy white girl" in Spanish] all over the second half of season three. You can expect lots more intergender matches that are some of my favorites for the season, and a crazy finale that will be talked about I'm sure for a long time. Obviously the first half of season three I'm working on the documentary of Johnny Mundo, so you can wait to see the final production of my fine directing debut, I guess you could say."
Taya has embraced her were loca status with a passion that's made her one of the top heels in Lucha Underground and her "home base" promotion in Mexico, AAA, where she recently defeated Ayako Hamada to become a two-time Reina de Reinas Champion. Despite her successes outside the Temple, though, Valkyrie is looking forward to the return of the show and already casting a long eye to the show's future. "Taya's a character that is just growing indefinitely and I am so ready to keep going with what's been going on in Lucha Underground. And I'm very excited to even start season four because I've grown so much as a character and performer over that time. I'm really excited for what the next few months have to offer."
Lucha Underground already stands out amongst its televised American wrestling peers as a rare promotion fully steeped in the traditions of Mexican lucha libre. As something closer to a wrestling telenovela than a regular episode of Monday Night Raw, El Rey's foray into the world of professional wrestling offers its own brand of, to borrow a phrase from proprietor Dario Cueto, "unique opportunities" to explore characters and storylines not traditionally found in the wrestling scene.
"I mean, the first day that I got to the temple, it was like an 'ah ha' moment because I just had worked so hard to get there and it was so different even from working with AAA," Taya says. "AAA is the more traditional structured wrestling program with the traditional backstage vignettes and the traditional calling out your opponents and all that kind of stuff. Underground really pushes the boundaries of the definition of what a wrestling show is, and that's why we really do call ourselves—we're a tv show, we're not a wrestling show.
"I think it's so cool because now the character development is so much more intense, and people just get so much more wrapped up in where people start. Like for example, the story of Aerostar, or how Drago came about, or Catrina or Mil Muertes, even Taya and Johnny Mundo, you know, because the vignettes explain so much more about us in depth as characters. So I think it's really, really cool."
Since her introduction as an accomplice to Johnny Mundo's underhanded antics in the Temple in season two, Taya's role has expanded to playing his second-in-command in Lucha Underground's biggest heel faction, Worldwide Underground. With Mundo single-mindedly focused on winning singles gold this season, Taya even seizes the opportunity to lead Jack Evans and PJ Black into battle for the Trios championship in a match that highlights the dysfunctional charm of their Temple family.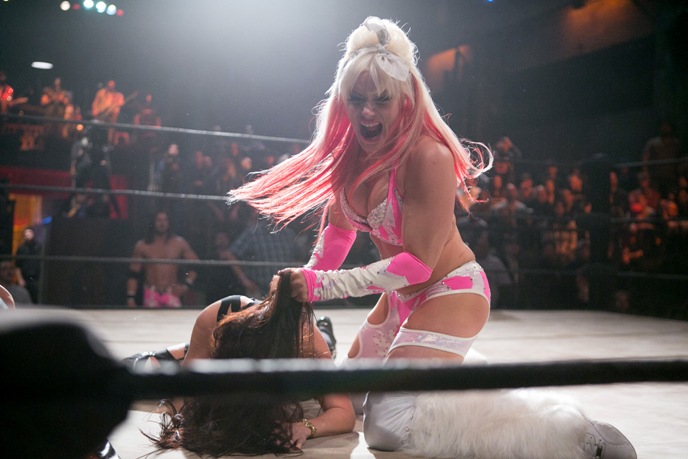 "As you can see most of the time I'm 'wrangling my children,' as I like to say," Taya jokes. "I can't remember what match it was—it was PJ and Jack and they're both misbehaving and I was getting mad. It's awesome!"
As for being one of the Temple's biggest non-supernatural villains, "I've been a heel, a 'ruda' for many years now, and I think it's interesting because people just love to hate us," she says. "And I love that, you know, it's such a cool dynamic. It's so fun. Being a bad guy is fun! Who doesn't like a good bad guy?
"I'm sure you can remember as a kid, maybe your favorite cartoon character was a bad guy, or your favorite Disney movies—I was always a fan of these villainous evil queens and all this kind of craziness going on because I like that. Or Joker, or Catwoman, any of these characters, you know. I think it's cool to be that lovable bad guy. Every time the writers would say oh, the fans are really starting to like her, I would do something horrible so they hate me once again. It's a really fun dynamic and I love playing around with it."
And are there any other villains in the Temple—or outside of it—that Taya would like to see brought into the Worldwide Underground fold? With a good-natured laugh, Taya offers a straightforward answer: "Honestly, I think we're fine."
"I love me some PJ, some Jack, and some Johnny Mundo. I think that we have such a good group, the four of us together. We complement each other so well, we're so different at the same time, every single one of us. There's not—you know, Jack is a complete thing and acts completely different than John does and vice versa. I can't really think of anyone off the top of my head that I think would be a good fit because … why fix something that's not broken? So I'll keep us the way we are."
The world of pro wrestling can be surprisingly small, and a long professional history together meant Worldwide Underground's natural chemistry together on camera was an easy transition from the work they'd done together throughout the years.
"I can't even remember the first time we shot as Worldwide Underground," Taya says, when asked how difficult it was to fall into their campy, villainous dynamic. "I've been working with Jack for five years in Mexico, in AAA all the time, and I met John over the course of seven years on different occasions, and PJ as well. We all kind of knew each other, and we all had such great chemistry, and we all had so many ideas.
"So when I first like, got together, they were, 'ok, so what about this?' And we all shot these millions of ideas off each other and we all slowly fell into our positions. And it just works. It just—when you have four people with four different careers coming from four different backgrounds, wrestling four different kinds of styles, and four different ideas, it's gonna make magic, or it's gonna make chaos. And I think that we're making a nice mix of the two. We keep it interesting."
But for all the insight Taya is able to provide about herding the cats of Worldwide Underground on a weekly basis, she couldn't offer any secrets about whether or not Taya, PJ Black, and Jack Evans will try to engage in their usual brand of magical chaos on Johnny Mundo's behalf in his championship match against The Mack tonight. "I can't tell you anything! You'll have to tune in on May 31 and check and see what happens."
---
Lucha Underground returns to El Rey Network on Wednesday, May 31st at 8 PM ET, and is available on Amazon and iTunes.
C.K. Stewart is a freelance writer with a lot of opinions about comics, wrestling and wrestling comics. He can also be found at Newsarama or livetweeting terrible pay-per-views on Twitter @ckayfabe.