New Japan's American Expansion Hinges on Cody Rhodes
Main image by Karen Tran / AXS TV; photo courtesy of NJPW/AXS TV
Wrestling
Features
New Japan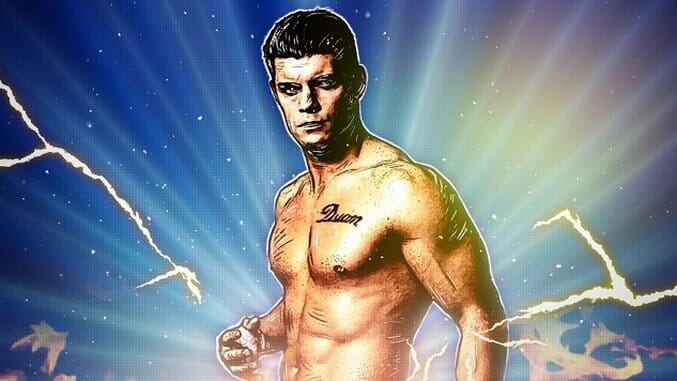 When New Japan's first shows in America were announced back in January, nobody expected Cody Rhodes to be in the main event. Rhodes had just debuted for New Japan at that January show, Wrestle Kingdom 11, and although a major push could have been predicted, based on both his own abilities and renown and the legacy of his father, it was unthinkable at the time that New Japan would launch its expansion into America with a wrestler most familiar to American viewers as a long-time WWE midcarder.
A lot has happened in the last six months, though. Rhodes quickly established himself as one of the leaders of the Bullet Club, a stable that continues to grow in popularity in America. He remains one of the busiest wrestlers on the independent scene, main eventing for promotions throughout the world every week. He's become a centerpiece of Ring of Honor, wrestling in one of the best matches on their huge Wrestlemania weekend show. And in a development that makes this weekend's match-up with IWGP Heavyweight Champion Kazuchika Okada even more intriguing, just last week Rhodes won the ROH World Championship at the Best in the World pay per view. It's incredibly rare for the world champions of two different promotions to go head to head, but that's exactly what'll happen in the main event of tomorrow's G1 Special in USA, which will be airing live on AXS TV in America.
Despite his success, and despite being effectively turned face by a raucous Bullet Club-loving crowd at last week's ROH pay per view, Rhodes (who, due to a dispute with WWE surrounding his family's fictional last name, wrestles solely as Cody, with no last name) is one of the most controversial wrestlers working today. There's a contingent of fans who strongly dislike his work, his persona and the amount of attention he gets. Many resent that he's in the main event of New Japan's first American show instead of a wrestler more traditionally associated with the promotion, like Tetsuya Naito, Hiroshi Tanahashi or Kenny Omega. Some fans still see him as that midcard hand who didn't deserve to get pushed any harder in WWE.
On a conference call with wrestling media earlier this week, Cody acknowledged the controversy over his main event with Okada, and his vocal critics within the wrestling audience. From when the ground was first being laid for his match-up with Okada, when Cody memorably spat Coors Light in Okada's face after New Japan's Dominion show in Osaka in June, "the wrestling fan base was polarized," Cody said on the conference call. "The idea that, 'no no no, you can't do the ex-WWE guy and the pure New Japan guy,' or, 'you know what, Cody has proved me wrong left and right and central, and I'm all about this, I want to see what Cody brings in his first New Japan Pro Wrestling main event.' Or 'we're not getting Kenny/Okada III? My gosh, I want my ticket refunded.' It created just this absolute storm, just a buzz, a total maelstrom of discussion."
The title of Eric Bischoff's memoir is a cliché, but often a true one: controversy creates cash. Cody, the son of one of the best wrestlers and bookers ever, realizes that. "I don't mean to get all promoter-y or carnie or anything like that," he said, "but people forget, Dusty [Rhodes, Cody's father] was a great wrestler and all that, but I remember him more almost as a promoter. I'm a promoter's son. And if ever you have people talking about a main event, 'what do you think about this,' 'I don't get this,' whenever anything starts with that, you just generated a ton of box office. I'm proud of that.
"That's why I like really negative comments about myself on social because I don't care. I'm in the main event and it caused this stir of emotion. I can't focus on that. I have to stand across from this guy and see where I stand, where he stands compared to me and where I stand compared to him. I have to leave it all out there."
Both nights of New Japan's G1 Special in USA sold out before a card was announced, so Cody being in the main event won't impact the actual box office. It can influence the ratings on AXS TV, though, and potentially raise awareness of New Japan among American wrestling fans who recognize Cody from his long stint in WWE. Either way, Cody is being tasked with helping to establish the second largest wrestling promotion in the world in America, and that's not a responsibility he takes lightly.
"I'm all about what this is and what we can make it," he said. "It needs to be more than just polarizing discussion. It needs to be the next day everybody weighing that opinion and essentially saying 'you know what, I'm on board with New Japan Pro Wrestling. If I wasn't, I'm on board. Tell me everything about it, sign me up, tell me where I can watch it.'"
That kind of attention is crucial to New Japan's American ambitions. If enough new fans like what they see this weekend, and sign up for New Japan's streaming service New Japan World or start to watch New Japan on AXS TV regularly, it would make New Japan's rumored plans to open a regular US territory more feasible. That expansion would be the next step for the biggest of the many non-WWE options currently thriving among wrestling's most dedicated fans. As WWE's ratings decline, independent promotions and international companies like New Japan have developed burgeoning cult audiences in America. The hardcore wrestling crowd feels larger and more passionate than it's been in years, and there's more variety in wrestling today than there's been since at least the 1990s. This is a crucial moment in the history of the business, and this weekend's main event between Okada and Cody could go down as one of its focal points.
"What's going to happen on AXS TV and at the G1 special in the USA is going to have massive ramifications, not just for New Japan Pro Wrestling, for the entire industry," Cody stressed on the conference call. "The entire industry is going through this period—everybody keeps waiting for Bash at the Beach and the Attitude Era to begin again, and the boom to start, but that's not how it's happening. It's happening elsewhere. It happened in these independents, it happened in Ring of Honor with what the Young Bucks have been able to do business wise. Pro wrestlers' shirts who don't work for WWE are on the shelves now right next to them and they're moving faster. This is a boom and for wrestling fans this is what we've been waiting for. This is an opportunity to see where New Japan Pro Wrestling and see where myself fits in that boom."
---
New Japan's G1 Special in USA airs live on AXS TV on July 1. It will be posted to NJPW World after July 1. The second night airs live on NJPW World on July 2. Both shows start at 8 PM ET.
Garrett Martin edits Paste's games, comedy and wrestling sections. He's on Twitter @grmartin.