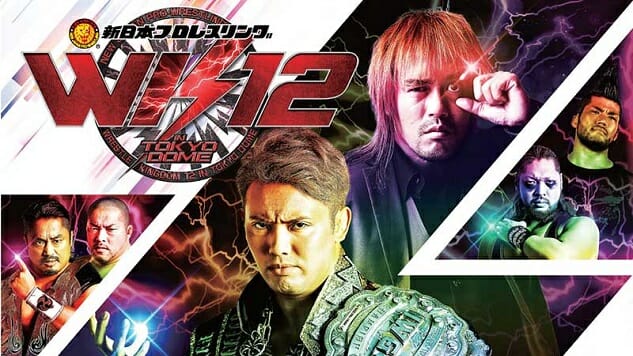 January 4 means only one thing to the world of wrestling: New Japan is about to host its annual megashow Wrestle Kingdom once again. And this year it'll probably be bigger in America than ever before.
Wrestle Kingdom 12 will be broadcast live from the Tokyo Dome, starting at 2 AM ET (11 PM PT), which is 4 PM in Tokyo. You can watch it live on New Japan's streaming site NJPW World, which costs 999 yen a month, which is usually between $8 and $10, depending on the exchange rate. There is an English commentary feed, although if you want the full experience you might want to stick to the Japanese feed.
If your cable package includes AXS TV, you can also watch a three-hour edit of Wrestle Kingdom on Saturday, Jan. 6, at 8 PM ET / 5 PM PT, with commentary from Jim Ross and Josh Barnett.
If you're a wrestling fan, and you aren't familiar with New Japan, you've still got a fire hours to catch up on what might be the best wrestling promotion on the planet right now. If you aren't a wrestling fan, you might be after giving New Japan a shot. If you're wondering why, here's a quick primer on what makes Wrestle Kingdom 12 such an exciting show.
1. Kazuchika Okada is the best pro wrestler in the world
The current IWGP Heavyweight Champion set two major records in 2017: his current reign is the longest in the title's history, and if you add up his four reigns he's held the title for more days than any other wrestler ever. That shows how much trust NJPW has in him and his abilities, which propelled him to what might be the best in-ring year of all time. From his instant classic against Kenny Omega at last year's Wrestle Kingdom and their two titanic rematches, through his fantastic bouts against Minoru Suzuki, Katsuyori Shibata, Kota Ibushi (as Tiger Mask W), EVIL, Sanada, Juice Robinson and more, Okada reeled off great match after great match, encompassing an almost unbelievable diversity of styles. If you asked ten Okada fans what they thought his best match of 2017 was, you might get ten different answers, and all of them would make sense.
---
2. Tetsuya Naito is the coolest pro wrestler in the world
Despite Okada's greatness, he's not the most popular star in New Japan. That would be his Wrestle Kingdom opponent, Tetsuya Naito, the too-cool-for-school leader of Los Ingobernables de Japon. Los Ingobernables began as a stable of rulebreakers in Mexico's CMLL, but Naito's Japanese spin-off has become the biggest thing going among Japanese wrestling fans. Despite his disrespectful attitude, Naito is solidly a good guy to most Japanese fans, a cross between Steve Austin's no-shits-given badass and DX's irreverent rebels. Naito embodies the role perfectly, with his insouciance bleeding through his moves and how he carries himself, while still taking his matches seriously enough for them to feel truly important. Expect the Tokyo Dome to be full of Naito fans tonight, and if he wins, as many expect, you'll probably see one of the most ecstatic wrestling crowds in recent memory.
---
3. Kenny Omega challenges a WWE legend
Kenny Omega, the Canadian daredevil who's spent most of his career working in Japan, is the most popular New Japan wrestler among the promotion's burgeoning Western fan base. (His shirts have been among the best sellers at Hot Topic nationwide for months now.) The leader of the Bullet Club (and the extra-special Bullet Club subsect the Elite) combines acrobatic mastery with almost inhuman conditioning to construct unbelievable matches like his Wrestle Kingdom 11 epic with Okada and his G1 finale against Naito. Add in his acting skills and ability to do promos in both English and Japanese, and you have the ideal crossover star for New Japan's Western expansion. At Wrestle Kingdom he defends his IWGP United States Heavyweight Championship against a shocking opponent: Chris Jericho, the WWE mainstay who returns to New Japan for the first time in two decades at the Dome. Which, uh, brings us to our next point…
---
4. That's right, Chris Jericho will be wrestling for New Japan
Chris Jericho has been a WWE main eventer almost since his debut for the company in 1999, but he's always cared greatly about his reputation outside of the world's largest promotion. He came up through the first wave of post-territorial system indies, with long excursions to Mexico and Japan (where he was a teammate and rival with New Japan's current booker Gedo) before entering the global spotlight with WCW in 1996, and he's always been very proud of that wide-ranging background. He's been exclusively associated with WWE since 1999, but he's always been smart about the business, knowing how to keep himself fresh as a character and (mostly) in good graces with the kind of diehard wrestling fans who pay attention to the indies and the international scene. He clearly realizes how hot New Japan is in America right now, and hopes to reinvigorate his career once more by wrestling its biggest Western star at its biggest show of the year. He'll raise the show's profile among Western fans, and in return a bit of the coolness associated with New Japan and Kenny Omega will hopefully rub off on him. The 47-year-old Jericho might not be able to match up to the 34-year-old Omega's speed, conditioning and athleticism, but he's a canny performer who knows how to construct a good match regardless of how far he is from his peak physical abilities. The two should have a good, high-impact brawl, and the finish will be a fascinating tip off of Jericho's future plans. Will he stick around New Japan beyond this one match, and potentially upset Omega? Or will he return to WWE with his credibility boosted among his core fanbase?
---
5. Jay White is ready to become a top star, with Hiroshi Tanahashi's help
Hiroshi Tanahashi, the current IWGP Intercontinental Champion, has had a career somewhat similar to John Cena's in America. He's been New Japan's top star for most of the 21st century so far, but is now in his early 40s and has effectively ceded his spot to younger stars like Okada and Naito. Despite his age and years of working through a variety of injuries, Tanahashi remains one of the best professional wrestlers in the world, and a massive favorite among the Japanese audience. He'll be defending his title against Jay White, a 25-year-old New Zealander who came up through the New Japan Dojo, excelled as a "young boy" in 2015 and 2016, and then had a successful excursion to Ring of Honor, where he spent over a year challenging the top ROH stars in competitive matches. White returned to New Japan in November as the mysterious Switchblade, attacking Tanahashi and challenging him to a match at Wrestle Kingdom. White is a tremendous in-ring performer but hasn't quite taken the next step in the eyes of the fans; Tanahashi is an ideal opponent for him, as a world class legend who can help establish White as an upper echelon talent with a single match.
---
6. The IWGP Junior Heavyweight four-way match will probably be breathtaking chaos
Will Ospreay and Hiromu Takahashi are state-of-the-art high-flyers who have revolutionized what wrestlers can do inside (and outside) of the ring. Kushida might be the best combination of acrobatics and technical wrestling in the business today. Marty Scurll (the current IWGP Junior Heavyweight Champion) is a top-notch technician (and character) who can have a fine match with almost anybody, and has a long history of fantastic matches with Ospreay. Together these four have the chance to put on an amazing trainwreck display that remains grounded and cohesive by Scurll and Kushida. Any two of these four could unite for a match of the year candidate; throwing all four together might lessen the drama a bit, but as a sheer display of physical recklessness, it should be a hard-to-top spectacle.
---
7. Minoru Suzuki and Hirooki Goto might be able to steal the show
Minoru Suzuki is pushing 50 but remains the most believable and fearsome wrestler in New Japan. I've called him wrestling's Harvey Keitel in the past, due to the complete believability of his no-nonsense tough guy act, contrasted with the stylishness and artistry of his entrance theme and video. Hirooki Goto is an accomplished in-ring performer who has kind of stalled out over the last couple of years—despite being a solid upper midcarder for years, somehow his stock has fallen considerably even as the rest of New Japan has gotten more and more over in America. Suzuki might be better suited than anybody else on the roster to help Goto regain some traction; Goto's perceived toughness is probably his most valuable asset at this point, and he's going against one of the two toughest guys in the company (the toughest, Tomohiro Ishii, is wrestling in a multi-team gauntlet match). Suzuki's MMA-influenced offense is about as realistic as pro wrestling gets, and if Goto survives getting stretched and twisted into pretzels, he could recapture some of the audience's interest. Match stipulations state that the loser will get his head shaved, and also that there can't be any interference, so hopefully Suzuki's Suzuki-gun lackeys don't intervene as much as they often do.
---
8. This guy's going to be there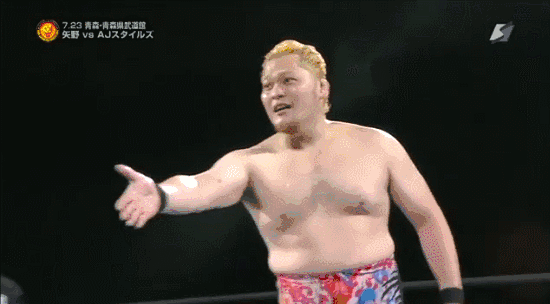 Toru Yano is the best.
---
Garrett Martin edits Paste's games and comedy sections, and used to edit Paste's wrestling section. He's on Twitter @grmartin.