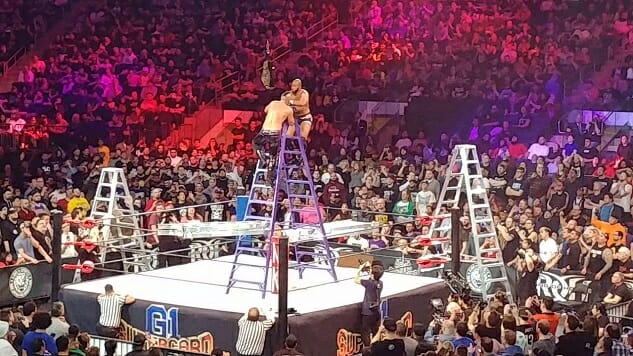 Another Wrestlemania week has come and gone, and as has become tradition, the events surrounding the annual spectacle have become every bit as newsworthy to wrestling fans as the main show itself. Nowhere was that more clear than with Saturday's joint Madison Square Garden show, co-promoted by Ring of Honor and New Japan Pro Wrestling.
For all the controversy and criticism surrounding the G1 Supercard—too many angles, an unwelcome surprise appearance by Enzo and Cass—overall the show was a good time, thanks in no small part to a blow-away main event featuring Kazuchika Okada and Jay White for the IWGP Heavyweight Championship. And the big story was that it happened at all: Non-WWE pro wrestling in MSG is a sight few people thought they'd see anytime soon, thanks to Vince McMahon's stranglehold on the industry.
The G1 Supercard was the next logical step for ROH, as it strives to rise above the fray in an increasingly competitive marketplace. Now comes the hard part: Staying on top.
That competitive marketplace is, of course, the context for all of this. Plenty of words have already been written about wrestling's boom period. Everyone is sure that wrestling hasn't seen this many avenues for success since the days of WCW. But less talked about is what that means for the small and medium-sized companies forced to duke it out for both talent and prestige.
On Friday, I asked Jay Lethal about this point: It was one day before his big ladder match for the Ring of Honor Championship, when he would be climbing that ladder, reaching for the title, as Ring of Honor reached to separate itself from the pack as a top-tier pro wrestling brand. I asked whether there was increased pressure, or an increased urgency on the part of the company. "That spirit of competition has existed throughout wrestling history, and especially throughout Ring of Honor's history," Lethal said. "The boom period's just helping more eyes get on the company."
There's no disputing that point. Business is booming for Ring of Honor, but they're not the only ones: Beyond Wrestling just launched its own weekly show. Major League Wrestling has a Friday night show on BeIn Sports that also streams on YouTube. Each of those is vying for the same eyeballs as the Sinclair-owned ROH.
Then, of course, there's All Elite Wrestling—the company that, it could be argued, started this competition in earnest. Since announcing the formation of AEW, there's been, if not a war, then a friendly skirmish between companies vying for talent. When Cody Rhodes and the Young Bucks put on their All In show in 2018, there was no assumption of a new, billionaire-backed promotion, and certainly not from Ring of Honor's perspective: ROH provided talent and logistics, supplementing a show with wrestlers from New Japan Pro Wrestling and the U.S. independent scene. All In essentially became the pitch product for AEW, and launched what could become the second largest wrestling company in America.
You could understand any sour grapes on ROH's part. But like Lethal, ROH COO Joe Koff dismissed any animosity between companies. "Would I love to have [Cody, the Young Bucks and Adam Page] still in my company? I would. But everybody's gotta do what they gotta do," Koff said. "There's no animosity there. People say, do you think they took advantage of you? I say, they captured the moment that was their moment. I can't fault them for that.
"But I've never really focused on the competition," Koff said. "We focus on what we should be doing. I can't react. If I reacted to every single thing everyone else was doing, I'd be nothing to no one."
Perhaps Koff is right, and all companies could coexist in the wrestling ecosystem. But if there's no bad blood, there's also no sign of cooperation. The AEW announcement sparked a fight for exclusive talent: ROH, having been relieved of the Cody and Young Bucks contracts, have invested that money in top independent talent like Jeff Cobb, Tracy Williams and PCO, along with Mexican stars Bandido and Rush—the latter of whom was forced to pull out of a marquee match against LA Park for Major League Wrestling just this past weekend. MLW replaced Rush with Pentagon Jr., who is likely headed to AEW as part of his deal in Mexico. Joey Janela, the namesake of the popular Joey Janela's Spring Break Wrestlemania weekend shows, was signed by AEW, leaving open the question of whether Spring Break could last for much longer.
Then there's the looming specter of Vince McMahon. If the creation of AEW wasn't a shot across the bow of ROH, certainly the G1 Supercard was a blow to WWE. McMahon, who reportedly tried to exert the company's status as longtime exclusive promoters in the building, ended up getting some surprising pushback from ROH and Sinclair. Declining to balk at the pressure from WWE, Koff said they ultimately sold themselves and New Japan Pro Wrestling as the ones ready and willing to use a building McMahon himself had stopped running in.
"Once it was decided where the other venues were going to be, we said, 'why shouldn't we talk to Madison Square Garden?'" Koff said. "I understand relationships, and I'm not asking you to broach that relationship. But they're not here, and we're available to be here."
With opportunity comes uncertainty. On Saturday, it was showtime. In front of about 16,000 people, a sellout crowd at the world's most famous venue, Lethal didn't grab the gold in his title match in the Garden—he was pushed off that ladder from high, crashed below, and lost his title to Matt Taven. His story as champion came to an end, his fate sealed. It's too soon to see what's next in ROH's story. But for them, at least, the title remains within reach.