From Carrie Brownstein's highly anticipated memoir to Otto Penzler's gigantic collection of Sherlock Holmes stories, this month's new releases are guaranteed to both entertain and captivate you. We've rounded up the 14 books we were most excited to read, including six novels, five nonfiction titles, two short story collections and one poetry book chock full of popular songs turned into sonnets.
Check out our picks below, then leave a comment describing the books you want to read.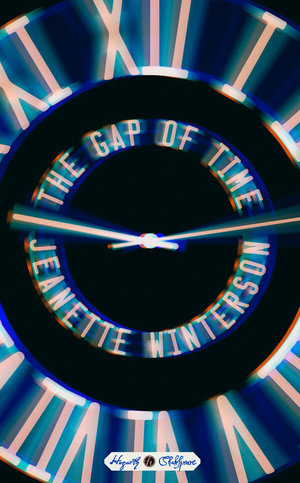 1. The Gap of Time by Jeanette Winterson
Release Date: October 6th from Hogarth
Why You'll Love It: This month celebrates the debut release in the Hogarth Shakespeare series, an international publishing initiative that sees William Shakespeare's plays retold by novelists for a modern audience. Bestselling author Jeanette Winterson kicks off the series with The Gap of Time, her reinvention of Shakespeare's The Winter's Tale that will keep you enthralled from start to finish. —Frannie Jackson
Description: The Winter's Tale is one of Shakespeare's "late plays." It tells the story of a king whose jealousy results in the banishment of his baby daughter and the death of his beautiful wife. His daughter is found and brought up by a shepherd on the Bohemian coast, but through a series of extraordinary events, father and daughter, and eventually mother, are reunited.
In The Gap of Time, we move from London, a city reeling after the 2008 financial crisis, to a storm-ravaged American city called New Bohemia. Her story is one of childhood friendship, money, status, technology and the elliptical nature of time. Written with energy and wit, this is a story of the consuming power of jealousy on the one hand, and redemption and the enduring love of a lost child on the other.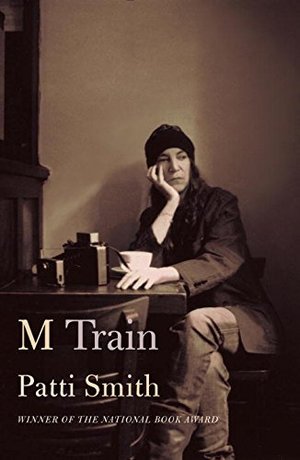 2. M Train by Patti Smith
Release: October 6th from Knopf
Why You'll Love It: There's little risk in picking up Patti Smith's second memoir, M Train, after the accolades that followed Just Kids. Her first book—a memoir on Smith's relationship with artist Robert Mapplethorpe—won a national book award in 2010, when it practically shot to the top spot of required reading for aspiring musicians, artists, writers—really, any creative type. And if early buzz is any indication, including a glowing review from our own Eric Swedlund, Smith has done it again with M Train, another memoir that ruminates on Smith's creative mind through the lens of café houses and the recent loss of her husband, Fred "Sonic" Smith. —Tyler R. Kane
Description: M Train begins in the tiny Greenwich Village café where Smith goes every morning for black coffee, ruminates on the world and writes in her notebook. Through prose that shifts fluidly between dreams and reality, past and present, across a landscape of creative aspirations and inspirations, we travel to Frida Kahlo's Casa Azul in Mexico; to a meeting of an Arctic explorer's society in Berlin; to a ramshackle seaside bungalow in New York's Far Rockaway that Smith acquires just before Hurricane Sandy hits; and to the graves of Genet, Plath, Rimbaud and Mishima.
Woven throughout are reflections on the writer's craft and on artistic creation. Here, too, are singular memories of Smith's life in Michigan and the irremediable loss of her husband, Fred "Sonic" Smith. Braiding despair with hope and consolation, illustrated with her signature Polaroids, M Train is a meditation on travel, detective shows, literature and coffee.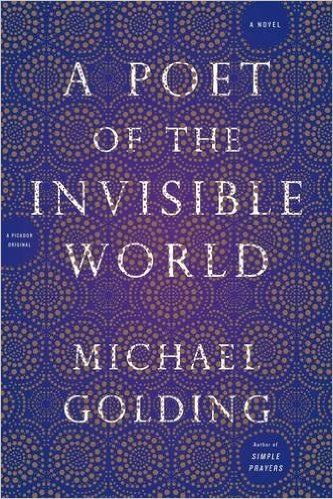 3. A Poet of the Invisible World by Michael Golding
Release Date: October 6th from Picador
Why You'll Love It: A conversation with Michael Golding is as mystical and lyrical as his new novel, A Poet of the Invisible Word. The book follows Nouri through his entire life within 13th-century Islamic culture, seeking to understand himself and the world around him through religion, sensual pleasure, poetry and love. With this story, Golding delivers a character-driven narrative possessing some of this year's most captivating prose. —Mack Hayden
Description: In the tradition of Siddhartha by Hermann Hesse comes a new spiritual novel that is a stunning feat of storytelling and imagination. A Poet of the Invisible World follows a boy named Nouri, born in 13th-century Persia, with four ears instead of two. Orphaned as an infant, he's taken into a Sufi order, where he meets an assortment of dervishes and is placed upon a path toward spiritual awakening. As he stumbles from one painful experience to the next, he grows into manhood. Each trial he endures shatters another obstacle within—and leads Nouri on toward transcendence.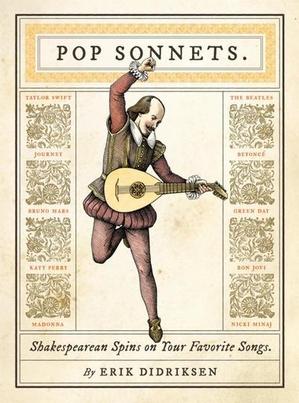 4. Pop Sonnets by Erik Didriksen
Release Date: October 6th from Quirk Books
Why You'll Love It: Every Thursday since April of 2014, Erik Didriksen has published a sonnet based on a popular song. Described as "old twists on new tunes," Didriksen's greatest hits now grace the pages of Pop Sonnets: Shakespearean Spins on Your Favorite Songs. This is a must-have for literary buffs and music fans alike. —Frannie Jackson
Description: The Bard meets the Backstreet Boys in Pop Sonnets, a collection of 100 classic pop songs reimagined as Shakespearean sonnets. All of your favorite artists are represented in these pages—from Bon Jovi and Green Day to Miley Cyrus, Beyoncé and beyond. More than half of these pop sonnets are exclusive to this collection.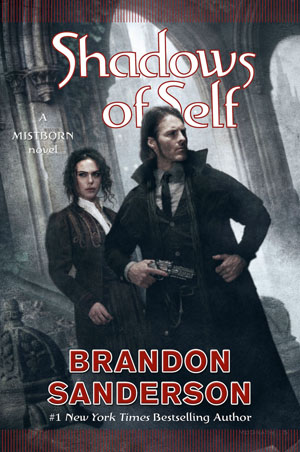 5. Shadows of Self by Brandon Sanderson
Release Date: October 6th from Tor Books
Why You'll Love It: Shadows of Self is the eagerly anticipated sequel to The Alloy of Law, Brandon Sanderson's thrilling Mistborn novel set in a period resembling late 19th-century America. You'll want to join Wax and Wayne on another adventure in this brilliant story from one of today's best fantasy writers. —Frannie Jackson
Description: Shadows of Self shows Mistborn's society evolving as technology and magic mix, the economy grows, democracy contends with corruption and religion becomes a growing cultural force, with four faiths competing for converts.
This bustling, optimistic, but still shaky society now faces its first instance of terrorism, crimes intended to stir up labor strife and religious conflict. Wax and Wayne, assisted by the lovely, brilliant Marasi, must unravel the conspiracy before civil strife stops Scadrial's progress in its tracks.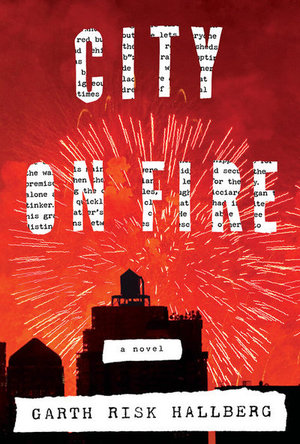 6. City on Fire by Garth Risk Hallberg
Release Date: October 13th from Knopf
Why You'll Love It: Garth Risk Hallberg has written, on his first real attempt (he authored an experimental novella titled "Field Guide to the North American Family"), a great American novel. Here is a story in which the plot is the rhythm section, not the melody. A story that stays clear of labored explanations and a forced climax, focusing on individuality, fear and people trying to survive in an American city. Hallberg's City on Fire is ultimately a resolute and powerful read. —Mark Eleveld
Description: New York City, 1976. Meet Regan and William Hamilton-Sweeney, estranged heirs to one of the city's great fortunes; Keith and Mercer, the men who, for better or worse, love them; Charlie and Samantha, two suburban teenagers seduced by downtown's punk scene; an obsessive magazine reporter and his idealistic neighbor—and the detective trying to figure out what any of them have to do with a shooting in Central Park on New Year's Eve.
The mystery, as it reverberates through families, friendships and the corridors of power, will open up even the loneliest-seeming corners of the crowded city. And when the blackout of July 13, 1977 plunges this world into darkness, each of these lives will be changed forever.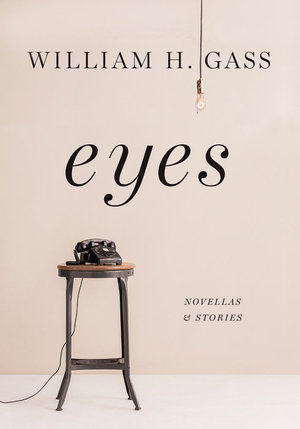 7. Eyes: Novellas and Stories by William H. Gass
Release: October 13th from Knopf
Why You'll Love It: William H. Gass is a trickster tour guide, and his many unreliable narrators in Eyes demonstrate uniquely varied hues of his own proclivities towards wordplay. Actually, with Gass, let's not call it mere wordplay: it's something more like the meticulous scalpel used in reconstructive surgery, as if he's using each onomatopoeic feature of each syllable as he slices it toward the page. Yet he also can bum-rush the reader with his words with the wilder whip of an abstractionist, a paint-happy surrealist. He wrings the words of their oozy essence and heaves them—like wriggling largemouth bass in an open-air market—till they splash up against the canvas of his typed pages. You can read some novels (or novellas) for escapism, but like the chilled autumn breezes that we'll all be feeling each morning this month, this is the kind of bracing writing that makes you feel more alive. —Jeff Milo
Description: It begins with "In Camera," the first of the two novellas, and tells the story, which grows darker and dustier by the speck, of a Mr. Gab (who doesn't have the gift) and his photography shop (in a part of town so drab even robbers wouldn't visit), an inner sanctum where little happens beyond the fulsome, deep reverence for Mr. Gab's images . . . until a Mr. Stu enters the shop, and Mr. Gab's meticulously contained universe begins to implode . . .
In the story "Don't Even Try, Sam," the upright piano from the 1942 Warner Bros. classic Casablanca is interviewed ("I know why you want to talk to me," the piano says. "It's because everybody else is dead."). In "Charity," a young lawyer, whose business it is to keep hospital equipment honestly produced, offers a simple gift and is brought to the ambiguous heart of charity itself. In "Soliloquy for a Chair," a folding chair does just that—talks in a barbershop that is ultimately bombed . . . and in "The Toy Chest," Disney-like creatures take on human roles and live in an atmosphere of a child's imagination.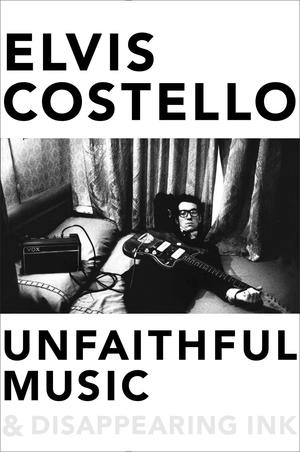 8. Unfaithful Music & Disappearing Ink by Elvis Costello
Release: October 13th from Blue Rider Press
Why You'll Love It: Good grief is October the month for music memoirs. First we were gifted with Patti Smith's excellent M Train; next week we get Carrie Brownstein's spectacular Hunger Makes Me a Modern Girl. And while the subject of this memoir isn't quite as beloved as Brownstein on comedy TV, he's equally dazzling as a bandleader. Elvis Costello's Unfaithful Music & Disappearing Ink should need little introduction for serious music fans. The man's wiry, upstroked attack defined a generation of listeners, and this hefty read promises a thorough projection of Costello's world through his own sturdy, horn-rimmed specs. —Tyler R. Kane
Description: This memoir, written entirely by Costello, offers his unique view of his unlikely and sometimes comical rise to international success, with diversions through the previously undocumented emotional foundations of some of his best-known songs and the hits of tomorrow. It features many stories and observations about his renowned cowriters and co-conspirators, though Costello also pauses along the way for considerations of the less appealing side of fame.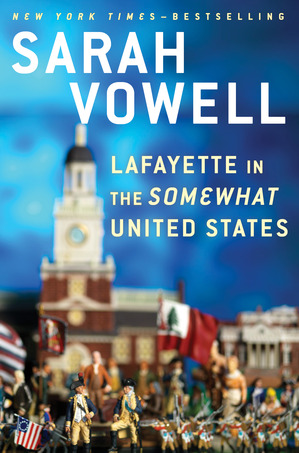 9. Lafayette in the Somewhat United States by Sarah Vowell
Release Date: October 20th from Riverhead Books
Why You'll Love It: Sarah Vowell is to history books what the Freakonomics guys are to economics. She takes the tedious subject that bored so many in high school and enlivens it with humor, personality and enthusiasm. Her new book, Lafayette in the Somewhat United States, focuses on French teenager the Marquis de Lafayette, who most of us know had a hand in the American War for Independence (even if we're unsure of his actual contribution to the American path to victory). Dive into the book, and you'll discover that Vowell as good at offering facts as she is at making sure you'll retain them by telling the story in the most fascinating way possible. —Mack Hayden
Description: Drawn to the patriots' war out of a lust for glory, Enlightenment ideas and the traditional French hatred for the British, young Lafayette crossed the Atlantic expecting to join forces with an undivided people. Instead, he encountered fault lines between the Continental Congress and the Continental Army and discovered a conspiracy to fire George Washington, the one man holding together the rickety, seemingly doomed patriot cause.
Chronicling General Lafayette's years in Washington's army, Vowell reflects on the ideals of the American Revolution versus the reality of the Revolutionary War. Vowell, riding shotgun with Lafayette, swerves from the high-minded debates of Independence Hall to the frozen wasteland of Valley Forge, from bloody battlefields to the Palace of Versailles, bumping into John Adams, Thomas Jefferson, Lord Cornwallis, Benjamin Franklin, Marie Antoinette and various kings, Quakers and redcoats along the way.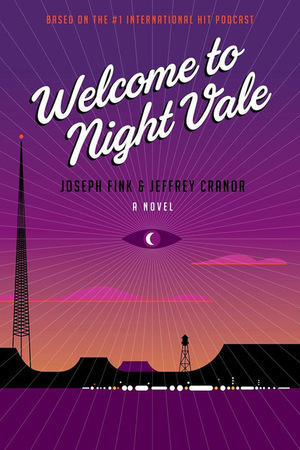 10. Welcome to Night Vale by Joseph Fink and Jeffrey Cranor
Release Date: October 20th from Harper Perennial
Why You'll Love It: Welcome to Night Vale is proof that compelling storytelling can triumph in any medium. The podcast—presented as a faux radio show from the fictional desert town of Night Vale—reached the #1 spot on iTunes only a year after its inception in 2012. Its success has everything to do with the witty and endlessly creative storytelling capabilities of its creators, Joseph Fink and Jeffrey Cranor, who have constructed a world described as "Lake Wobegon as written by Stephen King." This week marks the release of the first novel set in the Night Vale community, a brand new story that's as eerie and entertaining as the podcast of the same name. —Mack Hayden
Description: Located in a nameless desert somewhere in the great American Southwest, Night Vale is a small town where ghosts, angels, aliens and government conspiracies are all commonplace parts of everyday life. It is here that the lives of two women, with two mysteries, will converge.
Nineteen-year-old Night Vale pawn shop owner Jackie Fierro is given a paper marked "KING CITY" by a mysterious man in a tan jacket holding a deer skin suitcase. Everything about him and his paper unsettles her, especially the fact that she can't seem to get the paper to leave her hand, and that no one who meets this man can remember anything about him. Jackie is determined to uncover the mystery of King City and the man in the tan jacket before she herself unravels.
Night Vale PTA treasurer Diane Crayton's son, Josh, is moody and also a shape shifter. And lately Diane's started to see her son's father everywhere she goes, looking the same as the day he left years earlier, when they were both teenagers. Josh, looking different every time Diane sees him, shows a stronger and stronger interest in his estranged father, leading to a disaster Diane can see coming, even as she is helpless to prevent it.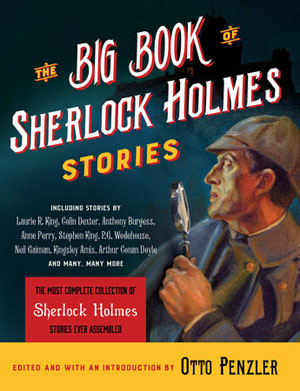 11. The Big Book of Sherlock Holmes Stories edited by Otto Penzler
Release Date: October 27th from Vintage Crime
Why You'll Love It: It's a really BIG book of Sherlock Holmes stories. If that's not enough to entice you, then you don't deserve the hours of entertainment this hefty tome will provide. —Frannie Jackson
Description: Arguably no other character in history has been so enduringly popular as Sherlock Holmes. From his first appearance, in Arthur Conan Doyle's 1887 novella A Study in Scarlet, readers have loved reading about him—and writers have loved writing about him. Here, Otto Penzler collects 83 wonderful stories about Holmes and Dr. John Watson, the majority of which will be new to readers. Among these pages are tales by acclaimed Sherlockians Leslie S. Klinger, Laurie R. King, Lyndsay Faye and Daniel Stashower; pastiches by literary luminaries both classic (Kenneth Millar, P. G. Wodehouse, Dorothy B. Hughes) and current (Anne Perry, Stephen King, Neil Gaiman); and parodies by Conan Doyle's contemporaries James M. Barrie, O. Henry and August Derleth.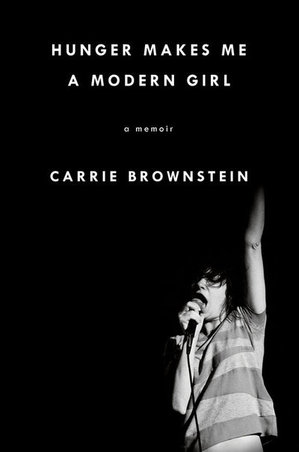 12. Hunger Makes Me a Modern Girl by Carrie Brownstein
Release: October 27th from Riverhead Books
Why You'll Love It: I'm almost a third of my way through Carrie Brownstein's memoir, Hunger Makes Me a Modern Girl, and I'm ready to declare this mandatory reading for music fans. The book is an addicting, readable take on Brownstein's story, which sets the stage not only for her work as an innovative guitarist and voice behind Sleater-Kinney, but as the born-natural artist and entertainer we'd later see on Portlandia. It's a piece rooted in nostalgia for fans who were there with Brownstein through her mid-'90s rise, but it's hard to imagine that any zine or rock rag profile scraped the surface on the depth within: from the departure of her mother, who struggled with an eating disorder in Brownstein's formative years, to her father contemplating his own sexuality, to her own sexual self-discovery. Like the band that pulled Brownstein toward the public eye, Hunger Makes Me a Modern Girl is a piece of art that's elevated by its individual pieces, and Brownstein's stray observations build up to one dimed-out roar of a statement on art, love, family, community and fame. Highly, highly recommended. —Tyler R. Kane
Description: Before Carrie Brownstein became a music icon, she was a young girl growing up in the Pacific Northwest just as it was becoming the setting for one the most important movements in rock history. Seeking a sense of home and identity, she would discover both while moving from spectator to creator in experiencing the power and mystery of a live performance. With Sleater-Kinney, Brownstein and her bandmates rose to prominence in the burgeoning underground feminist punk-rock movement that would define music and pop culture in the 1990s. They would be cited as "America's best rock band" by legendary music critic Greil Marcus for their defiant, exuberant brand of punk that resisted labels and limitations, and redefined notions of gender in rock.
Hunger Makes Me A Modern Girl is an intimate and revealing narrative of Brownstein's escape from a turbulent family life into a world where music was the means toward self-invention, community and rescue. Along the way, she chronicles the excitement and contradictions within the era's flourishing and fiercely independent music subculture, including experiences that sowed the seeds for the observational satire of the popular television series Portlandia years later.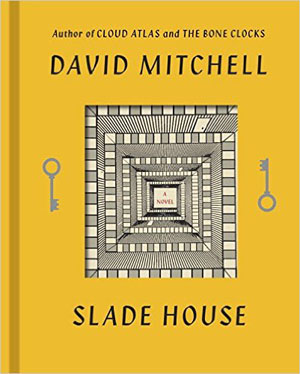 13. Slade House by David Mitchell
Release Date: October 27th from Random House
Why You'll Love It: David Mitchell is known for writing novels infamous for their complexity and layered storytelling—just look at Cloud Atlas and The Bone Clocks. With Slade House, he returns with an intricately narrated tale that will haunt you long after you've closed the book. Beware, readers, this chilling novel is more than it appears. —Frannie Jackson
Description: Down the road from a working-class British pub, along the brick wall of a narrow alley, if the conditions are exactly right, you'll find the entrance to Slade House. A stranger will greet you by name and invite you inside. At first, you won't want to leave. Later, you'll find that you can't. Every nine years, the house's residents—an odd brother and sister—extend a unique invitation to someone who's different or lonely: a precocious teenager, a recently divorced policeman, a shy college student. But what really goes on inside Slade House? For those who find out, it's already too late. . . .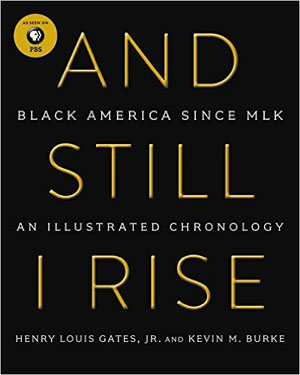 14. And Still I Rise: Black America Since MLK by Henry Louis Gates, Jr. and Kevin M. Burke
Release Date: October 27th from Ecco
Why You'll Love It: A companion book to the upcoming PBS series of the same name, And Still I Rise is a stunningly comprehensive look at the last 60 years of African American history. Including over 350 photographs, this chronology is an essential read for the modern American. —Frannie Jackson
Description: Beginning with the assassination of Malcolm X in February 1965, And Still I Rise explores the last half-century of the African American experience. More than 50 years after the passage of the Civil Rights Act and the birth of Black Power, the United States has both a black president and black CEOs running Fortune 500 companies—and a large black underclass beset by persistent poverty, inadequate education and an epidemic of incarceration. Harvard professor and scholar Henry Louis Gates, Jr. raises disturbing and vital questions about this dichotomy. How did the African American community end up encompassing such profound contradictions? And what will "the black community" mean tomorrow?