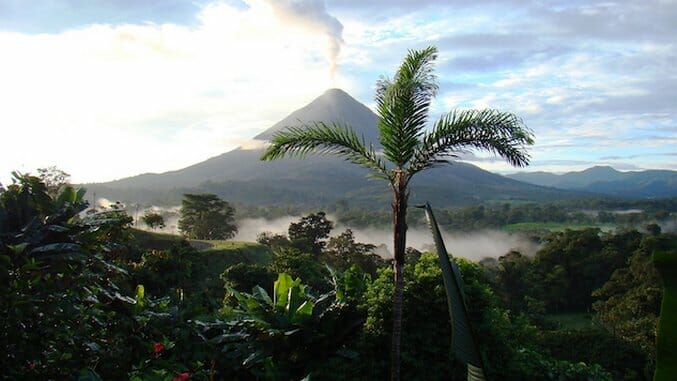 Arenal Backpackers Resort could not have picked a more accurate name, as the hostel falls somewhere between a backpacker retreat and a bare-bones resort.
Whether you're looking for a place to slum it in a hammock with fellow vagabonds, a fluffy pillow to rest your head on after a day of hiking, or a pristine pool to lounge in while sipping a frozen cocktail, this hostel is the best there is in La Fortuna.
First Impressions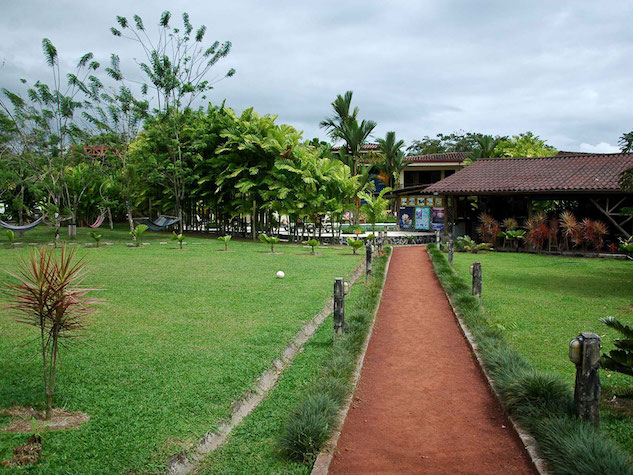 Photo courtesy of Arenal Backpackers Resort
A line of perfectly trimmed palm trees marks your arrival at the hostel. Arenal Backpackers Resort quite literally puts safety first with a massive gate serving as the entrance. It may not be the prettiest first impression, but wouldn't you rather feel secure?
Upon entering, however, you're transported from the gritty city to what you imagined Costa Rica would be like. The property's large manicured gardens roll themselves out to you and the landscaped path is like a welcoming red carpet.
The hammocks with views of the Arenal Volcano will tempt your tired traveler legs, so feel free to take a swing before checking in.
In the wall-less reception area surrounded by palm trees, there isn't much between the stone-tiled floor and the roof made of what looks like freshly cut wood, just a few tables for munching on snacks served from the window to the right of reception. At night, the area is used for socializing.
Behind the reception desk that flanks the space is the game changer, ranking this cheap accommodation above the rest: Arenal Backpacker's sparkling oversized pool. And yes, it's clean—totally uncharacteristic for a hostel. If the hammocks haven't won your heart, the palm-covered pool surrounded by chaise lounges will.
Get your keycard and follow the path past the Internet room to your quarters—either a dorm, a private suite or, if you're daring, a tent.
The Room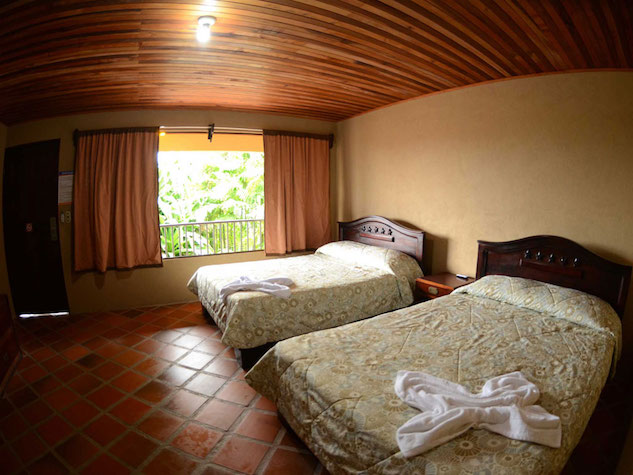 Photo courtesy of Arenal Backpackers Resort
Like most hostels, the rooms are pretty bare. But unlike most, they all have private bathrooms and air conditioning—even the dorms, which are available as all female or all male.
Make yourself comfortable in the iron bunk beds and open up the massive windows to stay connected to Costa Rica's pura vida.
If you want a little more character—and privacy—opt for a private room. You'll sleep in a wood bed frame (which we can only imagine was crafted nearby) with carved details, and under tackily patterned comforters.
If you want a more rugged experience, check into one of their tents. At times when young revelers aren't enjoying drinks in reception or splashing about in the pool, it's almost calm enough to feel like you're actually camping in the jungle—minus the double bed, lights and power outlets.
What Pops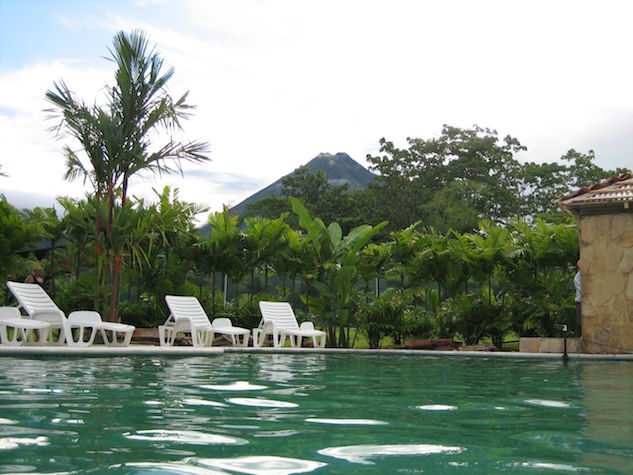 Photo by The Energy/Flickr, CC BY-NC-ND
The location of this hostel is what sets it apart from others in the area. You'll never forget those moments you spend swaying in the hammock at the foot of a volcano, staring up at the beast towering in front of you. Wherever you are on the property, Arenal follows you, like the moon, and you definitely won't mind. In addition to the view, the service—more resort than hostel—surpasses expectations. The staff will help you plan and find anything, from volcano hikes to a random rope swing in the jungle.
The Locale
Located right off La Fortuna's major thoroughfare, the center of town—where you'll find everything from tacky tropical-themed restaurants to stalls selling handicrafts—is within walking distance. The property is a quick drive from various sights like the volcano and nearby hot springs.
Maggie Parker is Paste's assistant travel editor.