Robert Smith Confirms The Cure Have Finished Recording Their New Album
Photo by Mark Metcalfe/Getty
Music
News
The Cure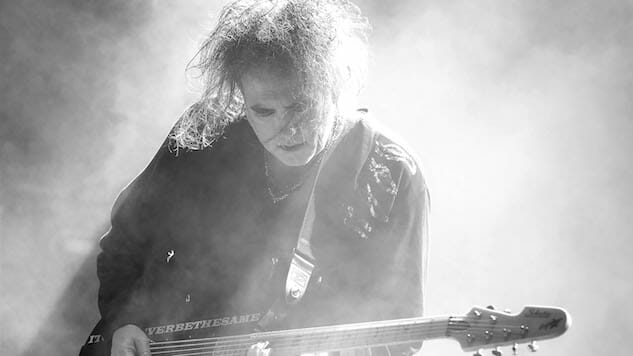 Robert Smith has confirmed that The Cure have finished recording their first new album in more than 10 years. The band's frontman and principal songwriter broke the news during an appearance on The John Maytham Show on the Cape Town radio program Cape Talk. Smith said that he's "still doing this for the right reasons" and feels that while the forthcoming album might explore some new directions for the band, "because it's us doing it, it sounds like us."
The Cure are one of the most beloved and critically acclaimed bands of the new-wave era. They received worldwide commercial success in the late 1980s after more than ten years as a band with the albums Kiss Me, Kiss Me, Kiss Me and Disintegration, which together featured hits like "Just Like Heaven," "Lullaby" and "Pictures of You." The new album coincides with The Cure being inducted into the Rock and Roll Hall of Fame later this year.
Details on the new album are sparse, but Smith has said his work as a curator for last year's Meltdown Festival opened his eyes to the music that newer artists are making and inspired him to try out some new sounds.
The Cure's last album was 2008's 4:13 Dream, which debuted at number 16 on the Billboard 200 and received generally favorable reviews. While no official release date has been revealed for the new album, the band is embarking on a three-month run of festival dates in June, so it's safe to assume we'll have some new material by then.
Listen to a 1984 Cure performance from the Paste archives below, and check out the band's full list of tour dates further down, including a headlining slot at Glastonbury Festival and four nights of the Disintegration 30th Anniversary Show at the Sydney Opera House. You can brush up on everything we know about their new album so far here.
The Cure Tour Dates:
March
21 – Cape Town, South Africa @ Rock on the Lawns
May
24 – Sydney, Australia @ Sydney Opera House (Disintegration 30th Anniversary Show)
25 – Sydney, Australia @ Sydney Opera House (Disintegration 30th Anniversary Show)
27 – Sydney, Australia @ Sydney Opera House (Disintegration 30th Anniversary Show)
28 – Sydney, Australia @ Sydney Opera House (Disintegration 30th Anniversary Show)
June
08 – Dublin, Ireland @ Malahide Castle
09 – Landgraaf, Netherlands @ Pinkpop
14 – Nickelsdorf, Austria @ Nova Rock Festival
16 – Florence, Italy @ Firenze Rocks
21 – Neuhausen ob eck, Germany @ Southside Festival
23 – Scheessel, Germany @ Hurricane Festival
24-26 – Zagreb, Croatia @ INmusic Festival
28 – Werchter, Belgium @ Rock Werchter
30 – Pilton, U.K. @ Glastonbury Festival
July
04 – Novi Sad, Serbia @ Exit Festival
06 – Roskilde, Denmark @ Roskilde Festival
11 – Lisbon, Portugal @ NOS Alive Festival
13 – Madrid, Spain @ Mad Cool Festival
17 – Athens, Greece @ Ejekt Festival
18-20 – Ostrava, Czech Republic @ Colours of Ostrava
22 – Bucharest, Romania @ Rock the City Festival
26-28 – Fuji, Japan @ Fuji Rock Festival
August
03 – Moscow, Russia @ Afisha Picnic
07 – Oslo, Norway @ Oya Festival
08-10 – Gothenburg, Sweden @ Way Out West
09-11 – Helsinki, Finland @ Flow Festival
16 – Glasgow, U.K. @ Glasgow Summer Sessions
23 – Paris, France @ Rock en Seine