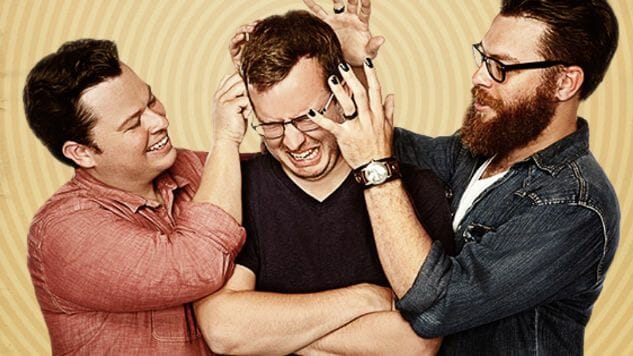 Seeso, NBC Universal's comedy-focused streaming service, has sold some of its original programming to Otter Media, multiple sources tell Paste, and as Scott Porch reported in Decider in June. The Seeso programs will be available on Otter's streaming service VRV, which targets fans of videogames, anime, sci-fi and fantasy. The Seeso shows moving to VRV include Harmonquest, whose delayed second season will be debuting on the service, and My Brother, My Brother and Me, whose first season is no longer streaming on Seeso. Also included in the deal, per our sources, are Hidden America with Jonah Ray, whose second season launched on Seeso earlier this spring before disappearing from the service at some point in the summer, and a fourth Seeso show, potentially Shrink or The Cyanide & Happiness Show.
Update: We originally reported Shrink was also sold to VRV. Although a fourth Seeso original was included in the deal, and some sources told us it was Shrink, other sources tell us Shrink has not been sold to VRV, so we've updated this piece accordingly.
It's been known for months that Seeso was in trouble. Evan Shapiro, Seeso's original head, left the company in May, and layoffs followed in June. The second season of Harmonquest was officially postponed the day before its scheduled release in late July. One source familiar with the negotiations called the deal with VRV a "a fire sale situation," with shows that don't necessarily fit VRV's nerd-centric focus being bundled with Harmonquest and My Brother.
The future of other Seeso shows remains unknown. Paul Reiser's There's…Johnny, set behind the scenes at The Tonight Show Starring Johnny Carson in 1972, will no longer be debuting on Seeso as scheduled in August, and, according to Indiewire, is being shopped to other outlets. Sources tell us seasons of other Seeso shows that wrapped or were in production, including Bajillion Dollar Propertie$ and Cameron Esposito's Take My Wife, are not part of the VRV deal and will also be shopped to other channels.
Representatives of NBC Universal had no comment on the VRV deal, which could be announced as soon as Tuesday, Aug. 8.
Updated at 10 AM ET August 8 to add link to Decider.