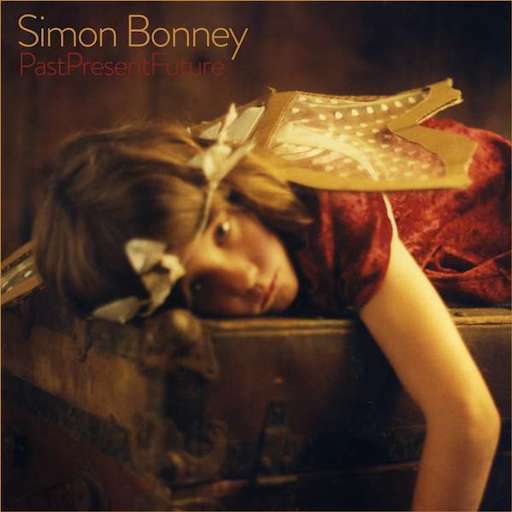 Like most fans too young, square, or both to have frequented German punk clubs during the 1980s, I discovered Crime & the City Solution through Wim Wenders' film Wings of Desire. While Nick Cave's musical cameo has achieved more fame, the band's appearance is transfixing: Onstage, in some sordid nightclub, Crime & the City Solution—led by frontman Simon Bonney—gyrates and slithers while performing a mesmerizing post-punk dispatch from pre-reunification Berlin. The song, "Six Bells Chime," hinges on a demented surf-rock riff doused in tremolo. In real life, it was the centerpiece of the band's harrowing 1986 debut, Room of Lights.
With that frame of reference in mind, it may be startling to learn that Bonney is also capable of tender love songs and country-western melancholia. The man has range. His fine new solo compilation, Past, Present, Future, offers proof. The songs are culled from Bonney's brief '90s solo career, in which he traded his punk cred for lap steel and dobro. The music often sounds like the soundtrack to a nonexistent Western, with Bonney's husky baritone evoking a sense of desolation and empty expanse. There's a gentleness to Bonney's sensibility here that you won't find on Room of Lights—the amorous "Don't Walk Away From Love" even flirts with a jangly radio hook—but it's hardly suitable for mainstream country radio placement.
Nor is it entirely bereft of Bonney's post-punk gloom and longing. The 10-minute epic "Everyman," with its galloping drums and mournful banjo, employs a multi-part structure to explore Bonney's thoughts on contracting economic horizons. "Lyrically it's about those for whom the future is filled with trepidation with the effects of globalization and decreasing work opportunities," the singer told Paste recently. "That seems to be more relevant now than when I wrote it."
Past, Present, Future draws heavily from Bonney's long-out-of-print solo albums, 1992's Forever and 1995's Everyman, which emerged from a period during in Bonney decamped to Los Angeles and immersed himself in Americana music. (Another thing he had in common with Nick Cave: Both were native Australians who lived in Berlin during the '80s and wound up taking cues from American roots music in the early '90s.) Both are full of gems lifted from obscurity. "Ravenswood" (which opens both Forever and this compilation) is the crown jewel. It's a stunning song: sighing Americana bliss with a lap steel refrain fit for the heavens. The heavily reverbed snare sound is a dead giveaway that the song was recorded circa 1992, but its power hasn't diminished.
Bonney's hardcore fans will be most interested in the previously unheard material. About half of this compilation is from an unheard album called Eyes of Blue, which Bonney recorded in Detroit during the late '90s and planned to release on A&M. The deal fell through amid industry turmoil, and the music sat in the vaults for two decades, despite containing some of the artist's most emotionally resonant work. Highlights here include "The Great Survivor," a ballad that's beautiful in a lush, understated way, and "Eyes of Blue," a vehicle for Bonney's voice that sets his grim observations on America against stark, rising guitar chords.
Also among the noteworthy unheard tracks is a cover of Scott Walker's 1969 gem "Duchess," from Scott 4. While Walker's original was swathed in lush colors and regal strings, Bonney's recording teases out the song's nascent twang and lets his voice luxuriate in its brooding melancholy. It's an excellent cover; Bonney couldn't have anticipated Walker's recent death when he selected it for inclusion here, but this fluke of timing gives it a particularly eerie resonance.
If there is a fault with Past, Present, Future, it has less to do with its music, which is often revelatory and at worst merely good (i.e., "A Sweet Kind of Pain"), than with its confusing structure: What is this exactly? Is it meant to be a best-of collection? An odds-and-ends compilation? Should we greet it as a proper album, despite the prominence of old material? And if the goal was to spotlight the Eyes of Blue material, why not simply release that album in full? (Bonney mused about that eventual possibility in a recent Billboard interview, but did not commit to doing so.)
Of course, I am being greedy: This release offers a tantalizing glimpse of Eyes of Blue, and now I want more. Whether that album ever materializes or not, Past, Present, Future is a well-overdue testament to a post-punk legend and a fleeting solo career that never received its due.