Zombieland 2 Confirmed, with Original Cast Returning
Images courtsey of Sony Pictures
Movies
News
Zombieland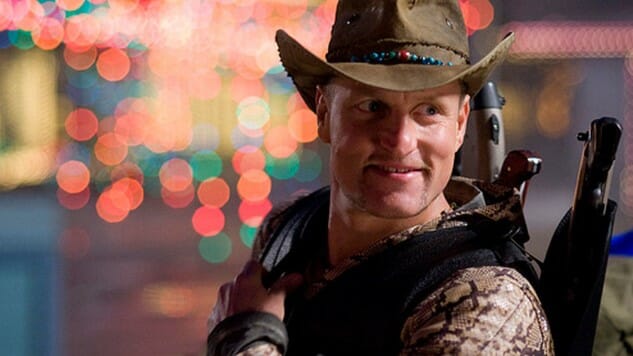 Almost 10 years after the original Zombieland simultaneously charmed and horrified audiences everywhere, a sequel is officially en route.
Rumors of a sequel, as well as updates on the script, casting and a release date (filmmakers are aiming for an Oct. 2019 premiere), have been circulating for the last couple of years, with a more concrete announcement arriving in May of this year. But, as of Friday, it's confirmed that the movie is officially happening, and Sony Pictures is reuniting the original cast: Emma Stone, Woody Harrelson, Abigail Breslin and Jesse Eisenberg are all set to return as their 2009 characters, per THR.
Ruben Fleischer, who directed the original 2009 breakout flick, is also returning to direct. There are more returners, too—Zombieland writers Paul Wernick and Rhett Reese, who've more recently worked on the Deadpool franchise, are also behind the sequel's script. Original producer Gavin Polone is in on the reunion, as well.
The film will commence production in January of 2019, with the premiere set for October of 2019, exactly 10 years after the first Zombieland movie dawned. Columbia Pictures president Sanford Panitch said of the forthcoming sequel:
This is one of those projects that fans have wanted to see happen for a long time—and no one wanted to see it happen more than Emma, Woody, Jesse and Abigail. These are some of the most in-demand actors and I think they are making this movie because they love these characters. We are thrilled Ruben was willing to come back to direct the sequel, as his work on Venom has been truly amazing.
Zombieland, one of the most successful horror-comedies in recent memory, took on a sort of cult following in the years after its release. Fans couldn't get enough of the ragtag foursome of post-apocalyptic survivors (and wisecrackers): Harrelson's Tallahassee, Eisenberg's Columbus, Stone's Wichita and Breslin's Little Rock, each impersonally nicknamed to prevent anyone's becoming too attached to each other. Zombieland proved to be a healthy career booster for the cast: Each of those actors has received an Oscar nomination in the ten years following the movie's release.
Revisit our review of the original Zombieland right here, find out where it landed on our list of the best zombie movies ever made right here and stay tuned for more details of the follow-up.