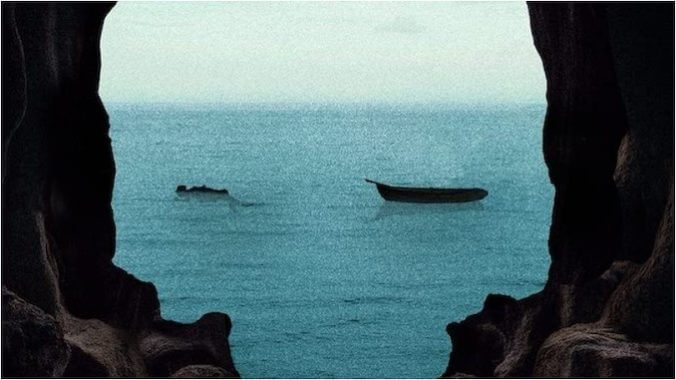 Not every horror story has a monster at the end of it. At least, not one that's easily identifiable. Catriona Ward's latest novel, Looking Glass Sound, is, in part, the story of a serial murder, but its dark and unsettling feel has more to do with the everyday characters at its center—and the various betrayals they're capable of—than it does a killer who stalks innocent women at night. And while her book's picturesque seaside setting masks more than its fair share of dark secrets, its protagonists' all carried varying degrees of darkness within themselves long before they set foot on its shores. But that's what makes psychological horror so frightening, isn't it— the fact that, if you squint, it's not that different from the real life you're living right now?
Looking Glass Sound is one part coming-of-age saga, one part true crime drama, and one part meditation on the meaning of truth and memory, with a little bit of metaphysical horror thrown on top. It's a complicated story with many moving pieces and a seemingly endless array of twists, that still manages to delve deep into complex emotional issues.
Ward's books tend to deal with a lot of similar themes, often grounded in ideas about why we tell stories in the first place and how the rules of those narratives are traditionally expected to work. Her writing often encourages readers to question all their assumptions about what kind of stories they're reading, whose voices are seen as legitimate, and whether any narrator can ever truly be considered reliable. Looking Glass Sound is, in the strictest sense, about three different stories happening at once, and its Matryoshka doll-esque layering is impressively complex. (I like to imagine Ward writing it with an Its Always Sunny in Philadelphia style board festooned with strings delineating various connections.) 
The book (initially) opens in 1989 and follows the story of lonely teen Wilder Harlow, who makes his first real friends while his family is summering on the coast of Maine. His tightknit bonds with handsome working-class neighbor Nathaniel and British vacationer Harper will go on to impact him for the rest of his life, as will their mutual obsession with a local legend known as the Dagger Man of Whistler Bay, who allegedly takes threatening Polaroids of children while they sleep. And when the trio makes a grisly discovery in a seafront cave, it seems as though the infamous Dagger Man was something much darker than a simple local creep, and there's much more to the townsfolks' lingering stories of missing women than anyone could have initially predicted. 
As he heads off to college, Wilder finds he can only manage his anxiety over the trauma he experienced by obsessively writing about the Dagger Man and the events of those key summers, and he struggles to accurately convey the ways it has continues to impact him. Decades later, he decides to return to Whistler Bay to confront his many demons—-the college roommate who stole his notes and published his story as his own, the ghosts of his long-dead friendship with Harper and Nat, his parents' broken marriage, the obsession with the Dagger Man that won't let him rest—and finally write his own memoir about what really happened. But his story isn't as straightforward as it seems. 
Looking Glass Sound features multiple timelines, hallucinations, unreliable memories, and stories within stories over the course of the novel's briskly paced 350 pages. There are liars here, overt manipulators, and all of the story's potential heroes are deeply broken, damaged people. There's a specific sort of tension that results from never being quite sure whose story you're reading or whether what you're seeing unfold on the page is the truth, and Ward is at her sharpest, most incisive best when she's allowed to explore the thin lines that often separate fiction from memory and reality from madness. 
Much like Ward's other novels, Looking Glass Sound isn't necessarily a traditional sort of horror story, and the scares here tend to skew more psychological than bloody. There are terrors here of many stripes—from grisly murders to the most intimate sorts of betrayals of trust—but a little bit of magic too, both of the literal and figurative variety. In Ward's worlds, words have a particular brand of power, and in Looking Glass Sound they are used to both recount the past and forge the future, a simultaneously liberating force (the truth can set you free, after all) and a prison from which you can never escape. Absolutely no one in the literary horror space is doing it quite like Catriona Ward these days, and this unsettling, atmospheric offering is a great example of how to tell a scary story in a very different and unexpected way. 
Looking Glass Sound is available now. 
---
Lacy Baugher Milas is the Books Editor at Paste Magazine, but loves nerding out about all sorts of pop culture. You can find her on Twitter @LacyMB