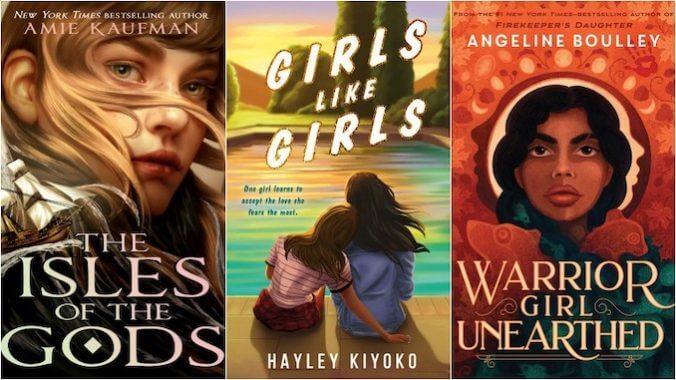 Springtime is here, and so are a whole bunch of exciting new YA book releases. Look, we all know this time of year is like catnip for publishers, eager to get their latest novels in front of readers before summer officially starts and go on vacation, they head to the pool or just sneak out to enjoy the nice weather in their backyards, all (hopefully) with a book in hand. 
As a result, this month brings all a variety of exciting surprises for YA fans, from charming coming-of-age tales and sweet romances to tense thrillers and a rare solo title from a longstanding fantasy favorite. 
Here are our picks for the best YA books hitting shelves this May.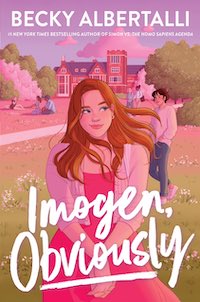 Imogen, Obviously by Becky Albertelli
Release Date: May 2 from Balzer + Bray
Why You'll Love It: A charming story about a straight teen (and vocal LGBTQ advocate) who realizes when she's forced to fake date her newly out BFF that she might actually be into girls in addition to boys. A timely exploration of sexuality, identity, and friendship with refreshing (and honestly very needed) bisexual representation, Imogen, Obviously is a sweet and sunny delight.
Publisher's Description: Imogen Scott may be hopelessly heterosexual, but she's got the World's Greatest Ally title locked down.
She's never missed a Pride Alliance meeting. She knows more about queer media discourse than her very queer little sister. She even has two queer best friends. There's Gretchen, a fellow high school senior, who helps keep Imogen's biases in check. And then there's Lili—newly out and newly thriving with a cool new squad of queer college friends.
Imogen's thrilled for Lili. Any ally would be. And now that she's finally visiting Lili on campus, she's bringing her ally A game. Any support Lili needs, Imogen's all in.
Even if that means bending the truth, just a little.
Like when Lili drops a tiny queer bombshell: she's told all her college friends that Imogen and Lili used to date. And none of them know that Imogen is a raging hetero—not even Lili's best friend, Tessa.
Of course, the more time Imogen spends with chaotic, freckle-faced Tessa, the more she starts to wonder if her truth was ever all that straight to begin with. . .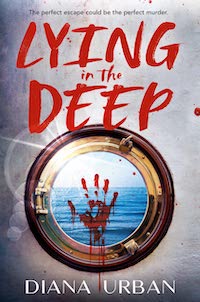 Lying in the Deep by Diana Urban
Release Date: May 2 from Razorbill
Why You'll Love It: The Semester-at-Sea style setting amps up the tension in this faced-paced teen thriller that's heavy on both the emotional angst and the body count. Will undoubtedly make for a fun pool read this summer. 
Publisher's Description: After being jilted by her ex-boyfriend and best friend, Jade couldn't be more ready to embark on the adventure of a lifetime—11 countries in 4 months, all from the luxurious Campus on Board ship—and to wedge an entire globe between her and the people who broke her heart.
But when Jade discovers the backstabbing couple are also setting sail, her obsession with them grows and festers, leading to a shocking murder. And as their friends begin to drop like flies, Jade and her new crush must race to clear her name and find the killer they're trapped at sea with….before anyone else winds up in body bags.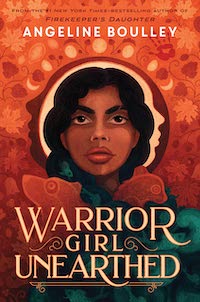 Warrior Girl Unearthed by Angeline Boulley
Release Date: May 2 from Henry Holt and Co.
Why You'll Love It: This standalone follow-up to Angeline Boulley's acclaimed 2021 novel Firekeeper's Daughter takes us back to Suger Island, Michigan. Set ten years later, focuses on the story of Daunis's now teenage nieces and deftly wrestles with everything from colorism and cultural repatriation to the epic of Missing and Murdered Indigenous Women on native lands. Heartfelt, thought-provoking and propulsively readable. 
Publisher's Description: Perry Firekeeper-Birch was ready for her Summer of Slack but instead, after a fender bender that was entirely not her fault, she's stuck working to pay back her Auntie Daunis for repairs to the Jeep.
Thankfully she has the other outcasts of the summer program, Team Misfit Toys, and even her twin sister Pauline. Together they ace obstacle courses, plan vigils for missing women in the community, and make sure summer doesn't feel so lost after all.
But when she attends a meeting at a local university, Perry learns about the "Warrior Girl", an ancestor whose bones and knife are stored in the museum archives, and everything changes. Perry has to return Warrior Girl to her tribe. Determined to help, she learns all she can about NAGPRA, the federal law that allows tribes to request the return of ancestral remains and sacred items. The university has been using legal loopholes to hold onto Warrior Girl and twelve other Anishinaabe ancestors' remains, and Perry and the Misfits won't let it go on any longer.
Using all of their skills and resources, the Misfits realize a heist is the only way to bring back the stolen artifacts and remains for good. But there is more to this repatriation than meets the eye as more women disappear and Pauline's perfectionism takes a turn for the worse. As secrets and mysteries unfurl, Perry and the Misfits must fight to find a way to make things right – for the ancestors and for their community.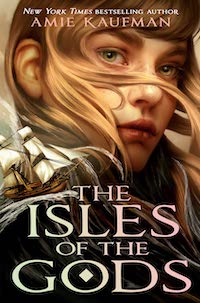 The Isles of the Gods by Amie Kaufman
Release Date: May 2 from Knopf Books for Young Readers
Why You'll Love It: The first installment in a rare solo series from bestselling author Amie Kaufman—part of the duos behind such hits as the Aurora Cycle (with Jay Kristoff) or the Starbound series (with Meagan Spooner)—-The Isles of the Gods has plenty to recommend it in its own right. A swashbuckling adventure that boasts intricate worldbuilding, deeply realized internal mythology, and an array of diverse and intriguing characters, all of whom tend to be more human than strictly heroic, it's brisk pace means you'll tear through it in no time.
Publisher's Description: When Selly's father leaves her high and dry in the port of Kirkpool, she has no intention of riding out the winter on land while he sails to adventure in the north seas. But any plans to follow him are dashed when a handsome stranger with tell-tale magician's marks on his arm boards her ship, presenting her and the crew with a dangerous mission: to cross the Crescent Sea without detection so he can complete a ritual on the sacred Isles of the Gods. What starts as a leisure cruise will lead to acts of treason and sheer terror on the high seas, bringing two countries to the brink of war, two strangers closer than they ever thought possible and stirring two dangerous gods from centuries of slumber…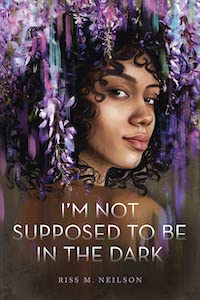 I'm Not Supposed to Be In the Dark by Riss M. Nielsen
Release Date: May 9 from Henry Holt and Co
Why You'll Love It: A story about a young girl who thinks her former BFF is possessed by a ghost is a surprisingly emotional spooky tale for summer.
Publisher's Description: Seventeen-year-old Aria Cayetano dreams of ghosts. She used to see them too, but thanks to a special tea brewed by her grandfather, Aria's connection to the spirit world has been severed. Until a decades-old rosebush suddenly dies across the street, convincing Aria that something supernatural is happening in her neighborhood.
She aches to investigate it, but the rosebush sits on her ex-best friend Derek Johnson's front lawn, and she can't question him because he hates her now. Aria doesn't know what drove them apart years ago, but she does know Derek's been acting strange for weeks, sneaking out in the dead of night to who knows where.
Then, days after the rosebush dies, Derek begins speaking to her again. At least Aria thinks it's him. Until she discovers there's a ghost inside of Derek that will take his life if it doesn't find what it's searching for. As Aria and Derek race to uncover the mystery, another kind of magic takes them by surprise: love. But Aria has to decide how far she's willing to go to save Derek, especially when helping the ghost means tapping into whatever the tea has buried inside of her.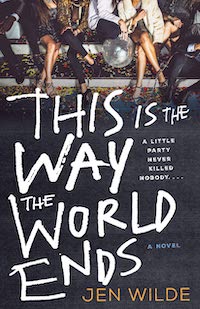 This is the Way the World Ends by Jen Wilde
Release Date: May 9 from Wednesday Books
Why You'll Love It: An apocalyptic thriller that involves posh teens, a ten thousand dollar-a-seat masquerade ball, and a global blackout that leaves all their technology useless and may be a harbinger of societal collapse. Worth it for the wild premise alone. 
Publisher's Description: As an autistic scholarship student at the prestigious Webber Academy in New York City, Waverly is used to masking to fit in—in more ways than one. While her classmates are the children of the one percent, Waverly is getting by on tutoring gigs and the generosity of the school's charming and enigmatic dean. So when her tutoring student and resident "it girl" asks Waverly to attend the school's annual fundraising Masquerade disguised as her, Waverly jumps at the chance—especially once she finds out that Ash, the dean's daughter and her secret ex-girlfriend, will be there.
The Masquerade is everything Waverly dreamed of, complete with extravagant gowns, wealthy parents writing checks, and flowing champagne. Most importantly, there's Ash. All Waverly wants to do is shed her mask and be with her, but the evening takes a sinister turn when Waverly stumbles into a secret meeting between the dean and the school's top donors—and witnesses a brutal murder. This gala is harboring far more malevolent plots than just opening parents' pocketbooks. Before she can escape or contact the authorities, a mysterious global blackout puts the entire party on lockdown. Waverly's fairy tale has turned into a nightmare, and she, Ash, and her friends must navigate through a dizzying maze of freight elevators, secret passageways, and back rooms if they're going to survive the night.
And even if they manage to escape the Masquerade, with technology wiped out all over the planet, what kind of world will they find waiting for them beyond the doors?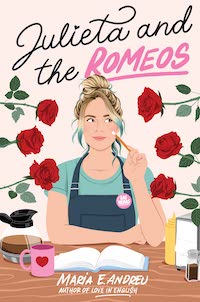 Julieta and the Romeos by Maria E. Andreu
Release Date: May 16 from Balzer + Bray
Why You'll Love It: Light and fluffy fun, this utterly charming read will appeal to literature fans and romance lovers alike. Julieta is a particularly great narrator and the creative writing set-up is pretty darn adorable.
Publisher's Description: Julieta isn't looking for her Romeo–but she is writing about love. When her summer writing teacher encourages the class to publish their work online, the last thing she's expecting is to get a notification that her rom-com has a mysterious new contributor, Happily Ever Drafter. Julieta knows that happily ever afters aren't real. (Case in point: her parents' imploding marriage.) But then again, could this be her very own meet-cute?
As things start to heat up in her fiction, Julieta can't help but notice three boys in her real life: her best friend's brother (aka her nemesis), the boy next door (well, to her abuela), and her oldest friend (who is suddenly looking . . . hot?). Could one of them be her mysterious collaborator? But even if Julieta finds her Romeo, she'll have to remember that life is full of plot twists. . . .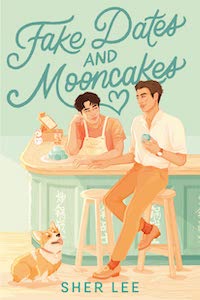 Fake Dates and Moon Cakes by Sher Lee
Release Date: May 16 from Underlined
Why You'll Love It: Described as Crazy Rich Asians meets Heartstopper, this story is a fake dating romance with a charming foodie twist. (And we've got an excerpt from it if you're curious to see more.) 
Publisher's Description: Dylan Tang wants to win a Mid-Autumn Festival mooncake-making competition for teen chefs—in memory of his mom, and to bring much-needed publicity to his aunt's struggling Chinese takeout in Brooklyn.
Enter Theo Somers: charming, wealthy, with a smile that makes Dylan's stomach do backflips. AKA a distraction. Their worlds are sun-and-moon apart, but Theo keeps showing up. He even convinces Dylan to be his fake date at a family wedding in the Hamptons.
In Theo's glittering world of pomp, privilege, and crazy rich drama, their romance is supposed to be just pretend . . . but Dylan finds himself falling for Theo. For real. Then Theo's relatives reveal their true colors—but with the mooncake contest looming, Dylan can't risk being sidetracked by rich-people problems.
Can Dylan save his family's business and follow his heart—or will he fail to do both?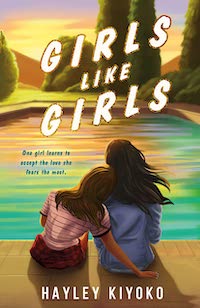 Girls Like Girls by Hayley Kiyoko
Release Date: May 30 from Wednesday Books
Why You'll Love It: Surprise, this debut coming-of-age novel based on Hayley Kiyok's own hit song and viral music video is actually….a really intense love story and a compelling tale of two queer teens embracing their truths? Check your assumptions at the door. 
Publisher's Description: It's summertime and 17-year-old Coley has found herself alone, again. Forced to move to rural Oregon after just losing her mother, she is in no position to risk her already fragile heart. But when she meets Sonya, the attraction is immediate.
Coley worries she isn't worthy of love. Up until now, everyone she's loved has left her. And Sonya's never been with a girl before. What if she's too afraid to show up for Coley? What if by opening her heart, Coley's risking it all?
They both realize that when things are pushed down, and feelings are forced to shrivel away, Coley and Sonya will be the ones to shrink. It's not until they accept the love they fear and deserve most, that suddenly the song makes sense. 
---
Lacy Baugher Milas is the Books Editor at Paste Magazine, but loves nerding out about all sorts of pop culture. You can find her on Twitter @LacyMB.`