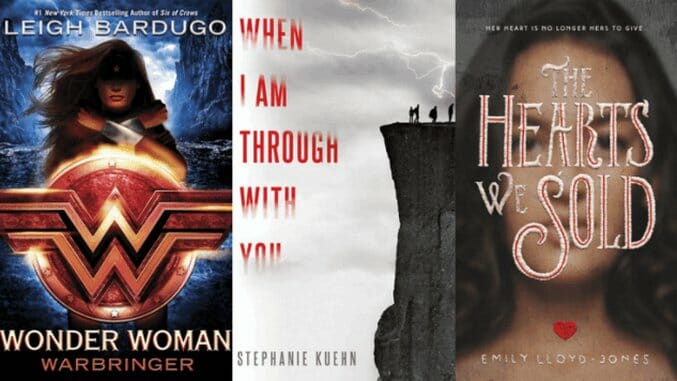 You'll want to spend the final days of summer reading these thrilling Young Adult novels. The best YA books of August include a new read from Brandy Colbert (who wrote one of the greatest YA novels of all time) and Leigh Bardugo's new Wonder Woman adventure. You'll also find stories about demons, magic, heartbreak and mystery. There's a lot to be excited about this month, so let's dig in.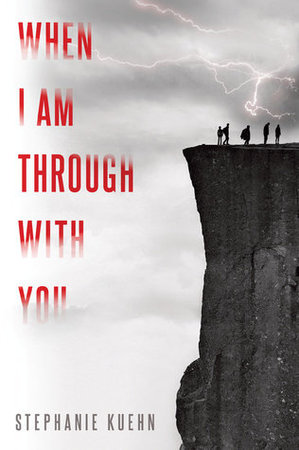 1. When I Am Through With You by Stephanie Kuehn
Release Date: August 1st from Dutton Books for Young Readers
Why You'll Love It: I always get excited when there's a new Stephanie Kuehn book on the horizon. She pens wonderfully dark YA thrillers and mysteries, and her latest is no exception. The story of a teen accused of murder, When I Am Through With You is just so gripping and horrifying. You'll think long and hard before going on your next hike, that's for sure.
For Fans of: Anything by Lamar Giles (Endangered, Fake I.D.), Gretchen McNeil (Don't Get Mad) and Kim Savage (After the Woods). Also hard-hitting reads from of Mindy McGinnis and A.S. King.
Description: "This isn't meant to be a confession. Not in any spiritual sense of the word. Yes, I'm in jail at the moment. I imagine I'll be here for a long time, considering. But I'm not writing this down for absolution and I'm not seeking forgiveness, not even from myself. Because I'm not sorry for what I did to Rose. I'm just not. Not for any of it."
Ben Gibson is many things, but he's not sorry and he's not a liar. He will tell you exactly about what happened on what started as a simple school camping trip in the mountains. About who lived and who died. About who killed and who had the best of intentions. But he's going to tell you in his own time. Because after what happened on that mountain, time is the one thing he has plenty of.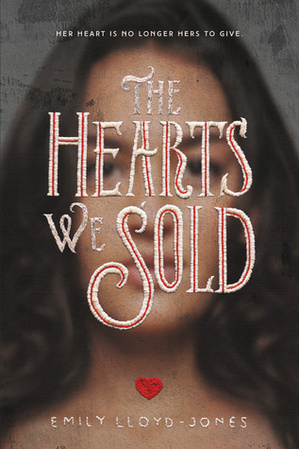 2. The Hearts We Sold by Emily Lloyd-Jones
Release Date: August 8th from Little, Brown Books for Young Readers
Why You'll Love It: If you're unfamiliar with Emily Lloyd-Jones' Illusive series, which follows teens who develop superpowers after a virus hits humanity, oof, you need to catch up right away. Not only are her books entertaining, they're brilliant examples of speculative, genre-bending YA. And her latest is another in that vein, blending fantasy, horror and romance into one of this year's most unique reads.
For Fans of: Lloyd-Jones' Illusive series, of course, and genre-mashing novels by authors like Lindsay Smith (Sekret) and Victoria Schwab (This Savage Song).
Description: When Dee Moreno makes a deal with a demon—her heart in exchange for an escape from a disastrous home life—she finds the trade may have been more than she bargained for. And becoming "heartless" is only the beginning. What lies ahead is a nightmare far bigger, far more monstrous than anything she could have ever imagined.
With reality turned on its head, Dee has only a group of other deal-making teens to keep her grounded, including the charming but secretive James Lancer. And as something grows between them amid an otherworldy ordeal, Dee begins to wonder: Can she give someone her heart when it's no longer hers to give?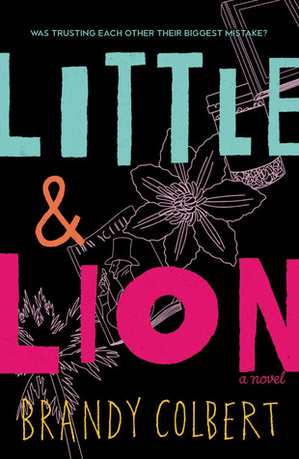 3. Little & Lion by Brandy Colbert
Release Date: August 8th from Little, Brown Books for Young Readers
Why You'll Love It: Brandy Colbert wrote one of the greatest YA novels ever, Pointe. Her second novel, Little & Lion, was one of Paste's most anticipated YA books of the year… and at last, it's here. A story about mental health and the family complexities, it makes for one of 2017's most moving reads.
For Fans of: Books about family and mental illness by authors like Stephanie Kuehn, Christa Desir, Emery Lord and Bryan Bliss.
Description: When Suzette comes home to Los Angeles from her boarding school in New England, she isn't sure if she'll ever want to go back. L.A. is where her friends and family are (along with her crush, Emil). And her stepbrother, Lionel, who has been diagnosed with bipolar disorder, needs her emotional support.
But as she settles into her old life, Suzette finds herself falling for someone new…the same girl her brother is in love with. When Lionel's disorder spirals out of control, Suzette is forced to confront her past mistakes and find a way to help her brother before he hurts himself—or worse.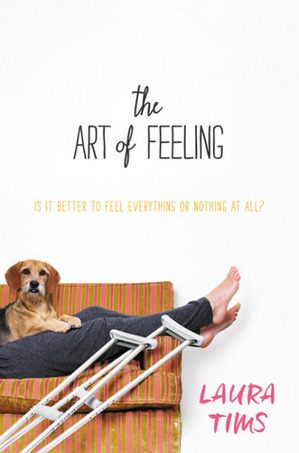 4. The Art of Feeling by Laura Tims
Release Date: August 15th from HarperTeen
Why You'll Love It: It's difficult to find books about chronic pain, so I'm really excited to see Laura Tims' latest novel addressing it in a unique way. The Art of Feeling follows a teen living with chronic pain after a car accident…and a teen with a medical condition that leaves him unable to feel pain—period. And in the tradition of Tims' early book, Please Don't Tell, this novel is full of questions and mystery.
For Fans of: Jennifer Niven's All the Bright Places.
Description: Since the car accident, Samantha Herring has been in pain, not only from her leg injury, but also from her mother's death, which has devastated her family. After pushing away her friends, Sam has receded into a fog of depression.
But then Sam meets Eliot, a reckless loner with an attitude and an amazing secret—he can't feel any pain. At first, Sam is jealous. But then she learns more about his medical condition…and his self-destructive tendencies. In fact, Eliot doesn't seem to care about anything at all—except maybe Sam. As they grow closer, they begin to confront Sam's painful memories of the accident—memories that may hold a startling truth about what really happened that day.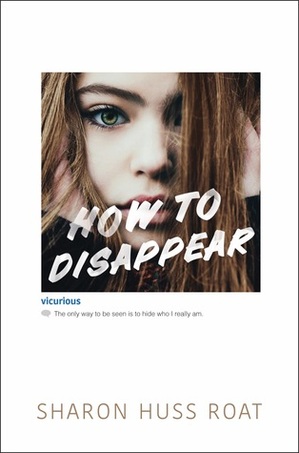 5. How to Disappear by Sharon Huss Roat
Release Date: August 15th from HarperTeen
Why You'll Love It: Books about teens getting caught up in Internet fame are trending right now, and I'm all about it. In Sharon Huss Roat's latest novel, we meet a teen who goes viral on Instagram and then starts bonding with other lonely teens online. How to Disappear is a lovely YA contemporary story told through prose and social media.
For Fans of: Eliza and Her Monsters by Francesca Zappia and #famous by Jilly Gagdon.
Description: Vicky Decker has perfected the art of hiding in plain sight, quietly navigating the halls of her high school undetected except by her best (and only) friend, Jenna. But when Jenna moves away, Vicky's isolation becomes unbearable.
So she decides to invent a social life by Photoshopping herself into other people's pictures, posting them on Instagram under the screen name Vicurious. Instantly, she begins to get followers, so she adds herself to more photos from all over the world with all types of people. And as Vicurious's online followers multiply, Vicky realizes she can make a whole life for herself without ever leaving her bedroom. But the more followers she finds online, the clearer it becomes that there are a lot of people out there who feel like her—#alone and #ignored in real life.
To help them, and herself, Vicky must find the courage to face her fear of being "seen," because only then can she stop living vicariously and truly bring the magic of Vicurious to life.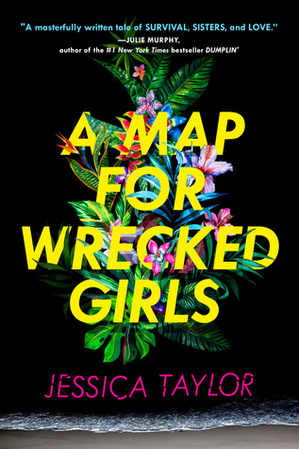 6. A Map for Wrecked Girls by Jessica Taylor
Release Date: August 15th from Dial Books
Why You'll Love It: I don't know what it is, but novels about shipwrecks totally grab me, from emotional reads like Salt to the Sea to darkly funny books like The Lifeboat Clique. In her second novel, Jessica Taylor goes for a hard-hitting, non-linear story about teens trying to survive on a desert island. A Map for Wrecked Girls reveals that the drama is about more than the characters' survival; it's about how their relationships shattered.
For Fans of: The Lifeboat Clique by Kathy Parks and Unremembered by Jessica Brody.
Description: Emma had always orbited Henri, her fierce, magnetic queen bee of an older sister, and the two had always been best friends. Then the unthinkable occurs—a watery nightmare off the dazzling coast. The girls wash up on shore, stranded. Their only companion is Alex, a troubled boy agonizing over his own secrets. Trapped in this gorgeous hell, Emma and Alex fall together as Emma and Henri fall catastrophically apart.
To find their way home, the sisters must find their way back to each other. But there's no map for this—or anything. Can they survive the unearthing of the past and the upheaval of the present?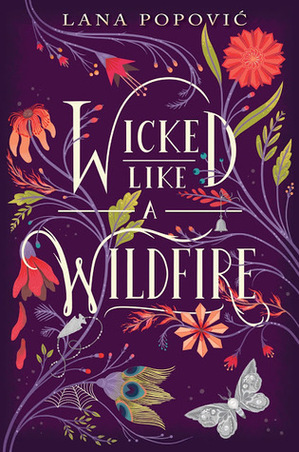 7. Wicked Like a Wildfire by Lana Popovic
Release Date: August 15th from Katherine Tegen Books
Why You'll Love It: The first book in Lana Popovic's Hibiscus Daughter duology, Wicked Like a Wildfire is a beautiful story with lush prose and stunning imagery that leaps off the page. From the mystery to the forbidden love to the utterly unique magic, this is one gorgeous book.
For Fans of: Books about magic, family secrets and forbidden love, like Secret of a Heart Note by Stacey Lee.
Description: All the women in Iris and Malina's family have the unique magical ability or "gleam" to manipulate beauty. Iris sees flowers as fractals and turns her kaleidoscope visions into glasswork, while Malina interprets moods as music. But their mother has strict rules to keep their gifts a secret, even in their secluded seaside town. Iris and Malina are not allowed to share their magic with anyone, and above all, they are forbidden from falling in love.
But when their mother is mysteriously attacked, the sisters will have to unearth the truth behind the quiet lives their mother has built for them. They will discover a wicked curse that haunts their family line—but will they find that the very magic that bonds them together is destined to tear them apart forever?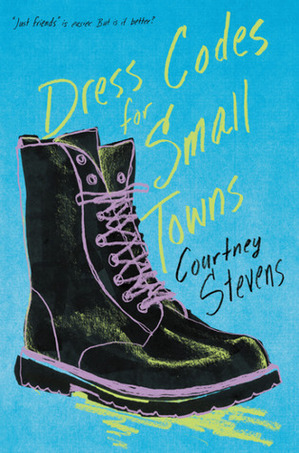 8. Dress Codes for Small Towns by Courtney Stevens
Release Date: August 22nd from HarperTeen
Why You'll Love It: To read a Courtney Stevens book is to accept that you will cry. Embrace this inevitability. In Dress Codes for Small Towns, Stevens writes a story about friendship, religion and sexuality—and how they intersect.
For Fans of: Beautiful prose and characters you just want to hug…so books by authors like Jeff Zentner, Sara Zarr and Adam Silvera.
Description: As the tomboy daughter of the town's preacher, Billie McCaffrey has always struggled with fitting the mold of what everyone says she should be. She'd rather wear sweats, build furniture and get into trouble with her solid group of friends: Woods, Mash, Davey, Fifty and Janie Lee.
But when Janie Lee confesses to Billie that she's in love with Woods, Billie's filled with a nagging sadness as she realizes that she is also in love with Woods…and maybe with Janie Lee, too.
Always considered "one of the guys," Billie doesn't want anyone slapping a label on her sexuality before she can understand it herself. So she keeps her conflicting feelings to herself, for fear of ruining the group dynamic. Except it's not just about keeping the peace, it's about understanding love on her terms—this thing that has always been defined as a boy and a girl falling in love and living happily ever after. For Billie—a box-defying dynamo—it's not that simple.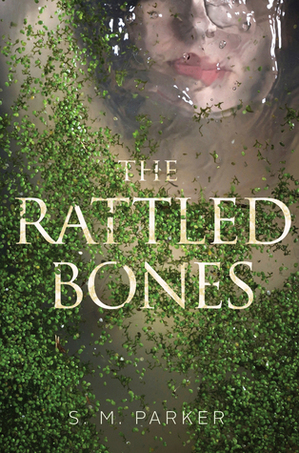 9. The Rattled Bones by S. M. Parker
Release Date: August 22nd from Simon Pulse
Why You'll Love It: I've been anxiously awaiting S.M. Parker's next novel ever since I read her debut, The Girl Who Fell. It's a slow-burn read full of intensity, and I tell just about every bookish person I meet that they need to pick it up. With The Rattled Bones, Parker digs into mystery and romance, with paranormal elements thrown into the mix. You'll love every haunting page of this genre-blending book.
For Fans of: Creepy and scary YA novels by authors like Kim Liggett (The Last Harvest, Blood & Salt).
Description: Maine-bred, independent Rilla Brae is no stranger to the deep. She knows the rhythms of hard work and harder seas. But when she experiences the sudden death of her father, the veil between the living and the dead blurs and she begins to be haunted by a girl on a nearby, uninhabited island. The girl floats a song over the waves, and it is as beautiful as it is terrifying.
Then Rilla meets Sam, a University of Southern Maine archeology student tasked with excavating the very island where the ghostly girl has appeared. Sam sifts the earth looking for the cultural remains of an island people who were forcibly evicted by the state nearly a hundred years ago. Sam tells Rilla the island has a history no locals talk about—if they know about it at all—due to the shame the events brought to the working waterfront community. All Rilla knows for sure is that the island has always been there—an eerie presence anchored in the stormy sea. Now Sam's work and the ghostly girl's song lure Rilla to the island's shores.
As Rilla helps Sam to unearth the island's many secrets, Rilla's visions grow—until the two discover a tragedy kept silent for years. And it's a tragedy that has everything to do with Rilla's past.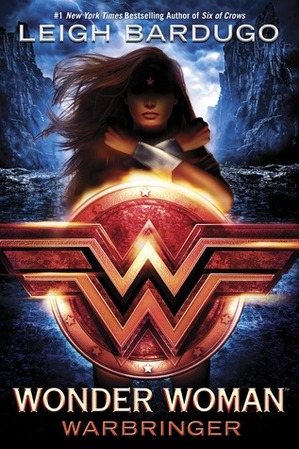 10. Wonder Woman: Warbringer by Leigh Bardugo
Release Date: August 29th from Random House Books for Young Readers
Why You'll Love It: Leigh Bardugo has been granted access to the DC Universe with her YA Wonder Woman book, and it's exactly as epic as you'd expect. It's the first novel in the DC Icons series, which will feature future books by Marie Lu, Matt de la Pena and Sarah J. Maas starring characters from DC Comics. From the mythology to the action, Wonder Woman: Warbringer is a thrill ride in perfect hands.
For Fans of: Superhero YA, like Renegades by Marissa Meyer or Hero by Perry Moore.
Description: Diana longs to prove herself to her legendary warrior sisters. But when the opportunity finally comes, she throws away her chance at glory and breaks Amazon law—risking exile—to save a mere mortal. Even worse, Alia Keralis is no ordinary girl and with this single brave act, Diana may have doomed the world.
Alia just wanted to escape her overprotective brother with a semester at sea. She doesn't know she is being hunted. When a bomb detonates aboard her ship, Alia is rescued by a mysterious girl of extraordinary strength and forced to confront a horrible truth: Alia is a Warbringer—a direct descendant of the infamous Helen of Troy, fated to bring about an age of bloodshed and misery.
Together, Diana and Alia will face an army of enemies—mortal and divine—determined to either destroy or possess the Warbringer. If they have any hope of saving both their worlds, they will have to stand side by side against the tide of war.