Another Period Tackles White Feminism, Class Warfare and the Scrappiness of the Lower Class
Photos by Ali Goldstein, courtesy of Comedy Central
Comedy
Features
Another Period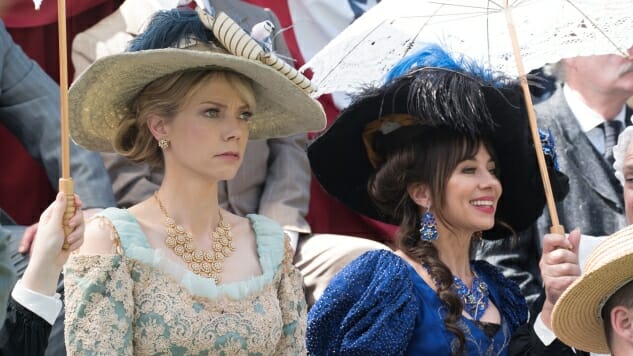 A lot has changed in America since Another Period last aired in the summer of 2016. The last time we saw Riki Lindhome and Natasha Leggero playing the shamelessly self-involved Bellacourt sisters, it still seemed likely that a woman would be president by the time the third season dropped, that reproductive rights would be protected, and that the country would move in the direction of tolerance.
Well, that didn't happen. While this is a dubious prospect for the country, it gives this season of the Comedy Central show a lot to pull from, and fans will see Another Period's third season pile on the satire in wilder and more inventive ways than the reality-show-set-in-the-1900s ever has before. Its core targets of ridicule—class and gender—are more relevant now than ever before in our lifetime, a reality that Lindhome and Leggero take full advantage of in their reality-show parody.
"It's such an amazing part of American history, when America was just kind of figuring out who it was," Lindhome told Paste of the turn-of-the-century New England setting of the Bellacourt mansion. "It's so relevant to where we are now because I feel that we're coming full circle and trying to figure things out again."
In case you've lost the thread from last season, Another Period follows Lillian and Beatrice's fabulous self-serving life as American "new money" royalty in Newport, Rhode Island, and their flagrant displays of narcissism. While Lindhome and Leggero remain the show's nucleus, the rest of their world is populated with every walk of life—their servants are given nearly as much screentime along with historical figures of the era (keep your eyes peeled for Young Hitler this season), leaving the format open for unlimited commentary on class, gender, race and however many incest jokes can fit into twenty-two minutes.
This year, Another Period is exploring the feminist spectrum as it existed at the turn of the century in earnest, highlighting the disappointing ways that attitudes haven't changed since before women could even vote. The season premiere centered on the suffragettes of the early 1900s and how Lillian and Beatrice manipulated them to serve their own sinister purposes—that is, getting more attention.
"She was going to change the lives of women everywhere," says a suffragette in the season one premiere, speaking of the allegedly deceased Bellacourt suffragette sister Hortense.
"Who cares about that?" Lindhome's Beatrice asks. "Only women."
"And who cares about women?" Leggero's Lillian replies. "Only ugly women."
This is where Another Period shines in a way that many shows centering on female protagonists don't—these women are problematic as hell, and the show makes no bones about it. Unlike the flawed-but-not-unwoke characters that populate comparable shows like Broad City and Crazy Ex-Girlfriend, Another Period showcases the glaring flaws in the pseudo-feminism of white women in the upper class, and it's hard not to hear the distant rings of Ivanka in every opportunistic endorsement.
It also shows the inverse of Lillian and Beatrice—the "uptight" suffragettes threatening to tear men's dicks off, then exploiting their own bodies in order to get men to sign the petition to allow women to vote. Everyone's wrong, but they're using femininity in different ways to accomplish the same thing. It's dumb and funny and it goes right up to the line, providing the viewer with enough wigs and historical distance to laugh at a setup that would be a tougher sell in a modern context.
As the series continues, Lindhome and Leggero (who remain executive producers) have given the historical parallels between the early 1900s and now increased precedence in the narrative, steering away from guest stars and keeping the story on their main cast.
"The wealth disparity is the same now as it was in 1902," Lindhome explained. "In the past century, it hasn't gotten that crazy until now—there was always a middle class somewhere in the country and now the rich are very rich and the poor are very poor."
"In America, they people who were living like the characters were at Downton—the way our characters are living—their parents are robber barons and beaver hunters," Leggero notes of the Bellacourts. "Pretty low-class people who were scrappy and made it."
Another Period demonstrates this scrappiness in all its glory and despair, not allowing its viewers to forget that scrappiness isn't always nice. But Christ, it's really fun to watch.
---
Another Period airs on Comedy Central on Tuesdays at 10:30 PM.
Jamie Loftus is a comedian and writer. You can find her some of the time, most days at @hamburgerphone or jamieloftusisinnocent.com.