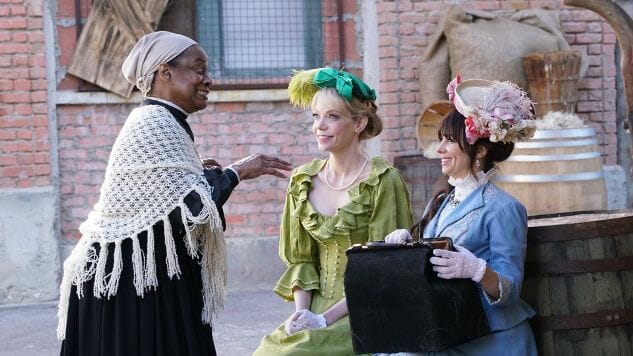 If Drunk History flipps the past on its head by inventively telling tales about historical figures and events from an intoxicated purview, then Another Period aims to share a different kind of history with viewers. A far more irreverent one, if that's possible. It may skewer the early 20th century for its incredible economic disparity and sexist behavior, but it also winks to the audience as if to say, "But really, how much has changed?"
The feminist-minded period drama spoof, which throws in a dash of reality TV parody for good measure, returned last week for its second season. Bellacourt sisters Lillian (Natasha Leggero) and Beatrice (Riki Lindhome) discover their failure to enter high society—thanks to several misguided attempts that showcase their boorish behavior—has given them something else instead: Fame. Sure, that fame may have derived from the press dubbing them "The Pig Sisters," but like those who live by the rule "famous for being famous," they discover celebrity has its own benefits.
"Forget trying to get accepted into society," Lillian tells the camera. "We're going to get famous." Thanks to their new goal, the Bellacourts take a step toward reality TV's Kardashians and away from Downtown Abbey's Crawleys. Once the press stops caring about them, they need to find some other way to stay in the papers. Celebrity, after all, is all about image, and image inevitably leads to branding.
Although products have long existed, the idea of relying on a company's reputation to sell them really came to fruition in the 1950s and 1960s. Thanks to marketing firms tasked with distinguishing similar items from one another, consumers got to know why the corporation behind goods mattered. It's that idea that something is endowed with special properties, from laundry detergent to whiskey. You know, if you say something is the best then many people will believe it. And it's no secret that as the 21st century plods on, people have coopted the idea of branding. Celebrities especially.
In a way, we've all become brands thanks to social media and the public nature of what we share and how we share it. Our tweets, our pictures, our posts are all fodder contributing to a narrative meant to be consumed. Or am I the only cynical one here? The stories we tell by way of filtered photos and 140 characters (or less!) not only reinforce who we are but what we represent AKA our brand.
Thanks to co-creators Leggero and Lindhome, Another Period expresses the cynicism that encourages social media. Yes, the show is cynical, but no less clever. The Bellacourts don't have Twitter or Snapchat to help them stay relevant once the press loses sight of their importance. The country's "fast paced bimonthly news cycle" places them on the front page but eventually they're relegated to the back after journalists lose their initial enchantment with the girls. As Lillian bemoans, the press becomes taken with "some white child [who] lost his hand at the tuna cannery."
The difficult act of keeping the media's attention by becoming not only a needed but revered brand a la the Kardashians intersects with the show's playful engagement with history. Famous historical figures have often popped up on the Bellacourts' doorstep, all irreverently portrayed. Over the course of the first season, Mahatma Ghandi started a fight with Leon Trotsky, and Helen Keller drank too much cocaine wine, to name just a few. It should come as no surprise then that Harriet Tubman's (Bebe Drake) appearance on the show flips what we know about the abolitionist. But like the first season, no one is safe, not even the renowned Tubman.
Tubman acts the part of the wise old black woman in public, but in private she's nothing but greed, self-satisfaction and branding know-how. Sitting down with Lillian and Beatrice to discover their talents in order to help them achieve her level of fame, Tubman opens up about how she earned the title "Moses of Her People." "Well, honey child, I thought of dat shit," she says candidly. Recounting a story about another slave who freed more people than she did but wanted to call the route they used the "Slave Connection," Tubman instead explains how she branded their efforts the "Underground Railroad." "Let's make it about trains," she tells the sisters. "White folks love themselves some trains."
In the hands of Another Period, history becomes yet another brand, an image comprised solely of parts that come to stand for the whole and something we have all bought into thanks to the narrative it sells. For those familiar with Tubman, Drake's portrayal and the way Another Period treats her feels more flip than previous historical "guests," but thanks to the show's 21st century gaze on all things 20th century, she's merely another person consumed by their brand and trying to make it last. Everyone wants something, the show suggests. Even Harriet Tubman. "Someday they'll even put me on money," she says, nodding towards the change that will soon occur on the $20 bill.
Still, rather than see white people appropriate her talent and exploit it for themselves—as has so often happened with all manner of black culture—Tubman turns things on its head. She instead uses the Bellacourt sisters to market her new product Man Tubs by sending them on a death-defying mission over Niagara Falls in it. Is it silly? Is it ridiculous? Absolutely. But, once again, Another Period proves that it's not above courting the low art of comedy while promoting the high art of critique.
---
Amanda Wicks is a freelance journalist specializing in comedy and music. Follow her on Twitter @aawicks.