Dave Chappelle Wins Grammy for Best Comedy Album for His Transphobic Special The Closer
Photo by Mathieu Bitton, courtesy of Netflix
Comedy
News
dave chappelle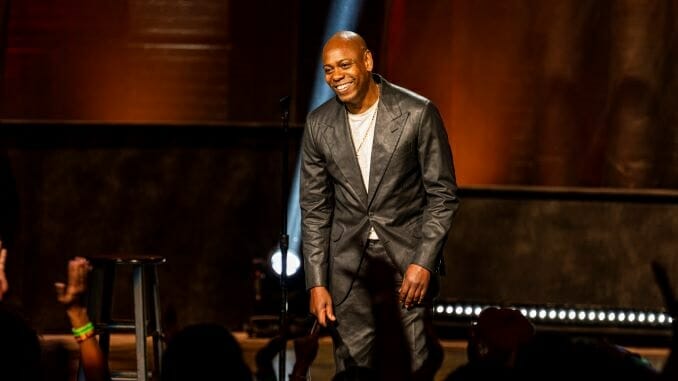 The Grammys reward and uphold the status quo. Considering the prevalence of transphobia in the United States (and abroad) right now, it's apt and alarming that Dave Chappelle won his fourth Grammy Award for Best Comedy Album for The Closer, his notoriously prejudiced Netflix special.
His remarks in The Closer include a defense of J.K. Rowling ("I'm team TERF!" he declares) and the assertion that "Gender is a fact." Shortly after the special's release in October 2021, the LGBTQ organization GLAAD condemned Chappelle's jokes about trans people, tweeting:
Dave Chappelle's brand has become synonymous with ridiculing trans people and other marginalized communities. Negative reviews and viewers loudly condemning his latest special is a message to the industry that audiences don't support platforming anti-LGBTQ diatribes. We agree.
It's not entirely a surprise that the Grammys have rewarded Chappelle's damaging edgelord comedy. Last year, Louis C.K. (another comedian who cries "cancel culture" while at the same time performing at massive venues) picked up the same award for his record Sincerely Louis CK, which makes light of his past sexual misconduct. Honestly, if anything this is par for the course for the Grammys.