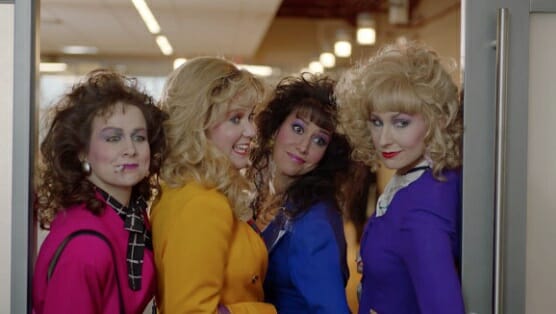 In "80s Ladies," Bill Nye says the F-word, the Broad City duo shows up to gush about apricot puggles, Roald Dahl's Big Friendly Giant gets namedropped, and Amy jokingly compares abortions to Pringles. Those are just a few of the little treasures found in this standout episode of Inside Amy Schumer's third season.
The past two episodes of Inside Amy have been fairly uneven but this time around there's only one misfire: a sketch about women riding mechanical bulls at bars in order to look hot. In the sketch, Amy tries to match the sensual hip movements of her more practiced wingwoman only to end up clinging to the saddle with blood streaming down her face as the reliably douchey Jon Glaser narrates from the DJ table. As far as physical comedy goes, it's perfect, but the sequence would work better in the middle of a movie with some characterization to back it up instead of being packed into a standalone three-minute sketch.
But the remainder of the episode is bursting with a creative energy made all the more satisfying by preceding episodes that have too often relied on retreading material from seasons past. A recurring bit in which a group of four women from the 1980s—complete with shoulder pads, bangs, and inadvisably red lipstick—rescue more modern ladies from their quotidian troubles is beautiful every time it appears. The cacophony of their clacking heels alone is enough to earn a laugh, not to mention the delightfully off-kilter references to diaphragms, psychoanalysis and Sigourney Weaver.
The "80s Ladies" bits even have some bite to them beyond their basic function as a collection of callbacks. At one point, the poppy theme song's lyrics induce a specific nostalgia for that headier time when female empowerment through the establishment still felt within reach: "They shave their legs not their bush and they run for Congress."
"The Universe" featuring Bill Nye is a pseudo-TV-documentary sketch mocking white women who believe that coincidences are signs from above about personal trivialities like upping one's calcium intake, cancelling a cable subscription, having an affair, or finally starting that mitten enterprise you've always talked about.
"We now know the universe is essentially a force sending cosmic guidance to white women in their 20s," Nye intones but it's his exasperation with the women in his illustrative clips that brings the bit home.
"How hard could it be to make just one mitten?" he asks. "They don't even have fingers."
Later in the episode, a parody of the emerging genre of woman-child movies like Young Adult, Bridesmaids and Obvious Child makes a nice companion piece to "The Universe." After six divorces, a 33-year-old Amy is back at her mom's house brainstorming the perfect husband with her supportive friends (including Ugly Betty's America Ferrera). The man they cook up is an impossible bundle of contradictions: someone who "respects [her] independence but doesn't let [her] pay for anything," someone who is "evolved" but will erupt in a "violent rage" if anyone "looks at [Amy] even slightly wrong."
The suggestion that he should be in the art scene without being an artist himself—"like Bono's chiropractor," someone says—is a terrific piece of writing.
But it's Schumer's imagining of Bill Cosby's trial in a literalized court of public opinion that truly separates this episode from a standard outing of Inside Amy. As Cosby's lawyer, Amy shamelessly appeals to the jury's heartstrings and turns them all into Cosby truthers despite the many testimonies against the embattled comedian. To make her case, Amy shows the jury a brief clip from The Cosby Show, laughs uproariously alongside them, and then suddenly goes stone-faced to ask: "Did anyone feel raped by that? How about drugged?"
The ensuing silence to let the joke land is one of the most confident moments of the season.
Cosby jokes are not new territory for comedians of Schumer's stature—see Tina Fey and Amy Poehler's Golden Globes monologue this year—but Amy separates herself from the pack by directly taking on those who would accord more importance to their nostalgia than to the dozens of women who have accused Bill Cosby of sexual misconduct. Her own digs don't have easy punchlines about what Cosby has allegedly done—they're complex barbs about the people who still believe he's done nothing wrong.
"If convicted, the next time you put on a rerun of The Cosby Show, you may wince a little," Amy tells the jury, as if that discomfort is an undue burden. "We deserve to dance like no one's watching and watch like no one's raping."
Inside Amy Schumer has been at its best this season when deviating from its usual format but this episode is proof that Schumer and crew can still pull off an original batch of brilliant sketches with sharp writing and varied targets. Better yet, it's an indication that the show is still improving late in its third year. Flashes of brilliance early this season weren't flukes, they were signs—from the universe, even—that Amy Schumer is on her way to comic greatness.
Samantha Allen is the Internet's premier alpaca enthusiast as well as a Daily Beast contributor. Follow her on Twitter.