In the middle of the biggest comedy festival in North America, on a night when dozens of the world's top stand-ups were all performing in different parts of Montreal, the hottest ticket in town was to watch a group of people sit on a stage and read a screenplay.
Live Read, Jason Reitman's on-going monthly project where he invites celebrities and comedians to read a screenplay aloud in its entirety, left its usual home of Los Angeles and headed to Montreal for the annual Just For Laughs Festival. It would've been a huge festival draw even with a different movie and a different cast, but Reitman wanted to make sure the crowds picked his event over Kevin Hart's show at the Bell Centre or the Ellie Kemper Gala at Salle Wilfrid-Pelletier. He didn't select just any screenplay, but the cult film of our day, Joel and Ethan Coen's The Big Lebowski. And instead of just gathering together comedians who were already performing multiple times that week, Reitman bolstered the cast with a couple of bona fide superstars named Jennifer Lawrence and Michael Fassbender.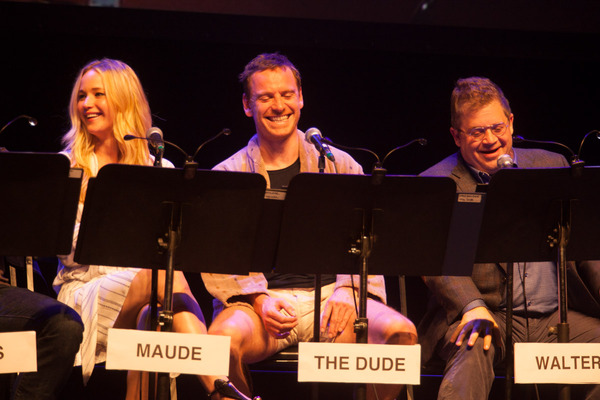 I'd never been to a Live Read before. It's always seemed like something that would be heavily dependent on the cast more than the screenplay. Reitman definitely assembled a great one in Montreal. Beyond Lawrence, who played Julianne Moore's character Maude, and Fassbender, who played the Dude, complete with robe and white Russian, we got to see Patton Oswalt channel John Goodman as Walter and Mae Whitman voice Steve Buscemi's naive Donny like a cartoon animal. Olivia Munn read Tara Reid's role Bunny, TJ Miller served as Phillip Seymour Hoffman's Brandt, and an unannounced Dennis Quaid stepped in to bring the Big Lebowski to life. Mike Judge bookended the show with a flawless impersonation of Sam Elliott's the Stranger. Martin Starr rounded out the cast with an impassioned delivery of the few lines afforded to John Turturro's the Jesus, and Whitman, Miller, Starr and Judge pitched in to voice various minor characters. Reitman read the stage directions, and each scene was set with an appropriate still from the film projected on a screen above.
The biggest names acquitted themselves well. Fassbender seemed hesitant at first, but he gradually grew confident as the Dude, and by the end was nailing Jeff Bridges' cadence. Jennifer Lawrence didn't have much to do—Maude is in maybe two scenes—but she had Maude's haughty accent down pat, even if she did pronounce the final O sound the first time she said "thorough." The Live Read format actually reinforced how thankless the roles for women are in this great movie—Lawrence, perhaps the biggest star in Hollywood, had little to do on stage, sitting patiently and quietly during almost all of its two and a half hour run.
There were three genuine standouts among the cast, two of which were expected. Casting Patton Oswalt as the rage-filled vet Walter Sobchak was a lay-up. Anybody who's seen his stand-up knows Oswalt can yell with the best of them, the escalation from his normal speaking voice to a full-on shout its own kind of beautiful music. Oswalt didn't disappoint. And Mike Judge has probably had a top-notch Sam Elliott impersonation in his back pocket for decades now: he's a voice artist from Texas, after all. That didn't make his perfect Elliott any less amazing, though.
The most valuable player was one I never would've expected. Mae Whitman didn't just recreate Steve Buscemi in her performance; she highlighted Donny's cheerful optimism, turning this innocent fool into an even more tragic figure. On top of that, she voiced a variety of other characters, from a police officer to one of the nihilists. She hopped between different characters throughout the night, bringing a new voice and approach to all of them, and making them all a memorable part of the evening. She didn't get to be as flashy as Oswalt and didn't receive the room-shaking ovations showered upon Lawrence and Fassbender, but Whitman was the most important actor of the night.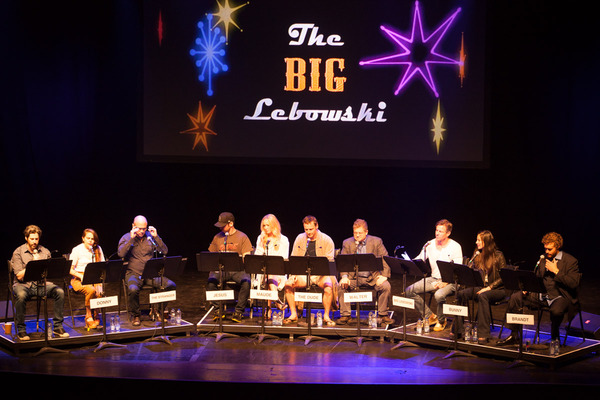 None of them did a bad job, though. Dennis Quaid somehow sounded exactly like David Huddleston while still sounding like the Dennis Quaid I've been watching in movies for my entire life. TJ Miller, like Whitman, was called on to voice a number of characters, and was able to make them all distinct and memorable. Starr and Munn were great complements, maximizing the impact of their limited roles. Everybody worked well together.
During his introduction Reitman said that the point of Live Read was to show the audience how an actor goes about creating a character. For me the more valuable aspect was hearing the Coens' stage directions. At times it was as hilarious as any line of dialogue that made it into the final film. It showed how writing a movie isn't just about writing good lines or describing a scene. Even though it's a visual medium, it comes down to language, with every picture first being cast in words. The stage directions of The Big Lebowski are vital to understanding the enduring power of the film, and Live Read brought them to the fore.
As much as Reitman says Live Read is about better understanding a film and the process of acting, at the end it felt more like an old-school game show or variety program than a celebration of this one particular movie. It was less about The Big Lebowski and more about this gathering of famous people goofing off with each other for a couple of hours. Only instead of Charles Nelson Reilly on the Match Game or Wayland Flowers and Madame in Hollywood Squares, this Live Read starred two of the biggest actors in the world today.
Garrett Martin edits Paste's comedy and games sections.