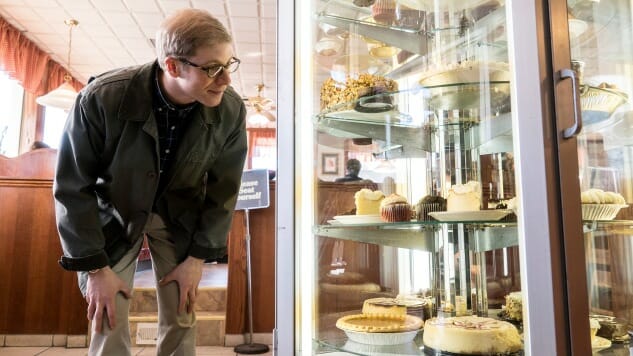 Imagine snuggling under your favorite blanket and a surprise dog licks your face. Imagine living with the Gundersons from Fargo in a world with no murder. Imagine if you got to eat meatloaf homemade from the flesh of Charlie Brown.
These are my best stabs at describing what it's like to watch Joe Pera do comedy. Suffice it to say: it's hard to explain. If it helps to know that Pera is an Andy Kaufman Award winner, and the sensitive old-man persona is nothing short of completely genuine, well, good. I'm glad to have helped.
Pera's various projects for Adult Swim, including the animated Joe Pera Talks You to Sleep and the live-action Joe Pera Helps You Find the Perfect Christmas Tree, also serve as brilliant counter-programming for the channel's signature, aggressive style. And yet, they fit right in. It's just a completely different kind of absurdity, one borne from gentle, kind intentions ("We just tried to focus on talking them to sleep and making a relaxing show for before bed," said Pera, when I asked him how he'd describe Talks You to Sleep's operating conceit).
Pera's first series, Joe Pera Talks With You, is a spiritual sequel to his previous Adult Swim specials, and communicates that same serene loneliness. "Each one has kind of served as development for the next one," Pera says. "They're definitely doing different things, but the series is definitely another step." With the Christmas Tree special serving as a kind-of backdoor pilot, each episode of Talks With You grows a new story from one of Joe's tutorials (i.e. "Joe Pera Takes You to Breakfast," "Joe Pera Shows You How to Dance," "Joe Pera Takes You for a Fall Drive"), using them to give viewers a glimpse into the fictional Joe's still-waters-run-deep life in the Upper Peninsula of Michigan.
For Pera, an accomplished stand-up comedian in his own right, the pace and intensity of delivering nine episodes of television instead of one has begun to shift his process. "I like testing stuff out in front of an audience," says Pera, regarding a three night stint performing an hour of stand-up to generate ideas. "You can tell right away whether they like it or not… I usually like screening stuff in front of a live audience, too… I can feel, during a screening, what's working and what's not. Where to adjust cuts. This was the first project that was way too massive to test screen everything as well as have full stand-up bits for it… Because I couldn't start stuff on stage, I had to start stuff thinking how it would work on the TV show, and I think that, because of that, later episodes that I didn't have to test onstage are different from previous work in a way that is kinda neat."
The other essential piece of the puzzle is Pera's counter programming to the counter programming: his (regular) collaborators Jo Firestone (The Tonight Show) and Conner O'Malley (Late Night with Seth Meyers), who write on Talks With You in addition to rounding out the cast. "I think our stuff works because we're kind of similar," says Pera of Firestone, "and Conner and I work together because we're—at least performance-wise—we're pretty different in the ways that we approach it," which is pretty on point. Firestone and Pera share a soft-spoken delivery, though Firestone plays significantly more self-aware in comparison with Pera's frequent naiveté. O'Malley and Pera, on the other hand, are a perfect example of opposites attracting (consider their fantastic web series How to Make It In USA, which should corroborate Pera's loving assessment of his friend: "kinda… aggressive?").
O'Malley might be the only one of the three who's actually from the Midwest, but they all share a sensibility that feels Midwestern—"I get along with them well for that reason," says Pera. Together they find something that is almost completely missing from the American cultural landscape: an honest celebration of small-town life that gets nowhere near any regressive MAGA politics. And the sheer, unpretentious decency of Joe Pera Talks With You can be captured pretty perfectly by the end of my interview with Pera, who hopped back in as we were wrapping up over the phone.
"I just wanna give a better answer for Conner and Jo," said Pera. "I just think that they're really funny and interesting people and I appreciate that they're willing to work with me, and I think the show's better because of them. Halfway through the editing process I was—I don't like watching myself in the editing room but I felt like I had to be there every day—and I was just thinking (maybe I'll give you the scoop) that if we get another season I would love to have my character on the show drive off a cliff or something and have it just be Jo Firestone's show, and just have me be able to write for her because she's a better performer and more interesting than I am."
Pera took a long pause. A thoughtful pause.
"And Conner can be in it, too."
---
Graham Techler is a New York-based writer and comedian. You'd be doing him a real solid by following him on Twitter @grahamtechler or on Instagram @obvious_new_yorker. A real solid.