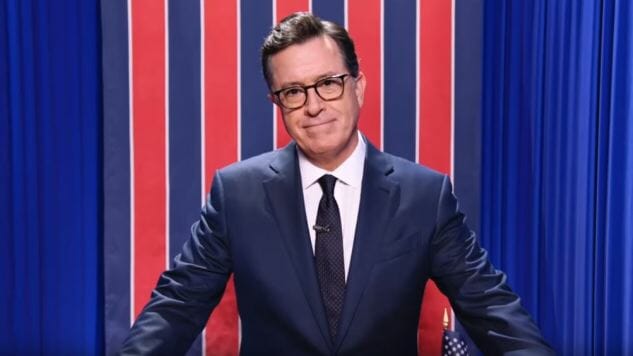 At least two late night talk shows made jokes about drinking entire bottles of whiskey while watching the election returns last night. I don't even know if they count as jokes because that's basically what everybody I know was planning on doing all along. It's become the latest American ritual: getting absolutely torn apart while watching vapid cable news talking heads bicker about what a House race in Virginia means for the president. It's probably the closest political comedy gets to real life these days.
There may or may not have been a Blue Wave last night (taking the House isn't something to be scoffed at, that's for sure), but there was definitely an overwhelming surge of late night coverage of the elections. Even James Corden, a foreigner who goes out of his way to avoid politics on his CBS show, had a short bit about the elections in his monologue. (Uh, we didn't include that one here, because it really didn't deserve to be included.) If Corden's doing it, then obviously the usual suspects—your Stephen Colberts, your Trevor Noahs, your Seth Meyerses—would be dialing in hard on the election. Those three actually went live so they could cover the returns in real-time, making sure their jokes were as timely as possible, no matter how fundamentally tired they might be.
If you were too busy watching actual news to watch the joke news last night, but still want to know what Colbert and the rest had to say about the midterms, here's a quick look at everything worth mentioning. And we even saved a little bit of room for Jimmy Fallon, whose attempt at political comedy went about as well as you'd probably expect.
And oh, if you want to see Jimmy Kimmel's take on the election, complete with the return of Sacha Baron Cohen's Borat, we gave that one its own entire post. Go check it out.
The Late Show with Stephen Colbert
Before Colbert's show went live, it kicked off with a pretaped musical number about how divided we are as a country today. Colbert's had a lot of funny musical moments over the years, but this treacly bit seems like something you'd see from Capitol Steps, and not one of the most gifted political satirists of our age.
After that there was a solid 20 or so minutes of live coverage of the election results, at least the ones that were official as of 11:35 p.m. on the East Coast. It was fairly typical for Colbert's CBS show: he's still incredibly charming and likable, and there are some great jokes and observations sprinkled throughout his commentary, but it still feels just a little deflated compare to his amazing work on Comedy Central. It's worth checking out both segments, though, which you can do below. And if you want to see Colbert talk to Hasan Minhaj, Alex Wagner and John Heilemann about the election, you can find those clips at YouTube.
---
Late Night with Seth Meyers
Meanwhile, over at NBC, Seth Meyers did what you probably would expect him to do: he took "A Closer Look" at the Democrats taking over the House of Representatives. It's another reminder how Meyers, who honestly didn't even seem like that great of a Weekend Update host at the time, regularly outclasses the current hosts of SNL's fake news segment. Although it's ostensibly about the Democrats, obviously this segment winds up focusing largely on Donald Trump, with a few digs at such worthwhile targets as Sean Hannity and Jeanine Pirro. .
Late Night also brought out writer Amber Ruffin for another one of her great "Amber Says What" segments. If you only click on one of these videos right now, this is the one to pick.
---
The Daily Show with Trevor Noah
The Daily Show also did it live, with Trevor Noah calling the election a referendum if "America is racist or is it openly racist." He announces the Democrats' victory in the House in front of a raucous crowd, running down the number of women and people of color who ran their races last night, with commentary from Roy Wood Jr. Noah's Daily Show still feels a little like it's beamed in from some alternate universe—even though it's been his show for 3 years, it'll take longer than that to forget Jon Stewart's 16 year tenure on the show—but last night's show probably played well to its intended audience.
---
The Tonight Show Starring Jimmy Fallon
Jimmy Fallon kept it predictably soft over on The Tonight Show, focusing less on actual issues, races or politicians than on the preponderance of boards used in TV news election coverage. This might've been some timely comedy in the '90s, but since boards were largely replaced by large TVs with interactive touch screens well over a decade ago, this feels not just weak but terminally confused.