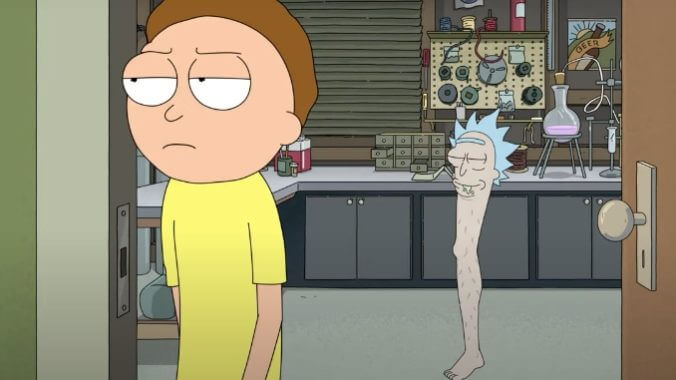 Season 7 of Rick and Morty marks the first of the series without co-creator Justin Roiland voicing the titular characters and numerous others. Adult Swim ended their relationship with Roiland after he was charged with two felonies relating to a 2020 domestic violence incident. The charges have since been dropped, but Roiland is still out of the project, having been replaced by soundalikes whose voices we've had the first chance to hear today in the new trailer for Rick and Morty's seventh season. 
Soundtracked by Motörhead's "Ace of Spades," the trailer packs in plenty of wacky interstellar antics in less than two minutes. We've got Rick as a leg, Morty dryly threatening aliens, and something called "Rick's famous spaghetti" (I'm guessing it has some secret ingredients). More importantly, Rick and Morty sound like, well, Ricky and Morty. The identities of new actors haven't been revealed yet, but they sure seem to know what they're doing. 
The new season of Rick and Morty premieres on Adult Swim on October 15 at 11 p.m. ET/PT and episodes will be available for digital purchase starting the day after they air. The Emmy Award-winning series has been reeling in viewers for years at this point, with plans for the cartoon to continue on through a tenth season. While some viewers may understandably be turned off tuning in because of the accusations against Roiland, Paste contributor Reuben Baron pointed out that it will "either be a while before we see a completely Roiland-free season creatively, or we've sort of already seen three." As he explains:
The crew starts work on episodes years in advance of their airing; Season 8 is already well into production before Season 7 has even premiered, so Season 9 would be the first season made entirely after Roiland's firing. However, Squanch Games narrative director Alec Robbins has claimed on Twitter that Roiland has had almost zero creative involvement on Rick and Morty beyond voice acting since Season 3. This would seem to be backed up by Roiland's almost complete absence from Adult Swim's behind-the-scenes promotional videos in recent years, as well as how the series has cycled through showrunners (Mike McMahan in Season 4, Scott Marder from Season 5 onward) and the general way long-running cartoons tend to go (do you really think Matt Groening has done much of anything on The Simpsons in over three decades?).
Whether you're on the fence about watching or have October 15 marked on your calendar, here's a glimpse at the new, freshly-voiced season of Rick and Morty.