Netflix Announces New Ricky Gervais Special, Ricky Gervais: Humanity
Photo by Ray Burmiston/Netflix
Comedy
News
Ricky Gervais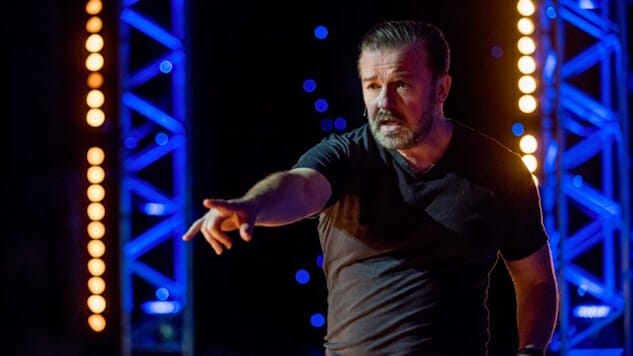 Golden Globe- and Emmy Award-winning comic Ricky Gervais is back on stage at the Apollo Hammersmith in London for his brand-new Netflix special, Ricky Gervais: Humanity. Netflix filmed the special during Gervais' currently ongoing 2017 Humanity World Tour, which ends in Vancouver in February.
The British comic posted on his blog, "I filmed the show during my 3-week residency at the Eventim Apollo in London and Netflix have bought the resulting 75-minute special. It's my favourite, and I believe best, stand-up tour ever and I can't wait to air it and start on my next one." Ricky Gervais: Humanity was reportedly sold at the highest fee Netflix has ever paid for a U.K. stand-up special. Gervais retweeted a local U.K. Twitter follower who wrote, "@rickygervais paid $40 million by @netflix I can't even afford the £5.99 a month"
Watch #Humanity at a friend's house and we're both winners. https://t.co/hrsuB5EvHq

— Ricky Gervais (@rickygervais) January 6, 2018
Netflix promises to give us a special that touches on "aging, becoming spoiled, his perspective on having kids and more." Ricky Gervais: Humanity streams on Netflix on March 13.