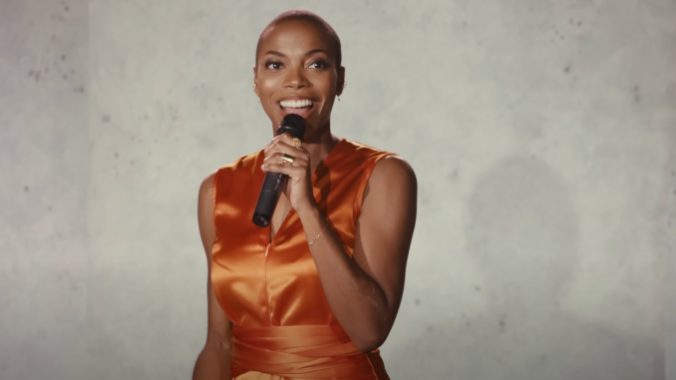 Nearly 10 years ago, Sasheer Zamata made her Saturday Night Live debut with a Rihanna impression. The staple sketch show unfortunately never quite figured out what to do with Zamata during her tenure, and she left in 2017. That same year, she released her excellent debut comedy special Pizza Mind, and in those that followed, Zamata has found success as an actor on series like Corporate, Woke, and Home Economics. Soon she'll even be joining a Marvel show—Agatha: Coven of Chaos—alongside Kathryn Hahn.
Zamata's latest hour, The First Woman, builds on her incisive, informative, and oh-so-hilarious perspective showcased in Pizza Mind. Released via 800 Pound Gorilla and taped in D.C., the special opens with the now-obligatory covid jokes. However, in Zamata's case, these bits work because of their specificity to her experience, like possibly passing "the vid" to the kids she babysat and her masseuse. There's a universality in such detail; I remember those awkward texts to friends or mere acquaintances that made me feel like Typhoid Mary, and Zamata brought me right back to those painfully uncomfortable exchanges. Zamata also sells these moments so well, particularly when recalling the message she left for her masseuse.
As the title suggests, The First Woman is largely about the struggles of being female. Zamata approaches the topic in a way that can sometimes feel a tad Feminism 101, but for the most part is genuinely cathartic and enlightening—especially her bits about vagina familiarity, racial bias, and female aviation pioneers. 
Zamata's conversational cadence is the perfect packaging for these moments; she's more like a friend sharing the strange information she found on Wikipedia than a puffed-up TED Talker (and believe me, you'll be sent down some Wikipedia holes yourself after watching the special). Occasionally these bits can feel over rehearsed, undermining that casualness, but it's only with practice that you end up with a set as cohesive and effective as Zamata's. She's such a confident and charming performer that these slips can be forgiven.
The First Woman's educational tangents don't come out of nowhere. Zamata is extremely clever, and her word play during the set exemplifies an exceptional mind always analyzing the world around her. Zamata is a massive proponent of puns throughout the show. There are plenty of one-liners here that are ripe for GIF-ing.
While Zamata's crowd work is brief, it's a definite highlight of the set. She gets audience members to shout out household items they first used to masturbate, and it's a testament to her connection with the crowd that people are willing to participate. Add to that her quick-witted responses, and you've got a winning bit about jerking off. 
I'd be remiss if I didn't mention the final shot of the special, which I won't spoil but will say is a magical, winking nod to The First Woman's themes. Zamata casts a spell with her erudite and playful comedy.
Watch The First Woman on YouTube (for free!) here.
Look back at Sasheer Zamata's 2017 Paste stand-up set here.
---
Clare Martin is a cemetery enthusiast and Paste's assistant comedy editor. Go harass her on Twitter @theclaremartin.