Watch the Sequel to The Sexiest Elbows in Rock Music with Michael Shannon, Jeff Tweedy and More
Images via YouTube
Comedy
Video
Split Single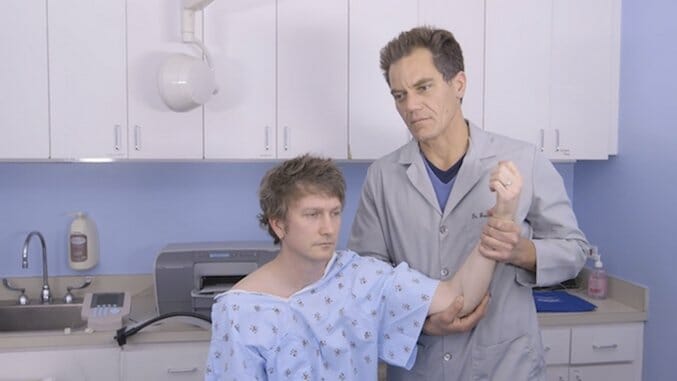 Ahead of the release of Split Single's first album Fragmented World in 2014, the band's sole permanent member Jason Narducy released a documentary about the unending sexual objectification his elbows have faced in the music industry. The video is a cavalcade of famous faces from Narducy's long career including Jon Wurster, Dave Grohl, John Stirratt, Tim Meadows, Fred Armisen, Margaret Cho and more. With Split Single's second album Metal Frames now out, Narducy has released the second half of The Sexiest Elbows in Rock Music II.
The new episode sees Narducy visiting an elbow doctor played by Michael Shannon and having run-ins with rock luminaries like Jeff Tweedy of Wilco, Frank Black of Pixies and Rick Nielsen of Cheap Trick while he auditions for new gigs. The episode ends with Narducy being kidnapped by two henchmen sent by Cynthia Plaster Caster, the artist who makes plaster casts of famous genitalia. Presumably we're going to have to wait for Split Single's next album before seeing what happens to Narducy.
You can watch the newest episode of The Sexiest Elbows in Rock Music above and see the first episode below. Metal Frames is out now on Inside Outside Records.