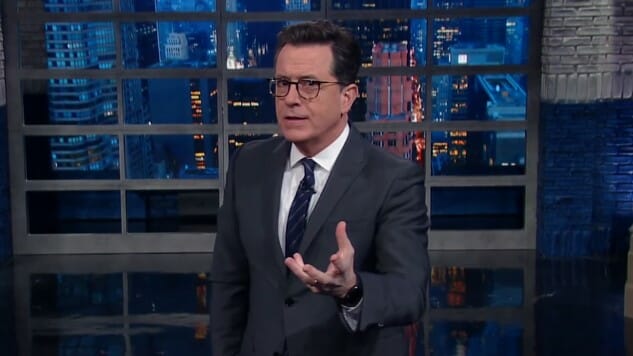 Stephen Colbert is too good for the rest of us. Way too good for late-night television. Too good for this world, even. After Trump's disastrously chaotic press conference, Colbert did what any rational late night host would do: he ripped it apart on television. The Late Show with Stephen Colbert is filmed early in the afternoon, which allows a fresh take on the proceedings that finished, literally, moments before they started shooting this episode. "This is fresh," he stated at the beginning of his monologue. "It must be fresh because you can smell it. The smell is a real … This press conference is still steaming. You can warm your hands over this pile."
He poured over every minute detail with such clarity and poise that it might even be heroic. On Trump's comments about "inheriting a mess," Colbert quickly responded, "No … You inherited a fortune. We elected a mess." Boom. Trump talked about his 306 electoral college votes (yeah, seriously … He's still talking about that.), comparing himself with Ronald Reagan. Colbert shot back with Obama's electoral college count of 365 from 2008, saying, "Wait a second … Do you think 306 is larger than 365? Wow. Betsy DeVos works quick. That's called the DeVos Effect! You got DeVosified!" And the madness just goes on from there. As in, it gets really really crazy.
This is a much more effective reaction to Trump's crazy afternoon than others in late night have offered, fully encapsulating not only the craziness that Trump puts on display, but also how unhinged and dangerous he is. Stephen Colbert is the satirist that we need, but not the one we deserve. So, he's basically the Batman of Satire. It's got a good ring to it.
Check out the video above. The Late Show with Stephen Colbert has seen a surge in ratings, likely because of segments like this, and he really and truly deserves any sort of recognition that he can get. Anything is better than the alternative: dressing up in a wig and employing a tiny hand for laughs.