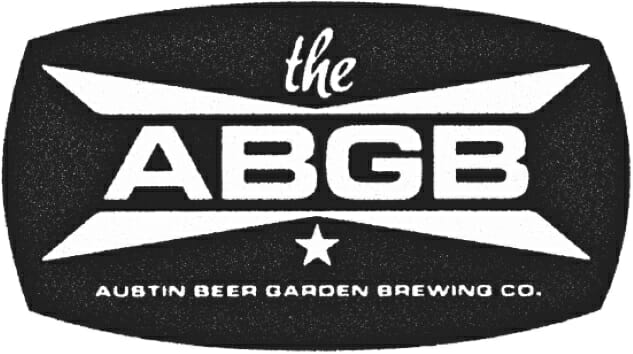 In the last two years, the Austin Beer Garden Brewing Co.—better known to locals simply as "The ABGB"—has won four medals at the Great American Beer Festival in Denver. That's an impressive feat all on its own, but it's the details that make it rather astounding.
Three of those medals won by the ABGB have been golds.
And somehow, ALL THREE of those golds have been for pilsner, in three separate pilsner substyles—German-style pils, Czech/Bohemian pils, and American pils.
That kind of thing just doesn't happen—not at GABF, a competition that this year collected beer from more than 2,000 breweries. Each of those pilsner categories receives 100 or more entries. Even if a beer is consistently great, each and every year, it rarely manages to find itself on the winner's platform more than once. If you can manage to score a single medal in one of the more tradition-driven categories such as pilsner, you thank your lucky stars. Winning gold medals in three different styles of pilsner, within the span of two years? That's like some kind of German brewer's GABF pipe dream fantasy.
Brian "Swifty" Peters is that brewer, although he's German in nothing but taste for authentic lagers. The co-founder of ABGB, Peters has been around the block in the craft beer industry, co-founding Austin's Live Oak Brewing Co. with Chip McElroy in 1996—another brewery in the same city, similarly known for award-winning German beer styles. After leaving Live Oak in 2001, Swifty brewed in several other locales before opening ABGB in 2013. But this feels like the one where the brewer is looking to build his legacy, alongside fellow brewers Amos Lowe and Kim Mizner. A bevy of medals is certainly a good place to start, anyway.
"Chip and I both went to Prague, and that was it for us: We were going to bring fresh Czech pilsners to America," says Peters, referencing the work Live Oak is still doing to this day. This conversation is happening on the floor of GABF, barely audible over the roaring din of tens of thousands of craft beer geeks milling around the Colorado Convention Center. In the middle of it is ABGB, pouring all three of its different pilsners. In three years of walking around the GABF floor, I've never seen another booth have three different pilsners on tap. Not once.
"It's a little ambitious I guess," says a modest Peters when I point this out. "But there is a different between them, and people will notice if they try them. And we have great bartenders at the brewery who are eager to explain some of the finer points and subtleties between similar beers. People will end up loving one more than another."

One of the gold medal winners this year is Rocket 100, a so-called "pre-prohibition" American pilsner. Curious about how Swifty will describe such a beer, in a style that isn't as well defined as German or Czech pils, I ask him if it uses American hop varietals, especially old school ones such as Cluster. He replies in the negative.
"It's not so complicated," he says. "For me, 'American pilsner' is what I want it to be, and everyone is making up their own answer. So we use some corn in it, but we still use the German malt and Continental hops, like Saaz. It's like what a German immigrant might have brewed in pre-prohibition America."
Last year, it was the brewery's German pilsner, Industry, that found itself in the gold medal spotlight—a beer that we've already written about as one of our favorites from GABF this year. Or as I wrote then:
It has everything I think of, when I imagine the perfect German pils: Crisp, crackery malt and loads of delicate, floral and lightly spicy hops, which contribute moderate bitterness. Like all of the ABGB beers, it's quite dry, mega drinkable and beyond reproach in a historical sense. All that, and it probably drinks well on a patio, too.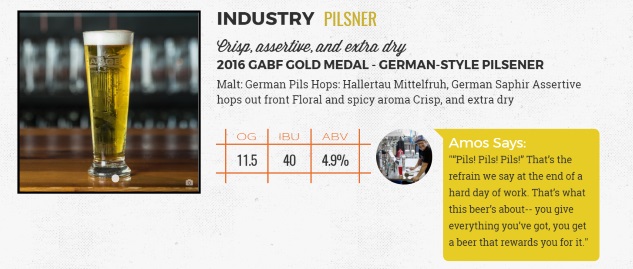 The only one I wasn't able to try—not because I was tired of pilsner, but because it had completely run out at the festival—was Velvet Revolution, the brewery's Czech pils. It was a shame, but at the same time I was almost excited to see a beer like that run out. At a festival dominated by hazy IPA and barrel-aged stouts, it's kind of cool to see a crowd clamoring for Czech pils.
This is all not to say that ABGB only produces German lagers. The brewery doesn't package, with the exception of crowlers, but their beer garden pours a regular 10-beer rotation on tap, which includes many of the other American styles you would expect from a successful brewery in 2017.
"The 10 beers usually includes three lagers, a sour of some kind—usually a fruited sours with lactobacillus—and then a full-time pale ale, IPA and imperial red," says Swifty. "So we really do hoppy ales, lagers and the occasional sour. I don't like 'em to be sweet, either; all of our beer is super dry. So we make like a dry, but not overly bitter IPA, but using the same hops everyone else is loving, like Citra or Mosaic."
But still, with GABF results like this, it's hard not to focus on the brewery's mastery of pilsner in particular, and Swifty is okay with that. He describes the love for pils as "going full circle," the culmination phase of a journey that involved leaving an engineering job behind to focus on homebrewing. At first, it was experimental beers that got him excited—the weirder, the better. But these days? It's pilsner. Or as he puts it, "I left on a journey, and came back to make what Milwaukee's been doing forever, and do it better."
That's the Gospel of Swifty these days, and by extension the gospel of ABGB. If he can accomplish one thing in the beer industry, he says he wants to install his love of pilsner into each and every craft beer fan who still associates the term with dull, flavorless, hop-free macro lagers from Anheuser Busch or MillerCoors.
"I still get a lot of people coming up to me and saying 'This is pretty good for a pilsner,'" he says. "To be able to put an end to that, to never hear that again—that would be my wish."
---
Jim Vorel is a Paste staff writer and nascent pilsner geek. You can follow him on Twitter for much more beer content.