It's still early on a summer morning as my girlfriend and I careen through the verdant hills of southwest Ohio towards Athens. This quirky college town, with its cobblestone streets and lefty shops, is home to arguably one of America's most underrated breweries: Jackie O's Pub & Brewery. The brewery, known for aggressive IPAs, barrel-aged imperials, and funky sours, frequently places on Ratebeer.com and Beer Advocate top 100 lists, collaborates with giants like Crooked Stave and Hill Farmstead, and yet, isn't widely known beyond the Midwest.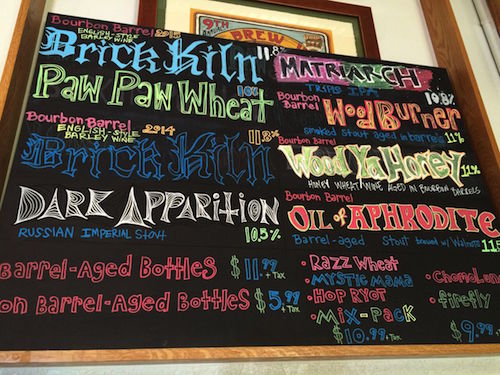 Our morning destination is the production brewery, where we are meeting Art Oestrike, Jackie O's owner, and Brad Clark, the head brewer. The building, with its silo and barn-like appearance, was once used for cheese making before Jackie O's reopened it as a brewery in 2013. This space is just one of several properties acquired by Jackie O's over a decade of brewing, a legacy that started two miles away in a tiny, dark brewpub.
That brewpub, which still cranks out an impressive list of special release beers with mind-boggling regularity, houses a seven-barrel brew house just off Court Street. The space was once called O'Hooley's, part of Ohio's '90s brewpub wave. Brad worked odd jobs there and knew Art through Art's uptown eatery, Bagel Street Deli. Art was looking to make another investment, so Brad recommended looking at the struggling brewery. In 2005, Art purchased the pub and immediately hired Brad, who had been avidly home brewing, as his head brewer.
Soon after, tragedy hit the Oestrike family, one that would leave an indelible mark on the brewery. Art's mother, who had never been a smoker, was diagnosed with terminal lung cancer. Art resolved to memorialize her in his business. He changed the name of the pub, christening it Jackie O's, after his mom. The brewery released Chomolungma, a brown ale, to raise money for lung cancer research and for an Everest quest undertaken in Jackie's honor by Art's brother. And even today, beers like Mystic Mama (their flagship IPA) and Matriarch (a special release triple IPA) are nods to Jackie's memory.
Growth came quickly. In 2009, the brewery acquired the adjacent bar and opened Jackie O's Public House, which expanded their kitchen space and service area, giving Brad room to experiment with sour aging. In 2013, they grew again, this time into an 8,000-barrel production facility where we were meeting the team that morning.
The production brewery's taproom is a hidden gem. We were excited to find rarities like Barrel-Aged Brick Kiln (a barleywine), Bourbon Barrel Oil of Aphrodite (an imperial stout with black walnut oil) and Wood Ya' Honey (a wheat wine brewed with honey and aged in bourbon barrels). Art explains that this is intentional to drive beer tourism: "If people are coming through, they are pleasantly surprised that Barrel-Aged Dark Apparition 2015 is still available. We're trying to really feed that this is a destination spot to get that rare stuff."
Over the next hour, we discussed the fire that had ravaged the Public House's kitchen in 2014, the role of Jackie O's in the community, and the brewery's latest expansion plans. Nearly two years after they started distributing throughout Ohio, they are out of space again. They moved their barrel aging program to an offsite warehouse and are constructing a new roof along the back of the brewery to house multiple 120-barrel fermentation tanks. This expansion will give them a 30,000-barrel annual maximum capacity.
Their multi-year growth plans have each come to fruition much faster than expected, and yet Art and Brad remain humble. They've grown the business from the ground up, learning roles and then finding people to fill those roles as they move onto the next challenge. The brewery produces two batches a day, yet Brad starts each morning's batches himself. Likewise, Art personally manages the front of house business (even occasionally changing the urinal cakes in the men's room). When asked how they handle the rapid growth, Art explains, "We're just going to stay the course; we say it to each other all the time—stay the course." Brad echoes the sentiment, explaining that quality is of the upmost importance: "What we're mainly trying to do is be consistent. We're not trying to grow super fast. We just want to be that company that people can rely upon, as far as quality goes. Quantity might not be there right now, but they can know that if they order a Jackie O's beer, it's going to be good quality."