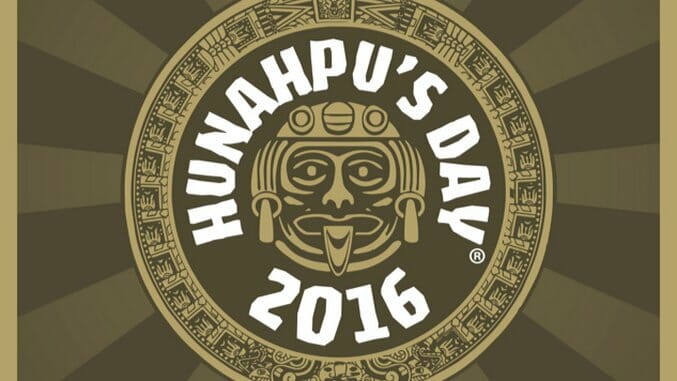 If the early years of Cigar City's Hunahpu Day were marked with crowd-control and beer-allotment problems, the 2016 version was an example of how to do a beer festival right. The esteemed Florida brewery held the event in Tampa's Cotanchobee Fort Brooke Park on Saturday, inviting 150 breweries from around the country to help celebrate the release of Hunaphu, a whale of an imperial stout with a 100 rating on RateBeer. Attendees could sample 400 different beers, including more than 60 Cigar City beers poured out of a semi trailer with built-in tap handles overflowing with goodness.
Although there were plenty of Florida beer companies present, brewers came from as far as Scandinavia to share their beer with festival-goers. I got in town the day before to see Cigar City's operations and attend a brewers' bottle share, where I got to taste both regular and brandy barrel-aged Hunaphu, The Bruery's Grey Monday, The Rare Barrel's Map of the Sun, Hardywood Park's Christmas Morning, and the first ever pouring of our neighbor Wild Heaven's Gravitational Wave imperial stout.
Tasting so many world-class beers on Friday freed me up to try lots of new things at the festival on Saturday, though I did get the day started with a sip of Toppling Goliath's Morning Delight.
Every festival has at least one beer that, when the gates open, causes a crowd rushes to one tent to wait in line for a taste of something rare and special. At Hunahpu Day, there were several tents that generated immediate lines (Side Project, 3 Sons, 3 Floyds), but none were quite so long as Toppling Goliath's. The Iowa brewery brought about 300 pours worth of Morning Delight, an American Imperial Stout. It was very boozy, reminiscent of an Irish coffee with a bit of a peppery spice on the finish. It's a great beer, though there were certainly beers I enjoyed more, in many cases without having to wait in any kind of line.
Here are 10 of the most interesting and exceptional beers I tasted at Hunahpu Day 2016: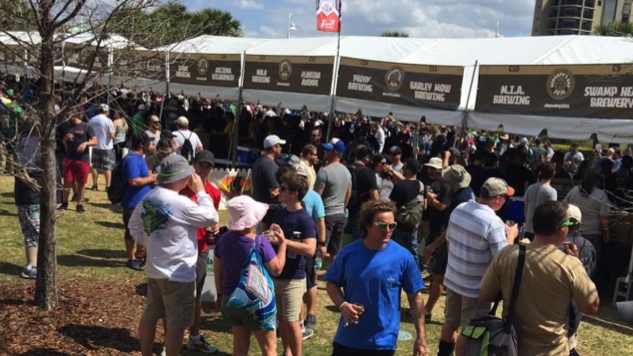 Cascade Brewing Pater
City: Portland, Ore.
ABV: 8.12%
The best sour beers take time. Lots of time. And a lot of young American breweries feel the very real pressure to rush their beers to market. But you can taste the difference with Cascade Pater, a red ale aged in oak barrels with cherries for more than a year. Tart and dry, full of fruit flavor but not overly acidic, it was a wonderful early beer for a spring day in Florida. I've yet to have a beer I didn't love from Cascade, and now that they're distributing in Georgia, I can keep putting that statement to the test. They also brought a delicious honey ginger lime sour that gave equal emphasis on all four of those words. On a day that's all about big, chocolaty, rich imperial stouts, the sours from Cascade were a wonderful change of pace.
Wrecking Bar Mexican Siberius Maximus
City: Atlanta, Ga.
ABV: 12.5%
A couple of months ago, I met some friends at Atlanta's Wrecking Bar for dinner before a Sufjan Stevens concert. It happened to be on the release day for the brewpub's whale of a beer, Mexican Siberius Maximus and we got the last small pour off the keg. So I was thankful to get to try it again in Tampa. The Russian Imperial Stout with a spicy chocolate kick is una fiesta en la boca and I was happy to be invited. Made with enough smoked serranos and chiplotle morita peppers to ignite your taste buds, the cocoa nibs and vanilla beans cool things down with a desserty sweetness and keep the beer from just making you reach for your water. It was encouraging to see the number of good breweries from Georgia represented, something I couldn't have imagined just five years ago.
Trve/Prairie Collaboration
City: Denver
ABV: Unlisted
Denver's Trve Brewing brought a barrel-fermented gose-style ale aged on peaches that they made in partnership with Prairie Artisin Ales out of Tulsa, Okla. I can't imagine how many Oklahoma peaches it took to get this full fruity flavor, but the wild yeast added a puckering tartness. The hazy golden concoction spoke well of collaborations, which don't always equal the sum of their parts. There was no holding back in the making this beer.
Sahtipaja Feel the Beat
City: Sätila, Sweden
ABV: 4%
I'm fairly certain this head on this beer glows in the dark. A beet Berliner Weisse, it looked like a deep red bowl of borscht prepared at the ruins of the Chernobyl reactor, but was surprisingly refreshing. I could gulp down a pint of this. Vegetables are hit-and-miss when it comes to beer. But like cucumber, beets apparently provide a similar dry but rich flavor while making it easy to drink. I can confidently say I've never had another beer anything like this, but any brewers looking for an unusual ingredient to experiment with would do well to give beets a chance. And if any beer was going to give me a superpower, this was it.

Mikkeller 12" Winale
City: Copenhagen, Denmark
ABV: 8.1%
Brewed with Reisling grapes, this effervescent hybrid of wine and beer is as light and bubbly as a mimosa, hiding it's 8% abv very well. It's alternately classified as a Belgian strong, a sour/wild ale or a Bière de Champagne. Call it what you like; it's the beer I'd want to drink with brunch out on a patio on a warm Sunday morning.
Fremont Bourbon Abominable with Coffee & Cinnamon
City: Seattle
ABV: 11%
Last December, we blind tasted 71 different Christmas and winter beers and were shocked when an American brewery overtook Belgian masterpieces like St. Bernardus Christmas and Scaldis Noel. So when I came across Fremont's tent and saw that they were pouring the coffee & cinnamon version of their Bourbon Abominable Winter Ale, I got excited. It was everything I loved about our tasting winner—the boozy whisky and port flavors, the sweet dark fruit and molasses, the inexplicable smoothness of a beer this big—plus the added complexity from coffee and cinnamon. Tasting it this way made me feel good about selecting Fremont as the winner. It's all I want for next Christmas.
Side Project The Scribe
City: St. Louis
ABV: 13%
I had three beers from Side Project, and it's difficult for me to single out just one. The 2 Candles imperial stout with maple syrup was divine, smooth as it is rich. The Noir du Fermier was a dry, complex wine-like farmhouse ale that I could have drank all day. But I have to call attention to The Scribe, a collaboration with Side Project's home of operations, Perennial Artisan Ales. The dark fruit—it's aged on black currants, sweet cherries and raspberries inside Cabernet and Elijah Craig and Henry McKenna bourbon barrels—combines beautifully with the sweet malt flavor of the quad. Inspired by a mead, it's as complex and flavorful as anything I drank at the fest.
Bottle Logic Fundamental Observation
City: Anaheim, Calif.
ABV: 14.3%
I really tried to stay away from the 14% imperial stouts at the fest, but I couldn't pass up a chance to taste Bottle Logic's Fundamental Observation. It's aged a four different whiskey barrels—Heaven Hill, Bernheim, Four Roses, and Buffalo Trace—but it's the vanilla that really stands out, smoothing the rough edges out of the booze, more ice-cream parlor than smoky saloon. (Note: the version pouring at the festival was FO16, a single-barrel aged in WL Weller wheat whiskey barrel.)
Smog City Cuddlebug
City: Los Angeles
ABV: 4.5%
For a long time, the beer culture in San Diego and San Francisco couldn't quite take hold in Los Angeles. But Smog City has emerged as one of a handful of breweries to make LA beer geeks proud. Cuddlebug is an apricot sour with plenty of funk. Along with apricot and other pit-fruit flavors, there's a citric acidity—lemon zest, grapefruit, even passionfruit. It's a zinger that drinks light, a refreshing beer among all those quads and imperial stouts that I said I wasn't going to drink.
Wild Heaven Raspberry Sour
City: Avondale Estates
ABV: 5.1%
Full disclosure: Wild Heaven is our friend and neighbor, and I even own a handful of shares in the brewery, so I can't even pretend to be unbiased. But the Raspberry Sour, so new it doesn't have any other name than "Raspberry Sour," was so light and delicately balanced between just-dry-enough raspberry and lip-puckering sour funk that it's what I most want to drink right now as I type these words. Fortunately, I don't have to travel all the way to Tampa for this one and can walk over to the brewery for more.
And finally, there was the Hunahpu itself, a sweet, chocolaty booze bomb of an imperial stout. A beer so flavorful that it would inspire thousands of people to buy a multi-hundred dollar ticket to a beer fest that includes bottles of this whale. It's a beer deserving of the hype, especially when the hype leads to a day like this, a beautiful gathering of brewers and beer lovers in perfect Florida whether, happy to be discovering new beers to get excited about.