Fun Cocktails are Back on the Menu
Photos via Best Friend and Juniper Cocktail Lounge
Drink
Features
cocktails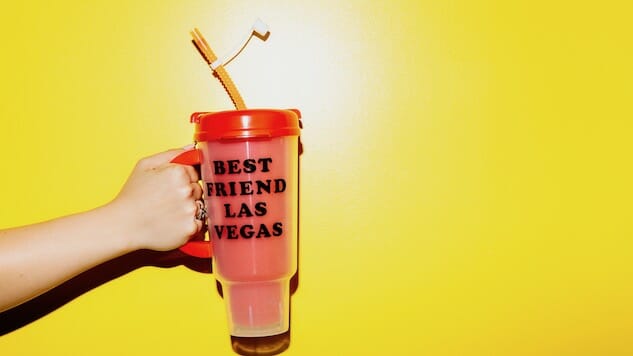 Cocktails have gotten super serious in the last decade or so, with bartenders that boast advanced degrees in mixology and seasonal cocktail menus that will only use the freshest elderberry syrup and hand-picked mint from the bar's rooftop garden, which is tended to by monks. For the most part, I'm glad drinking has grown up, but I also find myself getting nostalgic for the days of hunch punch ladled from a bucket and daiquiris by the yard. I mean, when every bar looks like a pre-prohibition saloon and has a bow-tied/mustachioed mixologist at the helm, it's natural to want to find a place where you can just have a fun drink. Well, I've found that place. That place is the Park MGM Hotel and Casino on the Las Vegas Strip.
The most fun place to drink on the Las Vegas Strip is Park MGM. There's a good chance you've never set foot inside Park. the last time I was there, I had to meander past some construction signs and fences to reach the unassuming casino. But I liked the upscale, but still laid-back vibe of the casino floor, and I had a hell of a time drinking gin at Juniper Cocktail Lounge, which has the largest selection of gin in Las Vegas. It's like, a lot of gin. More importantly, they have a really fun cocktail menu that makes the most of that gin.
First, you've got the Fortune Teller, where you use an actual paper fortune teller (that thing you used in high school to see if you were gonna marry Brandy Buchanon) to find the ingredients for your gin and tonic. And then there's the Carnival, which is gin poured over a big bowl of cotton candy. Or the Cucumber Cooler, which looks like a snow globe. Juniper Cocktail Lounge has more delicate cocktails, but that's not what I'm geeking out on here. It's the fun shit with cotton candy.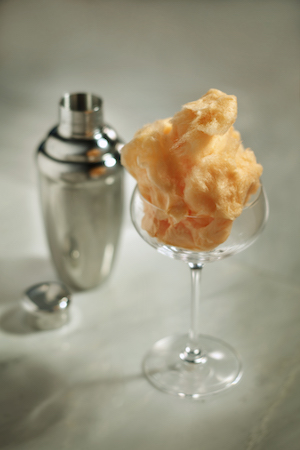 Of course, when you drink gin with cotton candy, there are consequences. My wife rediscovered those consequences after a night at Juniper Cocktail Lounge, but I say it's worth it to let loose every once in a while. And now, Park MGM has an even better spot to find a fun cocktail. Best Friend is a restaurant/bar inside the casino that's designed to look like an Asian corner market. They serve Korean wings and pork belly bowls, but they also focus on recreating super fun '80s cocktails like the Fuzzy Navel and Mai Tai. They've even gone so far as to serve the infamous boozy slushie.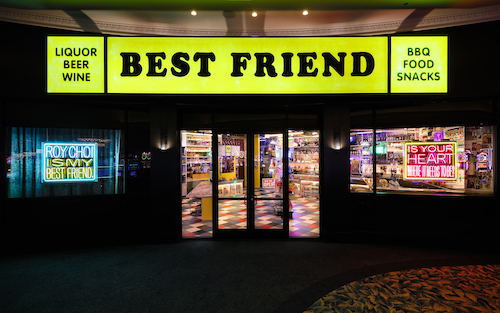 Credit: Patrick Michael Chin
"Cocktails from the '80s get a bad reputation in the industry because they were conceptualized in the height of disco when drinks were more about flash than substance – especially when you compare them to the era of the Old Fashioneds and Martinis," says Roy Choi, owner of Best Friend. "However, the drinks from the '80s have their own vibe and flavors, and I thought if we brought the passion for the craft to drinks like a Midori Sour or a Fuzzy Navel, Best Friend could create familiar drinks that taste new because of the quality of the products within."
For example, the Fuzzy Navel is made with topline Silver Dollar Vodka, which is distilled in Downtown Las Vegas, and mixed with freshly pressed peach, passionfruit, and kumquat juices. It might look like the '80s cocktail you remember (or have seen in movies) but it's a far superior experience.
"'80s cocktails deserve better than the super sweet syrups and premixes they've been accustomed to, so I wanted to celebrate that unique generation of drinks with a fresh new look and quality fun," Choi says.
I didn't get a chance to check out Best Friend when I was in Vegas last, but it seems like the perfect compliment to Juniper Cocktail Lounge's gin-heavy menu. Together, they might turn Park MGM into the most fun place to drink in Las Vegas.