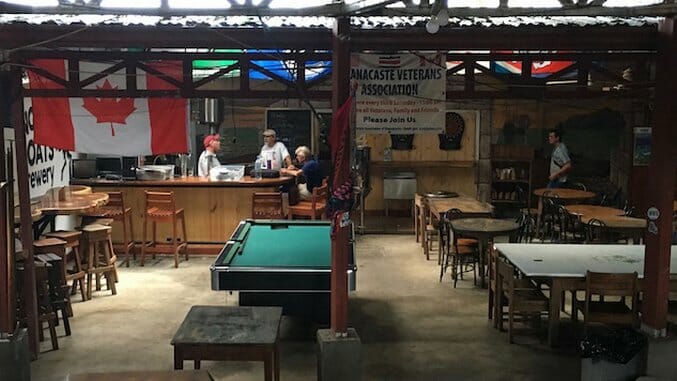 It's around 98 degrees Fahrenheit on the bottom floor of the Coconutz Sports Bar in Playa Del Coco, Costa Rica, and the air is rainy season thick. Sand from the beach less than a half-mile away dusts the floor. Pushed up in the corner next to white-washed wall, John Ruyak, Jim Myers and Dani Gazzeny stand alongside boiling mash in Angry Goats Brewery's half-barrel brewing system, creating one of Costa Rica's only craft beers.
Face it: When you think craft beer, you think America. It's a minuscule portion of America's total beer market, but it's got an outsized reputation. When you cross the border into Costa Rica, however, make the extra effort to search for the local craft beer — you won't leave disappointed.
For the less-than-a-year-old Angry Goats Brewery, the path to Costa Rican craft beer started with Eric Patton in the United States. Patton moved to Playa Del Coco three years ago to become an American expat and a Costa Rican resident. One year later, an empty corner in the back of the bar inspired him.
Patton went to Ruyak with the idea of starting a brewery if Ruyak would be the brewmaster. The two had been on the same hockey team in Colorado called the Angry Goats (Ruyak was the goat, and they were angry because the team always lost), and they had a tradition of drinking kegs of Ruyak's homebrew in the parking lot after games.
The two started tossing around some ideas and started raising capital in 2014. In 2015, everything came together.
"My wife was away for a couple of weeks at a genetics symposium, and when she came back I said, 'hey guess what, we're going to get this brewery going,'" Ruyak told me as Gazzeny stood on a stool behind him stirring the mash. "She was like, 'when?' And I said, 'next month.'"
Since August of 2015, Ruyak has been coming to Playa Del Coco in three weeks on, three weeks off stints. During the on weeks he's brewing full bore to put out two kegs per day. During the off weeks, he goes back home to his wife of 29 years in Albuquerque, New Mexico.
Just because it was started fast doesn't mean it was (or is) easy. Costa Rica is dominated by two pale lagers: Imperial and Pilsen. Imperial is the national beer, and it is cheap, light, simple and everywhere. Imperial has plastered so many advertisements over Playa Del Coco that the center of town feels like an Imperial-themed shopping center with various other objects to buy alongside the lager.
Small-batch, hoppy craft beer doesn't translate to locals who are dedicated to Imperial. The alcohol and the ibu's are high, and so is the price (comparatively at least). Instead, like the rest of Playa Del Coco and the number of beach towns that dot the Pacific Coast of Costa Rica, Angry Goats relies on the tourist trade to sell its four regular beers and one rotating tap.
Most of Costa Rica's 40 or so other craft breweries located in the capital city of San Jose face similar perception problems. But it only takes a single taste to forget the ubiquitous Imperial Lager. In addition to Angry Goats, here are three of Costa Rica's best breweries to try as soon as you head to the country.
Costa Rican Craft Brewing
Costa Rican Craft Brewing is one of the country's most recognized craft breweries. It started in 2010 at the beginning of Costa Rica's craft movement, and is one of the more widely available throughout the region. It has even gotten some international attention — London's Future Publishing named it as one of the top 100 craft breweries in the world. Personal suggestions: The Segua Red Ale and the Libertas Tropical Golden Ale, although the Malacrianza Scottish Ale recently took a silver medal at the Copa Cervezas de America in 2015.
Stiefel Pub
If you're in San Jose, you're in luck. Most of Costa Rica's best craft beers are made in the capital city, and the little brewery in Stiefel pub produces top-of-the-line beer. You won't find it out of the city though, so make sure to make a stop if you are to try out the San Jose IPA.
Treintaycinco
Treintaycinco is based right outside of San Jose in the small town of Escazu, and is brewed by three Venezuelan men. Don't want to travel? Don't worry, their beers can be found in plenty of places in San Jose. Treintaycinco makes more beers than most Costa Rican craft breweries, and there are plenty of styles to choose from. If you are an IPA person, give the La Pelona a try. If you're into something a little different, hit up the Tumbacalzones.