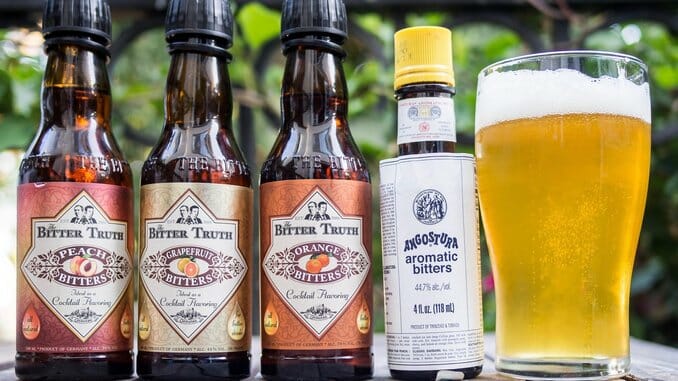 Love fruity IPAs? You're not alone, but why settle for whatever combinations of beer and fruit you can find for sale at your local craft beer retailer? Why not concoct your own custom-flavored IPA — no brewing required? Just take a page from the bartender's playbook and reach for a bottle of cocktail bitters.
This was the idea proposed by the marketing department of The Bitter Truth, a 10-year-old manufacturer of cocktail ingredients based in Germany. And they offered to send me a few bottles of bitters to try for myself. I did a few rounds of taste testing with different beers and different bitters — both from The Bitter Truth and from my own collection of cocktail bitters, and while the initial results were not unexpected, my tests did lead to some interesting findings. I've even added a bottle of grapefruit bitters to my beer fridge.
The next evolution in IPA
Adding fruit to a hoppy, pale base ale is just the latest mutation in IPA's DNA. From the India Pale Ale to the American IPA to the West Coast IPA, then double and triple IPAs, to the white, red and black variations, to session IPAs and hazy IPAs, many branches have grown from the style's beginnings in 19th century England. Many beer-purists resent the rise of these adulterated ales, but they are a vocal minority. Fruit-tinged IPAs and other styles — whether the brews are infused with real fruit or engineered with flavor extracts — are an undeniably popular trend that shows no sign of slowing. Love them or hate them, fruit-flavored IPAs (and other styles) are impacting craft beer culture in two big ways. They are approachable entry points to the world of flavorful craft beer for drinkers who haven't yet discovered everything the craft beer industry has to offer, and they give beer lovers (and beer writers) something to talk (and argue) about.
Personally, I'm fairly ambivalent towards the majority of flavored IPAs. A couple of years ago they seemed pretty exciting, and when Ballast Point was first experimenting with draft-only Sculpin variants, I'd actually hunt out specialty tappings. I was excited to buy the first six packs of Grapefruit Sculpin, and I've downed more than a few bottles of it since. But I've found most of the newer entries into the field — from Green Flash Brewing's Tangerine Soul Style to Passionfruit Pinner from Oskar Blues — distractingly artificial and far too fruity. Even the once delightful Grapefruit Sculpin today seems closer to drinking a grapefruit candy than the pithy and aromatic Grapefruit Sculpin of the past (unsurprising when you consider how much the brewery has had to scale production to meet national demand for its brews).
The market, though, has spoken: there's nearly an unquenchable thirst for IPAs that highlight the flavors of fruit. I may not love the trend — preferring instead the approach of breweries like Firestone Walker who are pushing the fruit flavors into IPAs using just new hop varieties as in the Luponic Distortion series — but the fruited IPA craze is fueling further growth in the craft beer industry.
D-I-Why?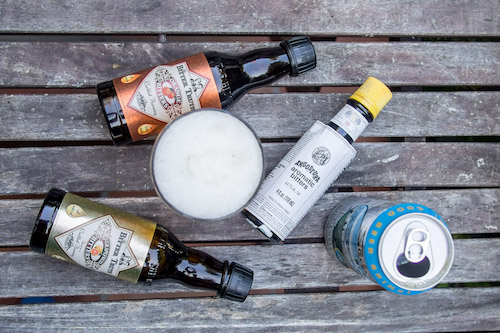 Do-it-yourself projects are polarizing. For every person who's interested in getting their hands dirty to make something for themselves there's another person who thinks the extra effort is stupid. The idea of adulterating a craft beer with bitters is sure to rankle some traditionalists and send shivers up the spine of some brewers. This idea isn't about saving money or making things easier or trying to find a better way; it's about testing a theory and sharing the results. I hope you can get past the urge to comment about how stupid/wrong/offensive the idea is and maybe even get inspired to try it yourself.
Just a dash will do it
I sat down with a few bottles of bitters (Grapefruit, Orange, and Peach from The Bitter Truth, and a bottle of the ubiquitous Angostura bitters) and a few cans of beer (Swami IPA from Pizza Port Brewing and some Bud Light) for the first tasting. It was difficult at first to get the dosing right; my tasters and I settled on about a dash of bitters for a 12-ounce serving as the sweet spot. It works out to about one drop of bitters per ounce of beer. At this concentration, a glass of Swami IPA dosed with grapefruit bitters had the tell-tale citrus top note in the aroma, but the distinctive flavor of the bitters didn't overwhelm the hops or the intrinsic "beeryness" of the Swami the way a full two dashes per pint did.
Bitters are, by design, a strong flavor. They are meant to help balance and add complexity to a cocktail filled with strong liquors, juices and syrups. Even at low concentrations in beer, the grapefruit bitters noticeably increased the bitterness in the finish of the test pint, and there was an unmistakable botanical quality to the bitterness from the roots and barks used in the tincture. The orange bitters were more subtle, while the peach bitters added too much almond and spice flavor to the IPAs. Likewise, the Angostura bitters clashed with the citrusy hop character of the Swami IPA.
I thought the grapefruit bitters-spiked IPA would satisfy a grapefruit IPA drinker dismayed at only having "regular" IPAs to choose from, but I'm not sure if it was subjectively better than the flavored beer. Adding bitters is also a novel way to add variety to a single six pack and stave off beer-boredom. IPA works as a base for adding bitters because it's such a full-flavored style and can stand-up to the strong flavor of the bitters, but it was in the American light lager that the bitters showed true promise.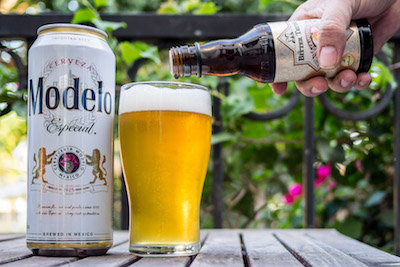 I have no ambivalence towards Bud Light and its ilk. I do not enjoy American light lager. With few exceptions I find them nearly undrinkable; they're overly-sweet and utterly lacking any enjoyable qualities beyond being wet and carbonated. I certainly don't begrudge anyone who does enjoy a cold macro lager — I'd just rather drink just about anything else, but sometimes a tallboy of Modelo is inescapable at a backyard BBQ or tailgate. In the future I may just whip out a bottle of grapefruit bitters and dash my way to a more flavorful light beer.
Adding pungent bitters to the fizzy, insipid light lagers completely changes the drinking experience. The scent of citrus oils overpowers the lager's faint aroma of apple skins, and the additional bitterness balances out the brew's finish. Subtle botanical flavors add complexity to the one-dimensional beer, and the grapefruit bitters specifically give the impression of classic American hop varieties. It might be a stretch to call the spiked light lager a revelation, but to my palate it was a great improvement over the unadulterated beer. Make no mistake, it tastes like bitters in cheap beer, but I prefer that to the taste of cheap beer straight.
Bitter medicine
Bitters are historically tied to medicine and tonics; legend says that Angostura was developed to combat the stomach aliments of Simón Bolívar's Venezuelan troops. But bitters don't just help ailing people – they can have a remedial effect on injured beer as well.
IPA's and other hoppy styles are infamous for short shelf lives, and the flavor of oxidized hop oils is as distinctive as it is distracting to an otherwise excellent beer. Once your palate has developed sensitivity to the marmalade and bruised-fruit notes of staling IPA, the flavors seem inescapable. As IPAs continue to drive the sales of craft beer in grocery stores and other retailers often ill-equipped to properly store and handle delicate craft beer, it has become all too easy to inadvertently purchase old, mishandled or otherwise off brews. Every six pack purchase becomes a crapshoot. Bitters, it turns out, is a cure for ailing IPA.
I tested bitters in both a three-month-old Ballast Point Sculpin that lacked the hoppy punch of a fresh can and a six week old Pizza Port Swami IPA that was beginning to show the signs of mishandling (papery oxidized flavors and a drop in hop aroma). In both cases the bitters masked the offensive off-flavors in the beers and transformed a drain-pour candidate into a drinkable pint. This is the killer app for cocktail bitters in beer: saving craft brews that have begun to stale or were mishandled.
Bitter fruits of experimentation
The Bitter Truth people pitched the DIY flavored IPA idea to me as a way to save money over the cost of Grapefruit Sculpin six packs. At nearly $20 for a 200ml bottle of bitters, it doesn't seem like the math would work out, but as a bottle of bitters should dose over eight cases of beer, the added cost works out to around just a dime per pint. However, if you're a lover of flavored IPAs I don't think that the DIY approach is going to be an improvement. Adding bitters to a craft beer is a great way to salvage an otherwise off brew, and it's at the least a way to change things up a bit. Dosing a cheap macro with 10 cents worth of cocktail bitters is an interesting idea, and it's worth experimenting if you're just looking for a way to get more flavor out of your beer budget.
With hundreds of flavors of cocktail bitters now on the market, there are limitless options for creating your custom beer-and-bitters combinations. From the anise flavor of creole bitters in a dry saison to spicy Mexican chocolate bitters in a roasty stout — there is a lot to explore. You may even have a bottle of bitters already tucked away in your bar; why not try a dash in your next pint?