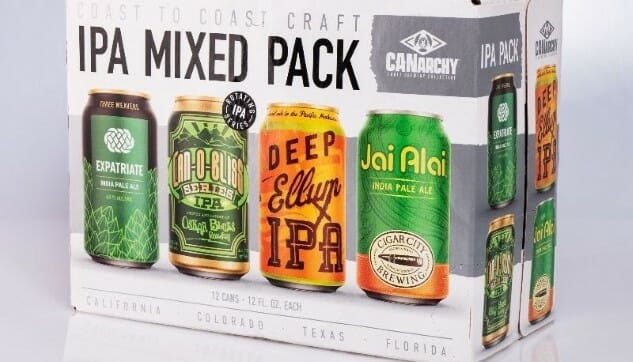 In a craft beer market that has been feeling the pinch for the last few years, the rate of growth that continues to be experienced by brewery collective CANarchy is nothing short of incredible. The Fireman Capital-owned collection of breweries, which contains the likes of Cigar City, Oskar Blues, Deep Ellum, Three Weavers, Utah Brewers Cooperative and Perrin Brewing Co., was up almost 30 percent in total dollar sales for the year, earlier in 2019, vaulting itself to the eighth place overall position on the Brewers Association's list of the 50 largest "craft" brewer entities. Much of this growth is still be driven by IPA (especially Cigar City's Jai Alai, which continues to grow like gangbusters as it moves into more states), which only makes sense is the somewhat stagnant market for stylistic experimentation we're seeing in the U.S. right now. Still—you gotta sell what people want.
Cue the release of a new mixed IPA box from CANarchy, which combines sought-after IPAs from four of the different breweries under the same ownership collective, in what has to be one of the most obvious (in hindsight) moves that any brewery group has made in recent memory. This "Coast to Coast Craft IPA Mixed Pack," with beers from Cigar City, Oskar Blues, Three Weavers and Deep Ellum, is one of the few things about the concept of collective ownership that an average consumer could truly judge to add value or convenience to their own experience. It allows a drinker in Florida to sample beer from California or Texas alongside the ubiquitous Cigar City, and vice-versa for consumers on the West Coast. It's simply a great idea, uncomplicated though it may be.
It also seemed to represent an obvious opportunity for me to revisit some of these beers, whether the're ones I've had a million times (Cigar City), or sampled once in the distant past (Three Weavers), or have never tasted at all (Deep Ellum). And so, here are my impressions as I drank my way through the CANarchy mixed pack.
---
Deep Ellum IPA
Dallas-based Deep Ellum's flagship IPA is certainly darker in appearance than most of its modern brothers, with a burnished copper hue. Its description boasts of a "over-the-top tropical fruit" presence, but it strikes me as considerably less bombastic than the other beers in this box, with pleasant aromatics of biscuit, toast, black tea, grass and citrus peels. On the palate, there is a more tropical impression; a bit of an odd one, as it reminds me of ripe dessert banana. Again, there's a decent amount of malt balance here, with moderate bitterness that builds over time.
All in all, this feels like the most throwback of all the IPAs in the mixed pack, with the least exuberant hop character, not that this is a bad thing. And I must say, I quite like the orange can.
---
Oskar Blues Can-O-Bliss Citrus IPA
Can-O-Bliss is a rotating series of IPAs from Oskar Blues, although all iterations kind of seem to be repeating the same buzzwords (they are "hazy," "tropical" and "citrus"). Regardless, this is the "Citrus IPA," variant, and it packs quite a punch. The nose is extremely citrus forward, with huge notes of orange juice, tangerine, mango and some more unexpected florals. On the palate it's a little bit catty, grassy and resinous, but it plays nicely with huge impressions of orange and ruby red grapefruit juice. Bitterness is mild to moderate, but what really stands out is the complex fruity character here, which leverages the eclectic hop bill and is anything but one note.
Overall, this is a solid middle point between modern hazy styles and IPAs that still contain at least a modicum of bitterness, with a very impressively complex citrus character.
---
Cigar City Jai Alai IPA
It feels like these days, some drinkers are inaccurately describing Jai Alai as a "West Coast IPA" simply because it's not hazy, but that's not a correct characterization. Jai Alai was a response to those dry, bitter-forward IPAs, and represented an alternative when it arrived: A juicier, more tropical take on the style that is a progenitor to the direction of modern IPA before the expectation arrived that "modern" IPA was also hazy. This was one of the most important beers in the first generation of what we (at the time) had just started referring to as "tropical IPA" or "juicy IPA," before hazy appearances came to dominate the conversation.
In other news, this is still a fantastic IPA today, even as it's being manufactured in much, much larger quantities. The nose is lovely and citrus forward, with fresh orange juice and orange blossoms, along with hints of toasted malt and black tea maltiness. The palate is really classic orange juicy, lightly sweet, with hints of clementines and a bit of toasty malt to balance things out. Bitterness is low, but there, and blessedly absent is the pronounced vegetal/grassy character that dominates so many of the modern hazy IPAs that are trying for maximum juiciness but accidentally overshoot it into the arena of hop burn. I've sometimes thought of Jai Alai as a beer that doesn't always seem totally consistent in its flavor profile (possibly due to hop shortages, it's hard to say), but this particular can from the mixed pack is as good as I've ever had it. Jai Alai remains a modern classic.
---
Three Weavers Expatriate IPA
I first tasted this beer at the Three Weavers booth at GABF way back in 2014, and back then it was one of my very favorite beers of the festival, in an era when juicy, tropical IPAs were just starting to arrive en masse. Obviously today, it stands out less from a pack that contains many similar beers, but I still found myself enjoying it. The nose is powerfully fruit forward, with a big punch of tangerine, tropical fruit and the funky tropical mustiness you sometimes get in big charges of Citra or Mosaic.
On the palate, however, this beer is actually drier than you'd expect from the nose, with a tongue-coating hop intensity that is green and quite resinous in nature, followed by grapefruit juice and pith. There's some bitterness here as well, but it's overtaken eventually by the intense resinous character, which unfortunately carries a little bit of hop burn character with it as well. Overall, light of body and very, very hoppy.
---
Jim Vorel is a Paste staff writer and resident craft beer guru. You can follow him on Twitter for much more drinks writing.