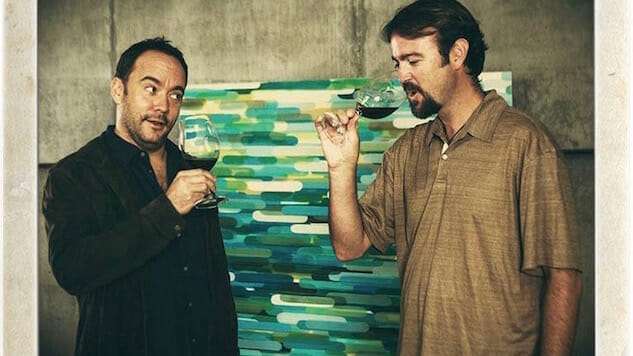 Every now and then, a jam-band virtuoso from UVA discovers that "jammy" has more than one meaning and awakens to discover he has become a winemaker. With years of experience blending complex notes, if you will, it's only natural that such a person would take to blending grapes. And speaking of only natural, you don't get a good wine out of disrespect for the environment any more than you get a good live show founded in disrespect for acoustics. So.
People, I give you Dave Matthews and The Dreaming Tree.
Matthews has teamed up with New Zealand native Sean McKenzie to put out a range of California wines that combine oeno-chops with respect for ecology. They make thoughtful packaging decisions, source grapes from sustainable growers, and donate a portion of their sales to the Wilderness Society.
The wines themselves are… well, they're solid as hell. I find them less risk-taking than some wines from the northern fringe of the California wine country, and whether that's good or bad is absolutely a matter of perspective. (Me, I like weirdos.) The worst thing I can say about them isn't really a bad thing: they are mainstream. They're people pleasers. The Cabernet Sauvignon for example – on a 0-100 scale where zero is "psychotically ill-treated, a crime against grapes" and 100 is "absolutely redefines the genre and re-sets the bar for all other practitioners" Dreaming Tree is a 50. Boom. Exact dead center. It's not bad – at all. It's just not the most challenging wine in the world. I want to make clear that I do not mean that as an insult. We don't all want our beverage to throw down a gauntlet and insist that we account for ourselves. Sometimes we just want a nice glass of wine, and this is one! It's just not an earth-shattering one, so if you want your earth shattered, give Sean Thakrey a call or get Randall Grahm to blow your mind with something ultra obscure, fetish-inducing and ruthlessly dry-farmed. Meanwhile…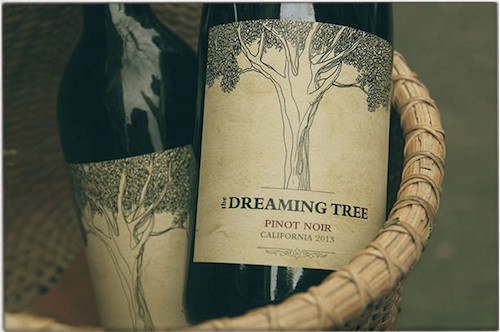 Eco-creds: recycled labels. Thinner bottle glass. Less to recycle. (Don't drop it.) Solar power in the facility. Carbon footprint disclosure. Card-carrying members of the California Sustainable Winegrowing Alliance. Donors to Planetary Salvation causes.
Wine: good. Dictionary-worthy exemplars of their respective varietals, crowd-pleasers. Will not ruffle feathers. Party-friendly. Whites include a central coast Aromatic Whites' Greatest Hits called "Everyday," which is perfect for just that. A Riesling, Gewurtztraminer, Albarino and Viognier blend, this stuff's floral, light-bodied and snappy, with the honeysuckle and citrus flavor profile you'd expect from the lovechild of Albarino and Viognier. There's a Chardonnay, also from Central Coast fruit, that hits dead-center between the bony, calcareous, gaunt austerity of a Bordeaux blanc and the pineapple-buttercream malolactic drama queens of certain parts of Napa. It's the precise midpoint. Which might make it perfect for everyone, or divisive. Get a case for your next dinner party and report back.
Cabernet Sauvignion tastes like… well, California. Supple, full-bodied, velvety tannins and a kind of "I am every Cabernet at once" character. It's tasty and there are way worse Cabs for way higher prices. A red "mystery date" blend with a plumminess that suggests a lot of Merlot (which is a good thing!) and a varietal Pinot Noir round out the current portfolio.
Easy on the palate and the planet. These wines will not challenge your tongue or your credit card to a duel, and they will not cause undue harm to your ecosystem either. I'd say overall that these are great wines especially for people who aren't already wine-indoctrinated. If your jam is generally beer and you want to know what to bring to a dinner party – these guys won't let you down.