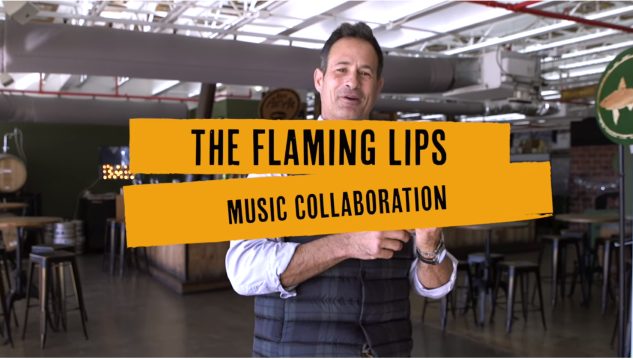 Dogfish Head has always been a craft brewery with a stronger than usual connection to the world of popular music, from their association with Record Store Day to the legacy of musically themed DFH releases such as the Miles Davis-inspired Bitches Brew. Today, the brewery announced its next musical feature, while revealing its 2018 release calendar — a collaboration with everyone's favorite festival psychedelic rock staple, The Flaming Lips. Dogfish Head founder/industry icon/head bro in charge Sam Calagione announced the partnership in the below video.
The beer in question is known as Dragons & YumYums, and is scheduled for a spring release. The 6.5% ABV beer is "a lip smackingly tart pale ale," which the brewery describes as "intensely tropical yet subtly bitter, brewed with a combination of dragonfruit, yumberry, passionfruit, pear juice and black carrot juice providing an explosion of fruit in every sip." We can also assume that if they're calling it tart, some wild yeast or kettle souring was likely involved.
"The Flaming Lips are one of the most innovative and collaborative bands of all time, and Dogfish shares a similarly playful and adventurous point of view," said Calagione in the beer's press release. "Their art is a full-on otherworldly sensory experience and we strive to create that same intense sensational experience for craft beer drinkers in the development of our liquid art. Our brewer has been obsessed with music since the day we opened. And we have enjoyed every opportunity to weave together the art of brewing with our love of music, as often and meaningfully as we can."
The Lips, led by frontman Wayne Coyne, are of course known for their raucous, colorful, loud and experimental live shows, which celebrate the art of performance itself and have made them into perennial festival favorites. It will be interesting to see what kind of beer a guy like Coyne sees as representative of his art, so we look forward to tasting Dragons & YumYums sometime this spring.