The East Coast has Extreme Beer Fest and Savor and American Craft Beer Fest, and Colorado has got the Great American Beer Festival, and now the West Coast finally has its own marquee beer festival. On May 31st, 50 breweries from around the globe, nearly 3000 thirsty craft beer fans, and dozens of beer media and industry insiders took over the California Mid State Fairgrounds in Paso Robles for what's become one of the world's premier beer festivals.
Only in its third year, the Firestone Walker Invitational Beer Festival might be young but it draws some of the biggest names in the beer business. The breweries are hand-picked by Firestone Walker's Brewmaster Matt Brynildson to showcase the most creative, daring, and skilled brewers from America and beyond.
In addition to the list of top-tier craft breweries that usually don't make it to California (like Founders, Surly, and Cigar City), Brynildson has attracted some of the best international breweries working within the craft-ethos. English, German, Italian, New Zealand, and Japanese brewers all make the trek to California to pour their wares. Firestone Walker requires breweries to pour (at least) one "rare beer" and one "session" beer, and the booths must be manned with brewers—not just marketing people and sales reps. It gives festival goers the chance to share a moment, however brief, with the folks directly responsible for the beer, and I always find these personal connections make the brews taste even better.
There's more beer than you can drink (well over 150 unique brews), food from two dozen Central Coast restaurants, live music, lectures, and one of the calmest, coolest beer festival crowds that I've ever had the pleasure of drinking with. It's an unforgettable day of celebrating craft beer culture, and here are a handful of my most memorable beers and breweries from this year's event.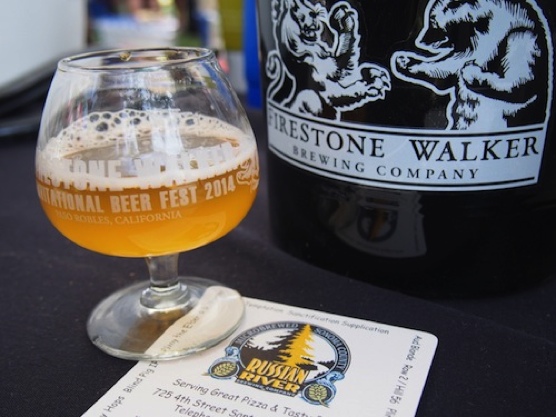 Biggest Trend: Sour beer and wild ales
While last year's event seemed to be dominated by heavy-duty barrel aged stouts, this year the crowd was buzzing about all of the sour, wine barrel aged, and wild brews that were pouring. There were still plenty of bourbon stouts this year, but perhaps the brewers feared that, like in 2013, temperatures during the fest would soar to over 100F and decided to bring lighter, more refreshing sour beers. Thankfully, it stayed in the 80s, and there were more than a dozen berliner weisse, krieks, and Flander-styled brews available.
My favorite? Firestone Walker's Bretta Rosé from their Barrelworks project—a light and tart wild ale infused with 1,000 pounds of Raspberries that was so good I went back four times for a pour of it.
The Most Eye-Catching Beer: Jester King Nocturn Chrysalis
Wandering the festival ground, I couldn't help but run into friends and acquaintances from across the world of craft beer, and when meeting some new friends I couldn't help but notice the intense purple of the beer they were sipping on. I had to know what it was so I could get my own glass, and I was pointed towards the booth of Texas' Jester King.
The beer, Nocturn Chrysalis, was a tart saison infused with enough Oregon blackberries to turn it the color of amethyst. The taste was like a tart, buttery blackberry pie. In the time it took me to savor the tiny taster while walking around looking for snacks, I was asked by three different people what I was drinking that was such a remarkable hue.
The Longest Line: Three Floyds, The Bruery, Russian River
With so many breweries pouring beer at the festival, long lines are the exception rather than the rule, but when the fan-favorite breweries announce the special keg tappings, the lines can snake a hundred yards or more throughout the sprawling fairgrounds. Last year Cigar City's line was so serpentine I opted to forgo a pour of Hunnapuh all together. This year's longest lines were regularly ending at either the Three Floyds booth or neighboring The Bruery, who had special hourly bottle pours of their sought-after brews. And while the line was usually pretty long to get a pour of Pliny the Elder or Beatification, after Russian River uncorked a massive nine-liter bottle of their sour blonde Temptation, the line stretched to new lengths.
The Best Bottle Pour: Firestone Walker's Feral One
Bottle pours were another big hit at this year's festival, and host brewery Firestone Walker had saved a few three-liter bottles of their inaugural bottled beer from their Barrelworks project, and the crowd went wild for it. Feral One is a dry and funky wild ale aged in a combination of French and American oak, and pouring duties were handled by brewery co-founder David Walker, the "Barrelmeister," and original Firestone Walker Brewmaster Jeffers Richardson, and Master Blender "Sour Jim" Crooks. Once they managed to uncork the imposing bottles, the modest line devolved into a rather civilized mob of beer fans all politely jostling for a pour and a photo.
Most Unexpectedly Delicious Beer: Garage Project Umami Monster
The creative Kiwis from Wellington's Garage Project shipped a variety of beers across the Pacific for the festival, and they seemed to be leading with the ominously named Umami Monster. There were posters and comics depicting the beer's kaiju-inspired story, paper masks, and a surprisingly long line to get a taste. "Umami" is the fifth basic taste, a savory flavor found in mushrooms, soy sauce, and fermented foods, and the imperial brown ale gets its flavorful umami additions from New Zealand kombu (kelp) and 30 kilograms of katsuobushi (tdried, fermented, smoked, and flaked tuna). It sounds crazy, but combined with some roasted malts and a touch of oak-smoked malt, the disparate flavors melded together into a unique and surprisingly delightful beer that's unlike any other I've run across. It was also wonderful to hear the story of the beer from the brewers themselves during one of the "Behind The Beer Sessions" live talks.
The Most Hype-Worthy: Firestone Walker + Three Floyds collaboration, Ol' Leghorn
There is no shortage of whales, rare beers, and sought-after specialty brews at the festival, but the hype for Ol' Leghorn began long before the festival started. The beer was brewed in the days before the 2013 Firestone Walker Invitational when Firestone's Brewmaster Matthew Brynildson joined up with his old home brewing buddy from Chicago, Nick Floyd from Three Floyds. They brewed a blonde barleywine that was aged in barrels for nearly a year before being blended with a batch of freshly brewed and dry-hopped Ol' Leghorn and bottled. It was released in bottles on the day of the festival, and all attendees received a ticket for a taster pour.
The 10% golden brew is rich in malty, oaky flavors with top-notes of alcohol, bourbon, and fresh English hops. It was a unique flavor combination that left many of the festival attendees that I spoke to a bit unsure on how much they liked the brew. But that didn't stop the line of beer fans wanting to grab a bottle from stretching far into the brewery parking lot. For me, Ol' Leghorn was one of the most memorable beers of the festival, and the blend of barrel-aged richness and fresh, hoppy punch was a perfect encapsulation of the whole event.