While it may sound like the result of a joint marketing venture between Maxim magazine and Axe Body Spray, the Monkey Gland is actually a classic cocktail with a legitimate pedigree. Attributed to legendary barman Harry MacElhone of Harry's Bar in Paris, it first appeared sometime in the 1920s gaining popularity with American ex-pats who delighted in calling out its cheeky name.
About that name… Men have been obsessing over their virility before we even had a word for it. "I swear this has never happened to me before" is probably scrawled on the walls somewhere in Lascaux. And long before they simply could pop a pill, men were willing to try anything that might give them an extra boost.
Enter Dr. Serge Voronoff, a French surgeon who dabbled in xenotransplantation — the practice of transplanting tissue or organs from one species to another. (You can probably see where I'm going with this.) In the 1920s, Voronoff gained notoriety for grafting monkey testicles to men for "therapeutic purposes." The $5,000 procedure promised to slow the aging process and rejuvenate its subjects, but it never lived up to its claims. Eventually, Voronoff's methods fell out of favor with the public save for a small pocket of overcompensating American males who have adopted a similar procedure with equally dubious results.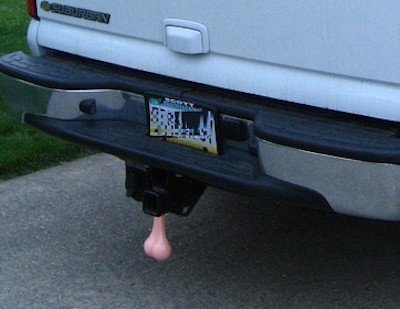 MacElhone, obviously tickled by the whole thing, decided to honor the fad with his latest gin, orange juice and absinthe concoction. In the right light, the cocktail's red-orange hue almost glows — a possible nod to the bizarre science that inspired it.
A competing theory suggests that bartender Frank Meier of Hôtel Ritz Paris fame actually invented the Monkey Gland. There's even a story from the April 29, 1923, edition of the Washington Post that supports this.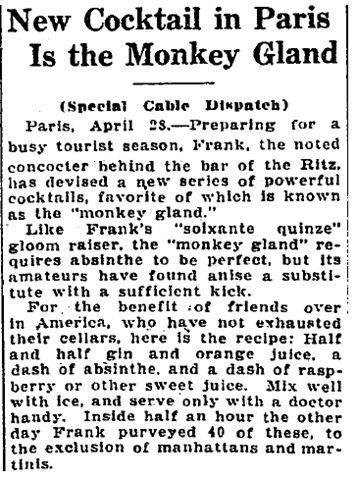 Further muddying the waters, the recipe also appears in subsequent editions of both MacElhone and Meier's cocktail anthologies. Despite all that, the Meier claim remains a footnote as most historians grant the recipe to MacElhone.
Monkey Gland
Ingredients
3 oz. gin
1 1/2 oz. fresh orange juice
1/4 oz. grenadine
1 dash absinthe*
Directions: Combine gin, orange juice, grenadine, and absinthe in a cocktail shaker with ice. Shake for 10-20 seconds, and strain into a coupe glass. Garnish with an orange twist.
For a lighter touch, just wash the glass with absinthe in lieu of adding it directly to the mixture. In a pinch, you can use Pernod or another anise-flavored spirit.
Enjoy while listening to this: