I've been really into pilsners recently and I think it has something to do with the fact that it's 107 degrees outside. We've just skipped right over spring and gone full steam into summer. I grew up in Georgia, so I should be used to the steep temperatures, but the swift temperature shift catches me off guard every year. Luckily, there's a fresh crop of summer beers to keep me cool. New Belgium, in particular, is killing the warm weather beer this season. I already talked about Mural, a low ABV ale brewed with hibiscus, lime and agave that was inspired by Mexico's ubiquitous agua frescas. It's pink, bubbly with a layer of lime and refreshing as hell. As if Mural wasn't enough, New Belgium is releasing a couple more summer-friendly beers. And I drank them. Here are my thoughts.
Bicycle Kick Kolsch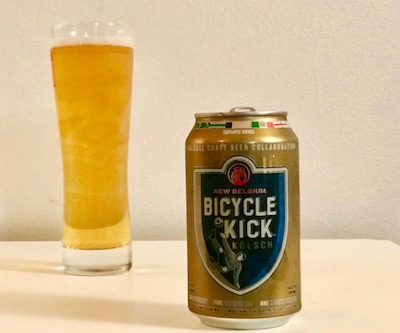 The kolsch doesn't get the respect that its counterpart, the pilsner, enjoys. It's more subtle than the pilsner, usually doesn't have as high an ABV as a pilsner…it's a beer straddling the worlds of both ale and lager so it often gets eschewed for something more straight forward. But this kolsch could be your summer jam. I swear. It pours clear and Crayon yellow with tons of carbonation and has a mellow, sweet corn nose. The mouthfeel is creamy, and the beer definitely falls on the malt forward side of things, lacking the bitter hop notes of a pilsner. Bicycle Kick is a global collaboration, brewing by six different breweries from five different continents (Adnams brewing from England, Baird from Japan, Bodebrown from Brazil, Devil's Peak from South Africa and Primus brewing from Mexico). This is the second collaboration New Belgium has done with Mexico's Primus (see Mural). They brewed the beer with chamomile, which apparently is the national flower of Russia where the World Cup will be held this summer. Also, they used lemongrass as a sort of representation of turf. Okay, that's a bit of a stretch, but the lemongrass does contribute an herbal, almost oily element to finish. Overall, it's an incredibly crushable summer beer that comes in at 5.1% ABV.
Rating: 79
---
Strawberry Lemon Ale Tartastic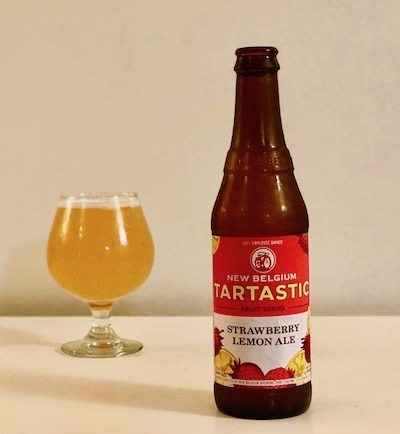 Tartastic might be one of my favorite series of beers from New Belgium. Ever iteration presents a different tart fruit cup in a bottle. We've had a lemon ginger version and raspberry lime version, and now this Strawberry Lemon variation, brewed with strawberry and lemon puree. Pours cloudy with just a hint of pink from the strawberry that settles in the bottom of the glass. In theory, this beer is a sour, but it's so balanced and subtle that the tart character is underwhelming, in a good way. The strawberry plays a fun role, providing enough sweetness to battle the sour aspects and the lemon comes in at the end with an almost electric kick. Put it all together and you have a very complex, but still incredibly mellow ale that could very well serve as the gateway to sours for a lot of drinkers out there. It's only 4.2% and might be one of my go-to beers for early summer. Look for it in bottles.
Rating: 84
---
Now, I'm going to be perfectly honest and admit that when summer is in full swing, I will likely be drinking my fair share of New Belgium's Dayblazer Easygoing Ale, which hits the summer beer sweet spot of being below 5% ABV, and coming in really large cans. It's the kind of beer that goes well with jean shorts, tubing and beach days. But these new beers could be a welcome distraction for when I'm feeling fancy.