Deep within Peru's mystical Sacred Valley, 2800 meters above sea level, at the foot of a towering Inca trail to Machu Picchu that's set along quinoa fields, ancient crop terraces and small villages, Sacred Valley Brewing Company (Cerveceria del Valle Sagrado in Spanish) is making award winning craft beer at a small facility along the valley's aortic Urubamba River.
Brewmaster Joe Giammatteo cut his teeth as a brewer at Eugene, OR's Oakshire Brewing for years, before he and his wife Louisa were brought to Peru by childhood friend and Peruvian native, Juan Mayorga, to start SVBC. They purchased a plot of land in Pachar — one of the last train stops before Machu Picchu, roughly 60 km from bustling Cusco — to build the brewery and since late 2014, have been opening the cozy and picturesque tasting room on weekends to both locals and travellers, while distributing the bulk of their beer to bars and restaurants in Cusco, nearby Ollantaymbo and even in Lima, the nation's cosmopolitan capital.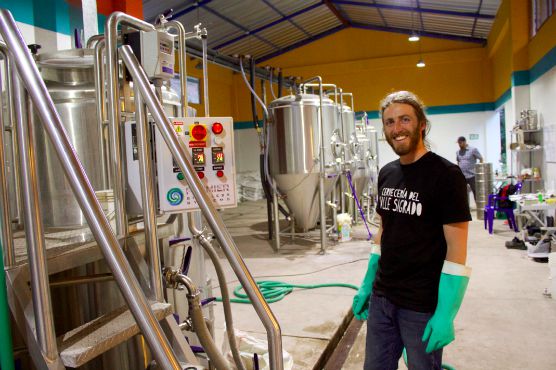 "There're tourists coming to Peru from all over the world and eating great food, but one aspect that was missing was beer," Giammatteo says of the inspiration behind bringing craft beer to such a remote corner of the globe. "There was no beer to go with the quality of experience and now, locals and the 750,000 to 1 million tourists that come through this road every year have an opportunity to experience it."
It's true. Less than a year earlier, I was on my first journey through this beautiful mountainous region of Peru and up to Machu Picchu, drinking nothing but the local, widespread and extremely pedestrian Cusqueña beers; a bland lager and a quickly tiresome red atop their line-up. Now on my second trek up through the Sacred Valley and spending much of my time in the "living Inca city" that is Ollantaytambo, SVBC is fully operational and my trip was accompanied by beers like a complex-yet-accessible seven-hop IPA, the Sauco Sour Smash (a berliner weisse soured with local elderberries and Bronze medal winner at this year's South Beer Cup) and my favorite Chicha Pils, a pre-prohibition style pilsner made with local "chicha" corn.
The chicha pils is mashed at a low temperature, so the body is very light on the palate and it finishes cleaner than most pilsners. It uses 90% barley and 10% local germinated "jora" corn, the same stuff you'll find in the local fermented "chicha" corn drink. Finished off with traditional German hops and pilsner malt shipped in from Germany, it's a 38 IBU brew. (There's not a malting facility in Peru available to microbrewers yet, so hops and malts have to be imported.)
"While there's an emphasis on including local ingredients, it's only used where appropriate," Giammatteo adds. "No gimmicks." And it's this approach that's required to appeal to the different ends of the spectrum of the clientele. Tourists can find their comfort zone in well-crafted beer, with styles they might be familiar with already, while Peruvians warm up to the concept of craft beer through the inclusion of local ingredients in the process. "We're teaching Peruvians about craft beer and developing their palettes. Most people have been drinking Cusqueña their entire lives," adds the brewer. SVBC even donates a portion of profits to rotating local humanitarian non-profit organizations.
And SVBC is a trailblazer in the budding South American craft beer scene. While countries like Brazil are a little further along, Peru's craft beer industry is only about two to three years old and SVBC, led by Giammatteo's experience at Oakshire, have helped form a brewers guild. SVBC took home a Gold medal in the South Beer Cup for their Belgian Wit Ale and where they're "running out of beer," at their current 1,100 gallons/month capacity, they'll be almost doubling that come August.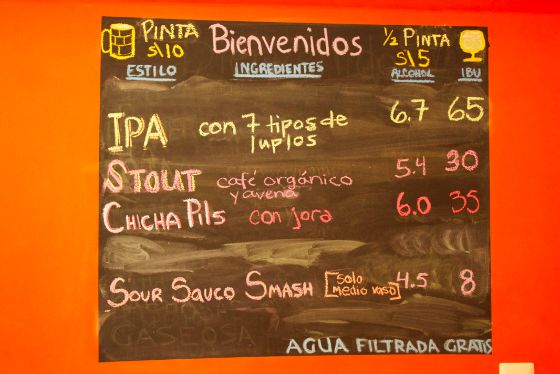 "Were not dreaming of having the largest brewery in Peru, or even Cusco, but we really want to focus on the highest quality beer and an experience around that beer," says Giammatteo.
Growth is happening and SVBC has carved a home for themselves in the Sacred Valley. And the real charm here is the mysticism of the area and what a stop at SVBC on the way to Machu Picchu adds to the journey. It's that special quality that beer has, to cement your memories of the moment. For me, it was sitting on the corner stool of the tasting room bar by the window, with my Chicha Pils in hand, as the Andean sun poured in through over the mountains and the calming sound of the river running through the valley.
Great beer will find itself to any corner of the world – On my last day in Peru, Giammetteo said: "Adventuring and exploration in life and space has a good companion in beer. And that should be true regardless of where you're from or where you live." People that appreciate beer, seem to travel to a place that good beer shows up in. It's a way to enjoy life when you're both away from and at home. But there's a special gratification in the former. Quality beer to match a life-affirming journey, was missing from the Machu Picchu equation. "Now there's diversity in the adventure," Giammatteo concludes. "Something really delicious quenching your thirst for life."