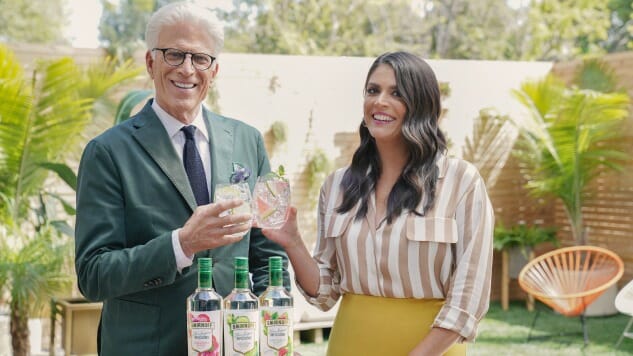 If you've caught a Smirnoff ad in recent weeks then you may have noticed the ads are featuring a new familiar face: Saturday Night Live's Cecily Strong.
Strong recently teamed up with the brand for a series of advertisements for the brand's new Smirnoff Zero Sugar Infusions. The infusions, which come in Watermelon & Mint, Cucumber & Lime and Strawberry & Rose, all have zero sugar, making them a great option for someone who wants a fruity cocktail this summer without a ton of sugar. Just like traditional Smirnoff, they're also affordable.
In light of the new ads, we caught up with Strong to talk about what it was like working with Smirnoff (and Ted Danson) on the new ad campaign as well as which one of the infusions she like the best.
How did your partnership with Smirnoff come about?
I had very little to do with the how, but I can tell you the why. It was a very excited offer for me and the team. It's a great brand. It's the number one vodka in the world. And then I'd seen all these ads with Ted Danson whom I'm a very big fan of, and they were just so cute and quirky. I loved the little creative ideas they sent along to me, so it was very easy, easy yes.
What was it like working with Ted on the ads? Had you worked with him before?
I hadn't! I had no idea going in, and he couldn't have been nicer. He came to say Hi immediately when I got there. He's so kind, and just a genuinely funny, funny person too. There was a lot of laughing. We had so much more material that we could have used. It was just a very silly day, which makes it feel a lot easier too, I think.
With the ads, did you have any input into them or were they scripted?
I knew the director on the commercials. He worked at SNL before I got there, so I knew he's very funny. The writer is funny. They definitely let us kind of play around too. Ted and I definitely got to have a lot of creative input. We felt very free. Some got super silly.
They all started with the scripts that were there. I think their ideas was that we would get to sort of play.
Have you had a chance to try any of the infusions?
I have. Out of the three I'm a Strawberry and Rose and soda.
Is that your go-to vodka cocktail?
I do like a vodka soda, that's my go-to drink. That was another reason I was like "Of course I want to do this." I don't have to lie. Please, send me cases.