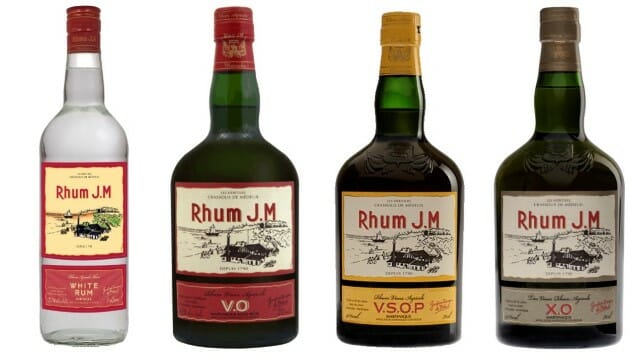 It wasn't long ago that I was diving headfirst into rhum agricole for the first time, tasting a lineup of three rhums from iconic Martinique producer Rhum Clément. Not to be outdone, however, is the island's other most famous rhum producer: Rhum J.M. If I'm going to explore the mixology potential of true agricoles with one of Martinique's classic brands by tasting my way through the core lineup, then it makes sense I should do so again with the other major agricole brand most commonly found on U.S. shelves. And this time, I'm doing four rhums, rather than three.
But first, a quick reminder on what rhum agricole actually implies. As I wrote before:
Rhum agricole primarily differs from the majority of rum in the American marketplace by being distilled from a slightly different product. Whereas the vast majority of rum produced throughout the Caribbean and Central America, in countries such as Barbados, Panama, Nicaragua or Cuba is fermented and distilled from molasses—the by-product of sugar production—rhum agricole is instead produced with pure sugar cane juice, the base product that eventually becomes BOTH sugar and molasses. In other words, it's basically rum that results from an earlier state of sugar cane production, and this impacts the eventual flavor of rhum agricole. Compared with rums made from molasses, typical agricole offerings retain more of the terroir of where they come from and the plant-like flavors of the sugar cane itself—they are grassier, more herbaceous, and are often described as significantly more "funky," with notes that remind one of the land from which they are derived.
Traditional rhum agricole, then, is rum's fresher, funkier, earthier, wilder brother, as even the aged expressions tend to retain a greater degree of their funky profile. It might sound weird, but trust me—reserve judgement till you've tried it in your daiquiri.
So with that said, let's get to tasting a Rhum J.M lineup.
---
Rhum J.M Blanc 55%
ABV: 55% (110 proof)
MSRP: $37.99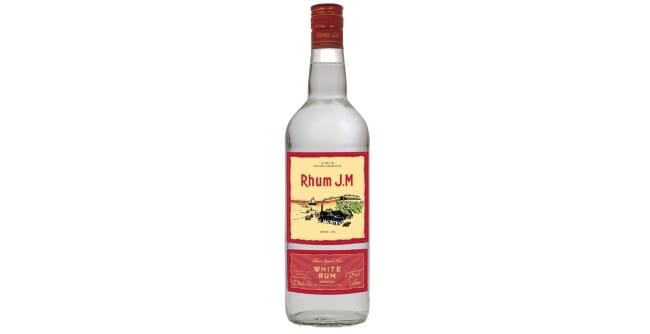 And I thought the 100 proof agricole from Rhum Clément was a beast. One area that makes rhum agricole somewhat unique is that many distilleries offer a range of strengths of their white, unaged agricoles, for use in mixing and cocktails. That usually implies the existence of a particularly strong "blanc," and that's what Rhum J.M sent me for this sample, seemingly in an effort to utterly obliterate my taste buds. This stuff is a fiery punch of flavor.
On the nose, it's redolent in pineapple and fresh fruit, registering as quite sweet, but with lots of greener notes (green plantains, fresh grass) as well. On the palate, it bursts with fresh citrus and pineapple juice, in a way that I can only describe as "tangy," but then segues into intense earthiness and grassy flavors, alternating between mushroom-like earthiness and green notes. My immediate thought is that I need to get this into a daiquiri soon, just to see how intense (and probably delicious) that will be. The citrus qualities in particular seem to make this a no-brainer for simple preparations like the daiquiri or Ti' punch.
Just taking a small dram, this is demonstrably powerful, and fairly sweet as well thanks to the proof. I must note, however, that although it is undeniably hot, it's actually a bit easier to drink neat than I was expecting. Compared with the 100 proof Canne Bleue from Rhum Clément, it strikes me as perhaps a bit more easy for a beginner to pick up, thanks to the pronounced fruity notes and sweetness, which tempers the intense earthiness and spice to a more balanced level.
As with the Rhum Clément tasting, though, the high-proof blanc from Rhum J.M also establishes a top point/measuring stick for funkiness/earthiness/grassiness that the aged variants of the brand slowly rein in via time and contact with oak. This one is for when you're really craving that expression of terroir in a classic cocktail, or you just want to light up your senses.
---
Rhum J.M V.O
ABV: 43% (86 proof)
MSRP: $39.99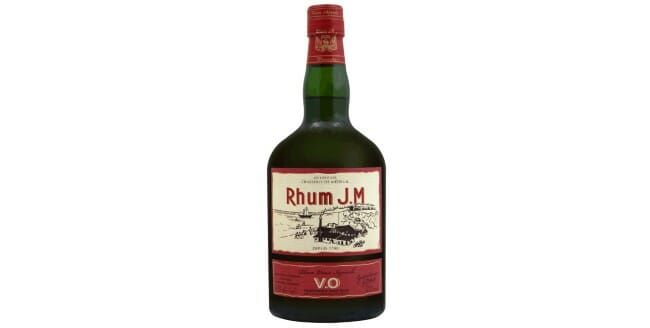 This might be the least known of the Rhum J.M variants in the U.S., as it hasn't been in our market long. It sits in a bit of an odd position in the company's lineup, being an aged rhum that has a lot in common with the slightly more expensive V.S.O.P release. Both the V.O and the V.S.O.P weigh in at 43% ABV (86 proof), and spend 3-4 years in American oak. The biggest difference seems to come in exactly how that oak is treated.
For the V.O, the company states that it is "aged for 3 years in new American oak and re-charred bourbon barrels," suggesting that some portion of newly charred oak is used, along with some used bourbon barrels that are charred or toasted again before it enters for a relatively quick aging process. The goal would seemingly be to get as big an effect out of the oak as possible in the limited aging window, which is a technique that purists would likely tell you produces more assertiveness of flavor than it does nuance. But let's see for ourselves.
On the nose, the V.O is again earthy, with that same pineapple note that I also got in the Blanc, but the stand-out note for me is a savory, earthy thing that is quite reminiscent of tobacco leaves. On the palate this segues into more of a toffee/caramel candy richness, with more tobacco, and a lingering earthiness. Mildly sweet, it doesn't necessarily feel like maturation has been rushed, but it's certainly not the most complex of the Rhum J.M aged offerings. It will, however, stand in absolutely fine in just about any mixing application where you might want to introduce a little agricole flavor.
---
Rhum J.M V.S.O.P
ABV: 43% (86 proof)
MSRP: $49.99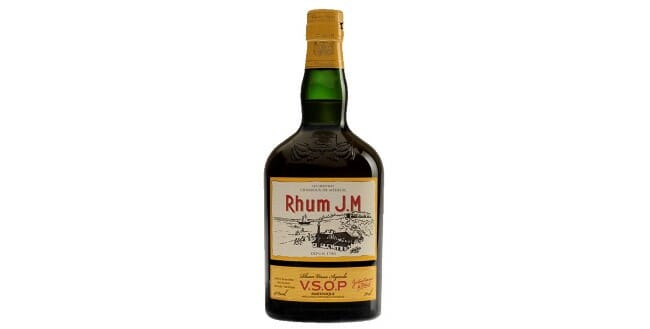 V.S.O.P, more or less the flagship product of the aged side of the Rhum J.M lineup, strikes me as a similar product to V.O, albeit with a bit more subtlety and elegance. This one was "aged 1 year in new American oak and finished 3 years in ex-bourbon casks," implying that it also sees some newly charred oak, but then transfers to the more traditional rum-aging vessel of re-used American bourbon barrels. If these barrels are indeed not re-charred, as the description makes me think, then you would expect the V.S.O.P to perhaps display a bit more varietal character and a bit less char/caramelization than the shorter-aged V.O, and be a bit less influenced by the oak in general.
Perhaps it was because I was simply expecting that kind of profile, but it's exactly what I got—a rhum that is similar, but more appreciably complex than the V.O. On the nose, there's more of a pure sugar cane note, along with green apples, apple pie and fennel spice. On the palate this one is quite smooth and inviting, easy to sip neat, with rounded, mildly sweet notes of pepper, toffee, apples and fennel. The expected earthiness/grassiness is there as well, but the Rhum J.M. lineup in general strikes me as a bit less expressively funky as some of the other agricoles I've had, and a bit more approachable and balanced. Likewise, although both the V.O and V.S.O.P are mildly sweet, neither are really anywhere close to rich or decadent. Agricoles in general have a tendency to present as less sweet than other rums because they're balanced out by the grassiness and funk, which lends them more of a sophisticated profile for neat drinking. If you like the flavor of aged rum, but find many of them (especially sugar-added "premium" ones like Zacapa or Diplomatico) too sweet to enjoy a glass, then you may also find aged agricoles like this V.S.O.P compelling.
---
Rhum J.M X.O
ABV: 45% (90 proof)
MSRP: $74.99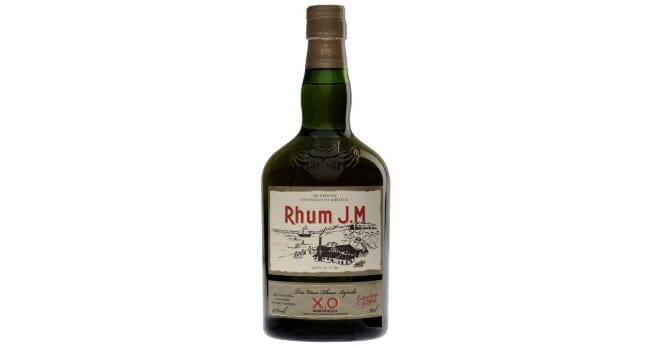 "X.O" is a standard naming convention for the most prestigious, well-aged rum release in the core lineup of many Caribbean rum/rhum distilleries regardless of region, and on Martinique it implies at least 6 years in the wood. As such, Rhum J.M X.O is labeled as "aged 6 years in oak barrels in our cellars," but is generally accepted to contain rhums far older than that as well. Notably, this one is aged exclusively in "re-charred bourbon barrels," seeing no new oak, which makes sense given that it is given longer to mature. It's considerably darker in the glass, at a glance.
The nose of the X.O certainly is more oak-forward than the other Rhum J.M expressions with additional caramel, brown sugar and red fruity notes that are also unique to this expression. On the palate I'm getting a lot more fruit, with big notes of ripe dessert banana, mango, peppercorns (earthy white pepper), cinnamon candy and butterscotch. There's even a hard-to-place herbal component that is somewhere between sage and dill weed, which isn't something I've gotten often in rum before, but it may be a factor of how its inherent grassiness is being modified by the time spent in the wood. There's complexity to suss out here.
The initial caramel on the palate actually makes you expect a greater degree of overt sweetness, but like other entries in this lineup, Rhum J.M X.O transitions from that initial burst of caramelized sugar into lingering earthiness and cigar smoke, which serves to dry it out and make the ultimate residual sugar level relatively low. In this lineup, it's the darkest and richest of the drams, but it still won't make you think of the heavily sugared "premium" rum market anytime soon. If you have an appreciation for more balanced, complex, drier rum, it would be a natural place to start exploring well-aged agricole.
---
Jim Vorel is a Paste staff writer and resident brown liquor geek. You can follow him on Twitter for more drink writing.