Sponsored Post
Paste's Graham Averill took a trip to Ireland to visit our friends at Jameson who sponsored this story.
Jameson's warehouses don't look like much from the outside. Just glorified storage units, really—completely industrial, particularly when you compare them to the actual distillery down the road, which strikes a sublime balance between old-world charm and minimalistic modernism. You expect chickens to be running loose in the cobblestone courtyard of Jameson's Old Distillery, which sits in the shadow of the new, towering, state of the art building. But the warehouses are…forgettable. Until Dave McCabe, the head of Jameson's Irish Whiskey Academy (an intense tutorial of the process for employees and some guests), opens the door and leads us inside and we walk between two, tall rows of whiskey barrels, stacked on pallets, seven high reaching toward the ceiling. More rows of barrels disappear into the shadows of the warehouse on either side. It's just a little bit cold in here. Probably the exact same temperature as Heaven, I think.
Dave McCabe has a small monitor on his belt that beeps every minute or so. It measures the alcohol level in the air. If it beeps too fast, we have to run. He walks us through the process of barrel aging Irish whiskey, how Jameson uses old barrels, not new barrels, so there's less oak influence on the whiskey. How you can see the tidemark on the side of a barrel stave—a definitive line that shows you how much booze the barrel has absorbed over the years. He tells us a whole bunch of stuff I need to know because I'm here with a group of a dozen journalists and media publishers who've been flown to Ireland to learn and write about Jameson's process and the culture that surrounds whiskey in Ireland. But honestly, I'm not retaining any of it because I can't get over the sheer volume of whiskey surrounding me. Pure, unadulterated, unfiltered, whiskey. They create clichés like "kid in a candy store," for this exact scenario.
I come back to reality when McCabe says the most beautiful thing I've ever heard another man say: "I think it's about time to open one or two of these barrels up."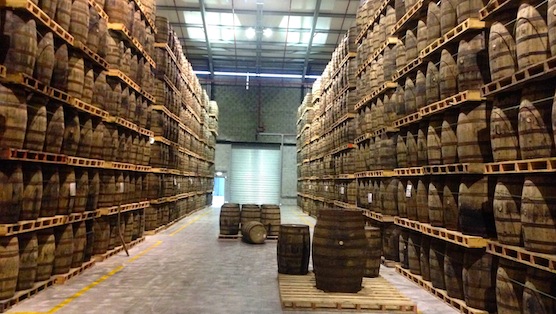 Jameson uses mostly used bourbon barrels from America and sherry barrels from France. He has one of each set up for us in the corner. The bourbon barrel is small, coming up to my waist, but the sherry barrel is massive. You could easily squeeze a person in there. Not that you would, but you could. McCabe grabs a sort of plunger and pulls the bung (plug) out of the top of the sherry cask first. I stick my nose in the barrel, and inhale deeply. Fruity, boozy, with a bit of ancient wood—I'm pretty sure this is what Heaven smells like too.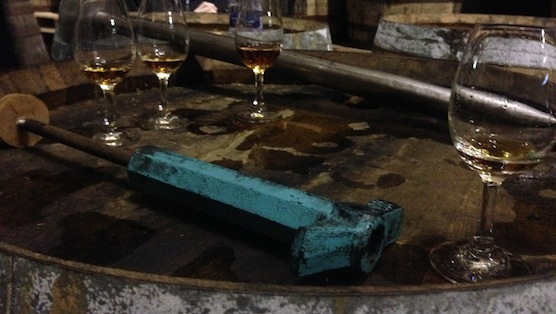 Jameson blends their whiskey, putting freshly distilled spirit with different mash bills into a variety of barrels, letting it mature, and then blending barrels from different ages into a particular product. The standard Jameson is a mix of pot still whiskey and grain whiskey that's all triple distilled before being aged in both sherry and bourbon barrels. The higher end Jameson Gold Reserve is a marriage of whiskey only from bourbon barrels.
Most whiskey makers combine spirits from a variety of barrels before bottling. It evens out the taste and creates a more balanced, consistent product. Occasionally, you'll find a fun, intense "single barrel" project from a distillery, but to have the opportunity to taste a whiskey straight out of the barrel is rare, and I'm giddy about the prospect. McCabe uses a massive syringe to dribble small samples into glasses for us. The whiskey from the sherry barrel is loaded with fruit, while the bourbon whiskey is expectedly intense with caramel and vanilla. The glasses are small, and I work hard to make the whiskey last. It's intense, and memorable, like getting to taste milk straight from the cow.
McCabe tells us that there are 33,000 barrels in this warehouse, and 33,000 barrels in the next, and the next…The company brings in 140,000 bourbon barrels every year to keep up with the 24-hour production. The aging facilities are at capacity. All the warehouses are full. "So there's a lot of whiskey to be had," he staring up at the wall of hooch behind him.
We've certainly been doing our part to make a dent in the stock. The group has been on a non-stop tour of Midleton and Cork County since landing at 6 a.m. the day before. Cork County is a rural chunk of farm country in Southeastern Ireland, full of small fishing and farming villages, like Ballycotton, where we ate fish and chips caught that very same day in a tiny pub called Black Bird, which may or may not have been a brothel at some point. Today, the pub has a gorgeous back patio that bleeds into the half-eaten ruins of an ancient shopping mall of sorts. Beyond those crumbling stone walls sits the bay, and the boat that probably caught our fish.
We worked our way through a variety of Jameson's at the bar, from Green Spot—a single pot whiskey that smells like honey and tastes so smooth, it leaves almost no evidence that it was ever in your mouth when you're finished—to Jameson 18, which is more complex with heavy dark fruits on the palate. When I find Jameson's Black Barrel, I'm home for the night. This is Jameson's "American" style whiskey. It's triple distilled and aged in a mix of bourbon and sherry barrels like most other Jameson brands, but after the first marrying of barrels, they throw it back into "re-charred" bourbon barrels to mature longer. The whiskey has a creamier mouthfeel than your standard Jameson, with amplified notes of vanilla and oak, almost like a complex, well-aged bourbon.
The taste was still lingering when a small, loquacious man with white hair put a few of us into his Volkswagen for a quick tour of Ballycotton, zipping through the maze of narrow streets, where stone walls rise on either side of the pavement. We pulled onto the pier where people were still fishing at 1 a.m., found a view of the lighthouse, and ended at the top of the Ballycotton Cliffs, which dropped 200 feet into the pitch-black sea below. It was too dark to see much, but our host recounted ghost stories of the cliffs involving wrecked slave ships and ancient warriors, and we toasted the deceased with more Jameson as the salty, damp wind cut through our clothes.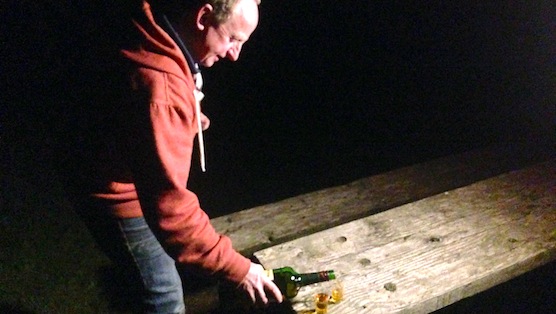 The following morning had us touring the Old Distillery in Midleton, where we learned how to make a barrel, had the single greatest Irish Coffee known to man, and took notes while distilling a small batch of our own spirit in the Irish Whiskey Academy.
After I come down from the high of drinking whiskey straight from the barrel, there will be a farm to table dinner, Jameson on the rocks, and eventually, a peaceful train ride into Dublin where we'll move from one incredibly hip bar to the next. We'll learn the history of classic Irish cocktails like The Emerald (Ireland's version of the Manhattan) in a modern diner called Damson's, where chicken wings and barbecue ribs are taken to transcendent levels. I'll get lost looking for James Joyce's statue, but stumble into an Irish craft beer festival, which would probably make Joyce pretty happy. I'll hunt for shawarma at 3 a.m. on the streets of Dublin, then wake early the next morning to catch a bit of the St. Patrick's Day Parade, watching marching bands and replicas of Viking ships toddle through the heart of Dublin's City Center. Everything but the pubs will be closed on St. Paddy's, which is more of a family holiday for locals (think, big family dinners and small town parades, more like Thanksgiving in America). I'll turn into alleys packed with drinkers wearing green hats and fake leprechaun beards, and hear accents from all over the world. St. Paddy's may be a family holiday for the Irish, but it's spring vacation for the rest of Europe.
All of this is to come as the trip unfolds, but right now, there's just the warehouse, full of barrels, all sitting patiently, waiting to fulfill their promise. If I had a sleeping bag and security clearance, I'd stay in the cold, industrial building all night, sipping this unfiltered goodness straight from the source until the "keg floats" so to speak. Sadly, my press credentials don't warrant that kind of access. And the party must go on, as they say. We have more whiskey to drink, more food to eat, and more Ireland to explore.