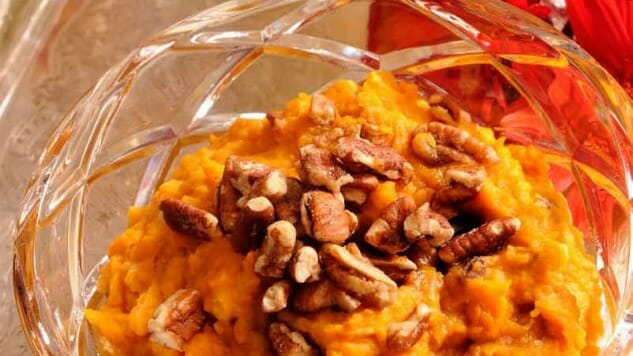 Sweet potatoes are one of those foods I think you either love or hate, but for better or worse, they're probably going to find their way onto your holiday dinner table.
My family always makes the standard version (at least, I think it's the standard version) with toasted marshmallows. However, Jack Daniel's recently sent me a recipe that I think I might have to campaign for making at this year's holiday feast: whiskey sweet potatoes.
Oh yeah. These are going to be good. The recipe was created by Tim Laird (the same guy who shared that epic whiskey bread pudding recipe with us around Thanksgiving time.
They're SUPER simple to make, and I can almost guarantee it's one side dish you won't end up with a ton of leftovers of.
Ingredients:
3 29-ounce cans sweet potatoes
1 cup brown sugar
¼ cup Jack Daniel's Tennessee Honey
½ cup unsalted butter
½ teaspoon vanilla extract
2 cups chopped pecans
Directions: Preheat the oven to 350º.
Heat the sweet potatoes in a large sauce pan over medium heat. Drain off some of the liquid and mash the potatoes. Add brown sugar, Jack Daniel's Tennessee Honey, butter and vanilla. Pour into a 2 -quart shallow baking dish. Sprinkle with pecans. Bake uncovered for 30 minutes or until pecans are golden.
Serves 8-10