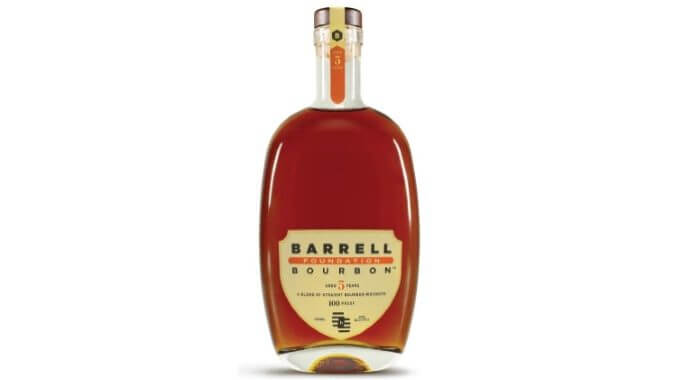 When it comes to the consumer whiskey market, there are a couple of truisms to note: Cask-strength releases build hype for a brand, but affordable releases help that brand find new customers and move product. Ideally, a single brand can have space for both concepts, though that is easier said than done. A high-value bourbon brand may have a difficult time convincing consumers that its higher-priced offerings are worth the investment, while a heavily premiumized bourbon brand may have a customer base that isn't interested in "entry level" product. It's a fine line to walk, but one that Barrell Craft Spirits has deftly zeroed in on with the release of their new Barrell Foundation Bourbon.
Foundation brings a few firsts for the Barrell brand, which is classically known for its cask-strength expressions of bourbon and rye whiskey, like the recent Barrell Bourbon 035 and Barrell Rye 004. This, on the other hand, is the first Barrell product to not be at cask strength, nor does it favor a very high age statement–though this is misleading, and I'll expound on that momentarily. Foundation is instead proofed down to a still robust 50% ABV (100 proof), carrying a "5 year" age statement, but most importantly an MSRP of $55. That's a big jump from the standard Barrell batches around $90, and clearly designed to help the brand appeal to a new segment of consumers.
Granted, this was more or less the same aim of the Barrel Craft Spirits company line of Stellum Bourbon products, which likewise carries a $55 MSRP, but still comes in at a cask strength around 115 proof. After tasting Foundation, however, I can see the significantly different flavor profile that is being sought here, and I think it really is a winner.
This is a blend of straight bourbons carrying that five year age statement on the front label, but that's a pretty big understatement, only reflecting the youngest spirit in a blend that actually contains 7 different bourbons from four states. They are:
Kentucky: 8 years old
Indiana: 5, 6, & 9 years old
Tennessee: 8 years old
Maryland: 5 & 6 years old
That makes for a "derived mashbill" of 73% corn, 23% rye and 4% malted barley, by which Barrell simply means the average of all the mash bills involved in this blend. So with that said, let's get into tasting Barrell Foundation Bourbon.
On the nose, this first presents with sweet impressions of peanut brittle and caramel, though what is really jumping out at me is something distinctly floral. It evokes fresh lavender, which pairs nicely with apricot fruit, bergamot citrus and toasted oak. The floral-into-fruity character here is really distinctive and interesting to me, and has me going back again and again trying to figure it out. There's almost something "botanical" about it, and I'm really enjoying it.
On the palate, this bourbon blend first shows sweet caramel and plenty of vanilla bean, before a reprise of those sweet florals and fresh, grassy, summery notes. I'm getting lemon citrus and rye grain, along with flashes of cinnamon and cardamom spice cake, and toasted oak. This is a very bright and "zingy" bourbon, with accessible flavors and character to spare. The floral notes in particular really give it an interesting little niche to build itself around. Minutes later, I find myself still getting hints of orange zest on the palate. Positively refreshing.
All in all, I really like this, especially at this price point. This is a blend that highlights some of the best attributes of each source, with a moderate overall age statement and reflection of maturity, and at an MSRP that doesn't break the bank. This will be a superb everyday addition to the Barrell lineup, and I hope it remains more or less unaltered in future batches.
Distillery: Barrell Craft Spirits
City: Louisville, KY
Style: Blend of straight bourbon whiskeys
ABV: 50% (100 proof)
Availability: 750 ml bottles, $55 MSRP
---
Jim Vorel is a Paste staff writer and resident craft beer and spirits geek. You can follow him on Twitter for more drink writing.