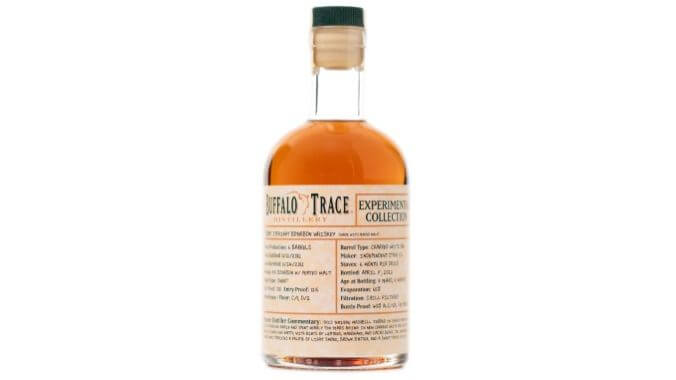 In a classic bourbon mash bill, malted barley tends to play the role of silent partner. Whereas corn and rye provide the majority of the grain-derived flavor profile that bourbon is known for, barley's role isn't always very well understood by the average bourbon consumer. It makes up a relatively small percentage of the grist in the mash bill for many classic Kentucky bourbon producers, usually hovering around 5-12% of the total grain bill, but it's not typically easy to pick out characteristics in the finished bourbon that are specifically "barley notes." This stands out in comparison with rye, which is a much more strongly flavored grain, making it much easier to pick out rye's signature spice in the finished product. Barley, meanwhile, is subtle–it can taste malty-sweet, doughy or even floral, but its true role in most bourbon mash bills is the fact that it provides valuable enzymes that help in the processes of fermentation and distillation. Rarely, then, does barley play the role of hero–but it does in the new Buffalo Trace Peated Bourbon.
This is an entry in Master Distiller Harlen Wheatley's ever-ongoing Buffalo Trace Experimental Collection, the 26th Experimental Collection bottle to date. It's a bold departure in flavor, though not extremely complicated to produce–BT has simply swapped out the typical portion of malted barley in its rye bourbon mash bill for a portion of "peated" malted barley, which makes for a dramatic difference. Scotch whisky drinkers will know all about peat already, but for the neophytes: Peat is a form of condensed vegetal matter commonly found in the bogs, swamps and coasts of Scotland, where it has long been used as a fuel source. Whereas traditional malted barley is strewn out on a floor to dry and germinate, this malt is dried via heat and smoke produced by burning peat, or some combination of peat and wood, which infuses both the smokiness of the fire and the vegetal, seaweed-like flavors of the peat into the malt. Peated malts can then be used to produce both beer and some of Scotland's most famous scotch whiskies, particularly those of the Islay region. Keep in mind, though, that this is all a spectrum–some peated malt is much more powerfully smoky than others, and the amount used will dictate how strongly it shows up in the whiskey's flavor profile.
So essentially, BT has simply fused those peated malt flavors onto a bourbon base, rather than the typical malt whisky or blended scotch whisky. Said whiskey was distilled and barreled in Nov. 2012 in a batch of only six barrels, which have now aged for almost 10 years. They were stored on low floors of warehouses C and D, and proofed down to 45% ABV (90 proof) before bottling. So with that said, let's get to tasting and see how this peated curiosity plays out.
On the nose, Buffalo Trace Peated Bourbon makes its approach with a welcome degree of subtlety–I appreciate that this is not a completely bombastic, over-the-top approach, and there's nothing here that is immediately reminiscent of peat-heavy bruisers such as Laphroaig, Lagavulin, Ardbeg, etc. Rather, the nose leads off with gentle cornbread and caramel characteristics, vanilla bean and a notable amount of sweet cinnamon that then begins to transition into earthier chiles and dried pepper. I'm getting smoked clove and mesquite BBQ impressions that reveal a peat profile that is mild-to-moderate in intensity, at least in comparison with most flagship peated scotch whiskies. Regardless, no one would mistake this for peated scotch, and I think that's a positive, as a bourbon made in this way should really have its own character first and foremost. This one demonstrates pleasantly sweet grain, caramel, lumber, some spice and that subtle smoke.
On the palate, the first thing that jumps out at you here is actually a strong, roasty char–the smoke has really amplified this characteristic, but the overall smoke profile doesn't tend toward the more tangy, vegetal and maritime impression typical of scotch. Rather, it stays sweeter and warmer, making the roast come off like sweet coffee produced by oily French roast beans. Tobacco is also a notable player here, with cigar box and mild caramel and vanilla working in conjunction as well. All in all, it's nice that the smoke and roastiness doesn't contribute much in the way of astringency as they often do, allowing the overall profile to play mildly sweet and a little bit luxurious.
Overall, this works for me. The peated malt has been used to a judicious level, and it's a better whiskey for the relative restraint; still clearly a bourbon, but one with a characteristic that will be outside of what many obsessive bourbon drinkers will have experienced previously. MSRP for the 375 ml bottles is set at $46, but sadly that's a joke–be prepared for gouging from retailers into the $500s and beyond, as has become common with Experimental Collection releases. As ever, and particularly will Buffalo Trace, consumers will have to decide for themselves if they're willing to pay the outrageous markups created by scarcity and hype.
Distillery: Buffalo Trace
City: Frankfort, KY
Style: Straight bourbon whiskey
ABV: 45% (90 proof)
Availability: 375 ml bottles, $46 MSRP
---
Jim Vorel is a Paste staff writer and resident beer and liquor geek. You can follow him on Twitter for more drink writing.