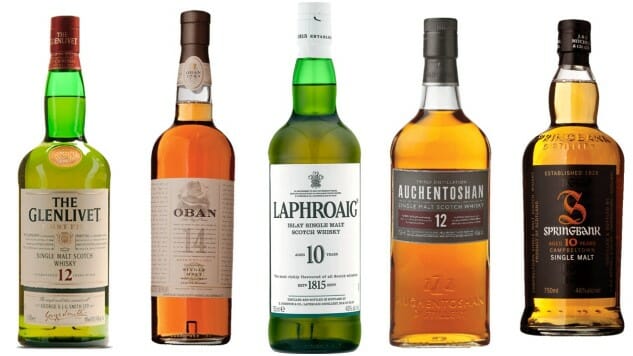 If you want to break up the vague idea of being "knowledgeable about scotch whisky" into rudimentary levels, the first level would be in acknowledging just how different all whisky can be.
This likely seems obvious to you if you're reading this kind of content on Paste, but this is a greater realization than one might believe. In fact, I was a passionate drinker and writer on American bourbon and rye whiskey for years before I truly took an interest in scotch, to my great shame. Like so many other drinkers who entered the whiskey world via American or Canadian distillates, I tended to think of "scotch" as a monolith: Intensely smoky or peaty malt whisky drams that overpowered my palate with so much brine, ash and tar that appreciating them was lost on me. And I'm certainly not the only drinker who has harbored those kinds of oversimplified perceptions, when it comes to scotch.
The second level of single-malt scotch appreciation, then, is to get a true feel for the character that tends to be present in each of the famous scotch whisky regions. Armed with this knowledge, when you discover a new distillery and see that it is, for instance, a Speyside or Lowland single malt, you can usually draw upon the basic tenets of those regions to let you know what to expect. Of course, this is more helpful with some regions rather than others, but we'll get into that in a moment.
Along with a basic profile of each region's whisky, we'll include a number of the most prominent single malt distilleries from each region. If you can assemble them all for a tasting, it will represent the most efficient way to truly sample malts from the whole of Scotland, deepening your scotch knowledge (and appreciation) in the process.
---
Speyside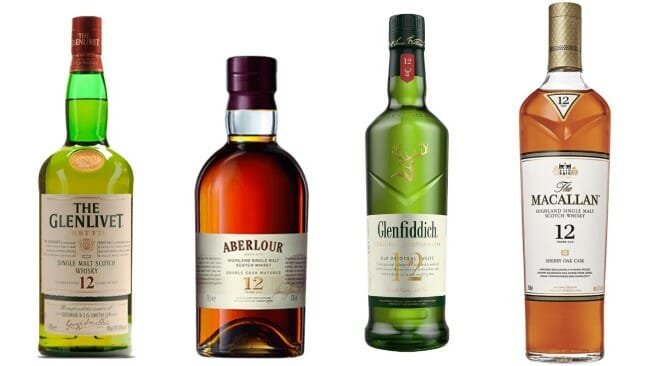 The Speyside region accounts for a very small land area, but it is by far the most densely packed region of distilleries in Scotland (more than 50 of them), hugging its northeast coast. Filled with rivers and valleys, its "glens" give their name to quite a few of the world's better-known single malt brands, from Glenlivet and Glenfiddich to Glenfarclas or Glen Grant. There are indeed many "glens" in the scotch world, although it should be noted that you can't simply see "glen" and assume that any given malt is from Speyside. This region is a powerhouse in terms of outright production, containing the two biggest single malt producers in the world (Glenlivet and Glenfiddich), and ultimately accounts for more than 60% of Scotland's malt whisky production. Understandably, it's a very dense area for scotch whisky tourism as a result.
In terms of character, Speyside single malts run counter to the simplified, caricatured idea that my younger self once possessed of scotch as a one-dimensionally "smoky" beverage. Indeed, few of these malts show any real peat/smoke presence as all. Classical Speyside single malts in the vein of The Glenlivet are often comparatively light on the palate, with prominent grassy/fresh aromatics and light fruit flavors, along with balanced residual sweetness, although some, like The Macallan, are known for their richer malts. Note, however, this is only characteristic of Speyside single malts aged solely in used American oak—the area is also home to many distilleries (like The Glenrothes, or Aberlour) that specialize in malts matured in fortified wine casks such as sherry or port. These Speyside single malts are far richer, sweeter and fruitier, redolent in nutty aromas and all the qualities they've picked up from consorting with fortified wine.
All in all, though, Speyside often makes for an ideal starting point in scotch whiskey exploration, being home to many inviting malts both in the light-and-grassy or rich-and-fruity molds. If your palate is sensitive to smoke, and you've always avoided scotch as a result, a Speyside malt may very well make you reconsider things.
Notable distilleries: The Glenlivet, Glenfiddich, The Macallan, Dalwhinnie, Aberlour, Balvenie, and many more.
---
The Highlands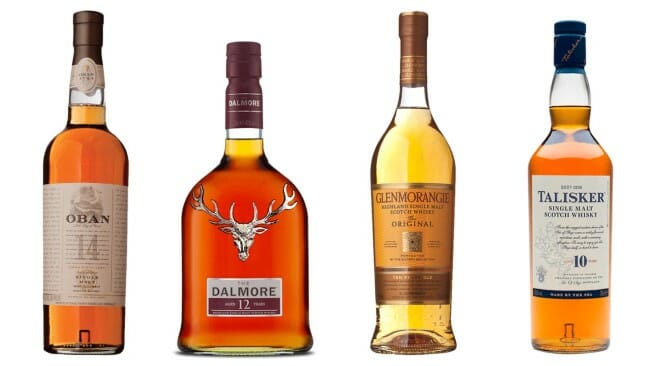 The Highlands is the most complicated of all the scotch regions to describe, precisely for the fact that it's so physically large and geographically uneven, which makes for variety. Single-malt whiskies from distilleries in The Highlands cling more to sub-regional molds than an overall profile for the entire region, which is only complicated further by the traditional inclusion of The Islands—another small group of island distilleries off the western and northern Scottish coast that excludes one major island in the form of Islay, which is considered a region all on its own. At the end of the day, however, The Highlands are the second largest region in terms of overall single malt production.
Northern Highland distilleries are among the most famous in all of scotch whisky, with the likes of Glenmorangie and The Dalmore producing malts that are full-bodied and on the richer, sweeter side. The East and the South, by comparison, tend to produce somewhat lighter bodied or drier drams such as Glengoyne, although you will also find sherry specialists here as well, such as The GlenDronach. Western Highland distilleries, on the other hand, such as Oban (by far the most prominent), sort of split the difference between Islay and Highland malts, featuring considerably more peaty/smoky balance. You might consider a classic malt like Oban 14 something close to the sum of all scotch region influences: A little fruity, a little sweet, a little peaty, a little something for everyone.
Trying to lump together all of the malts from The Islands, meanwhile, is likewise difficult, as they vary almost as much between them as all the rest of the malts within The Highlands. They range from the fruitiness of Tobermory to the nuttiness of Jura, the smoke and brine of Talisker to the relative balance of Highland Park. The presence of salinity/"sea air" notes are the most common unifying characteristic, however, and most have at least a moderate peat/smoke presence, making Island malts the second most peat-prominent group overall, after Islay.
Notable distilleries (Highlands): Glenmorangie, The Dalmore, Glendronach, Oban, Aberfeldy
Notable distilleries (Islands): Arran, Jura, Tobermory, Highland Park, Talisker
---
Islay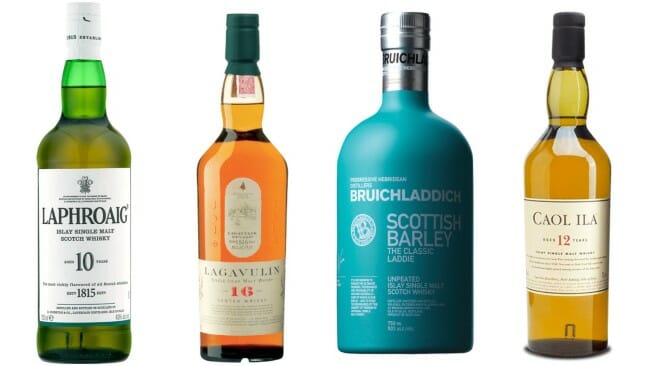 If you ever nipped a bit of your father's scotch as a kid, only to recoil in horror from a taste that struck you as reminiscent of liquid cigar smoke, then chances are good he was a fan of Islay single malts. Suffice to say, the heavily peated, smoke-forward drams most associated with this particular island region make for some of the most intensely flavored whiskies in the world, and they are certainly an acquired taste for many. In a way, those tastes tend to be acquired in much the same way as a craft beer drinker develops a taste for un-intuitive sensations, such as the bitterness of hops in an IPA—slowly, as the palate becomes acclimated to the bombastic flavors of heavily peated malt and is able to discover the subtleties underneath. To some of those drinkers, heavily peated Islay malts become more or less their sole definition of "scotch."
Of course, this is not to say that the Islay region produces solely smoky, peaty single malts, because there are indeed some bottles from the likes of Bruichladdich and Caol Ila that are entirely unpeated, and many of the distilleries produce unpeated malts that are locally available in Scotland. However, these bottles are in the minority, and the "standard" Islay single malt is much closer to flagship products out of distilleries such as Laphroig, Lagavulin, Caol Ila and Ardbeg—all of which are "smack you in the face" smoky. A few other notables, like Bunnahabhain and Bowmore, offer somewhat more balanced profiles in their peated malts, for someone looking to dip a toe into Islay single malts without seeking a true peat bomb.
As for what "peat" actually tastes like, it is often described as having a pervasively "medicinal" flavor, reminiscent of both iodine and the vegetal notes of seaweed. Combined with the omnipresent salt air, the characteristic peatiness of Islay malts contributes to their impression of being "maritime" scotch, and you'll see phrases like "tarry rope" to describe them, that a sailor might be expected to identify.
The bombastic flavors of Islay single malts carve out a big reputation for themselves, to the point that many scotch novices erroneously assume that all scotch is made in this image.
Notable distilleries: Lagavulin, Laphroig, Ardbeg, Bunnahabhain, Bowmore, Bruichladdich, Caol Ila, Kilchoman
---
The Lowlands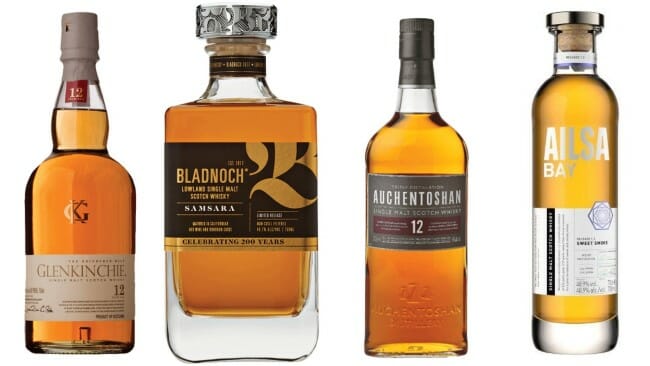 Between the classically milder profile of their malts, the fact that the region is better known for grain or blended whiskeys, and the relative lack of currently operating distilleries (only seven these days), the Lowlands region doesn't quite receive the attention possessed by Speyside, The Highlands or Islay. Despite being the second largest region in terms of area, taking up the lower half of mainland Scotland up to the border with England, the distilleries here are few and far between, without nearly the density seen in other areas.
So too do the Lowland malts tend to be a bit on the unobtrusive side. Historically, the region was associated with the type of triple distillation seen in the Irish whiskey industry, which removes a vast majority of the grain-derived flavors of a malt whisky in the pursuit of a more neutral "smoothness." Today, that triple-distillation tradition has mostly disappeared, with the exception of Auchentoshan, one of the region's best-known distilleries, whose triple-distilled drams are light and approachable to the point that it's referred to as "The Breakfast Malt." Lowland malts were also traditionally unpeated, although modern experimentation (as at Ailsa Bay, in Girvan) has begun to bring a more peat-driven substyle into existence.
All in all, though, Lowland malts from distilleries such as Auchentoshan, Glenkinchie, Bladnoch and Daftmill are known for their elegant and approachable, honeyed, floral or cereal-driven flavors, and are often recommended as potential entry points into scotch whisky exploration for new drinkers.
Notable distilleries: Auchentoshan, Glenkinchie, Bladnoch, Daftmill, Ailsa Bay
---
Campbeltown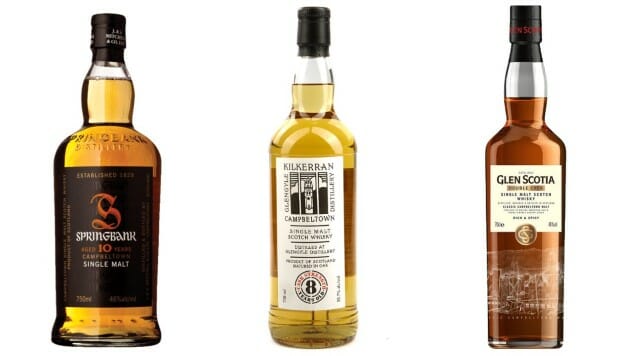 The Campbeltown region, located entirely on the small Kintyre peninsula of Southern Scotland, is classically included among the five traditional scotch whisky regions, despite the fact that today, there are only three operating distilleries that remain in Campeltown: Springbank, Glengyle and Glen Scotia.
Once, this was far from the case, as the small area was one of the most densely packed of distilleries in Scotland, with more than 30. However, the mid-1800s collapse of the whisky industry hit Campbeltown harder than other areas, and subsequent decades saw the slow closure of various old distilleries, until only a handful of the most resilient were left.
What that gives us today is Scotland's smallest whisky region in terms of production, which is really too small to give Campbeltown an archetypal "style" to its various malts. Even within one distillery, like Springbank, three very different whiskies are produced, which run the gamut from rich and fruity to peaty and dry. Glen Scotia, on the other hand, produces lighter and more grassy whiskies that have more in common with Speyside malts, while Glengyle may seem more like a Highland single malt purveyor. Together, they keep the flag flying for Campbeltown as a region, but it will be interesting to see if newer distilleries will be able to complete a revival in this region. As is, Springbank and Glen Scotia lead the way as the old warhorses of the region.
Notable distilleries: Springbank, Glengyle, Glen Scotia
---
Jim Vorel is a Paste staff writer and resident brown liquor geek. You can follow him on Twitter for more drink writing.