Tasting Six Whiskeys From NYC's Kings County Distillery
Photos via Kings County Distillery
Drink
Features
whiskey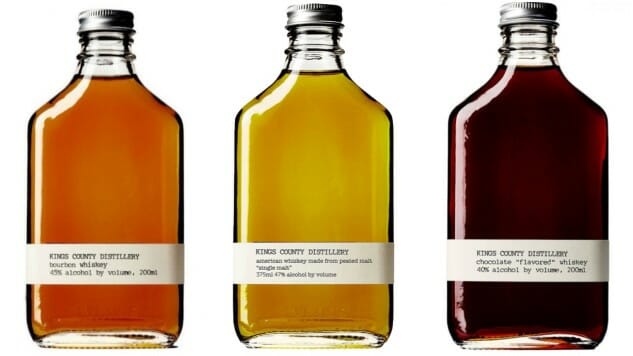 Since it first opened in 2010, Brooklyn's Kings County Distillery has been known for a few things. Their small, distinctive, minimally labeled flask-like bottles were released in unusual 200 ml and 375 ml sizes, implying both a premium product and an ease of transportation that was intended to be an organic fit in the distillery's urban NYC setting. It was a decision tailored around the brand's local customer base, which was so often purchasing bottles of liquor on foot and then carrying them to their homes or apartments. But as the company grew, expanded its distillation operation and eventually reached distribution in 20 states, it became clear that it was time for Kings County Distillery to grow up, in a sense. They're not just an "NYC distillery," anymore. They're regional and national players.
To that effect, the distillery has announced their first release of traditional, 750 ml bottles, still keeping the distinctive, flask-like bottle shape they're known for. The distillery's straight bourbon, peated bourbon and single malt whiskey will be the first brands to get the upscaled treatment, with MSRPs that range from $69-75; better deals per ounce of booze, but certainly in the more expensive, premiumized space that younger bourbons can only be expected to occupy in the world of microdistilleries, where it's understood you'll be paying extra.
As Kings County readies itself to expand its production "five-fold over the next few years," according to the company, this seemed like a good time to reevaluate the whole lineup of whiskeys, at a glance. The distillery sent over a collection of six very different whiskey samples, including the straight bourbon, bottled in bond bourbon, straight rye, peated bourbon, single malt whiskey and "chocolate whiskey." So without further ado, let's get to tasting and rating.
---
Kings County Straight Bourbon Whiskey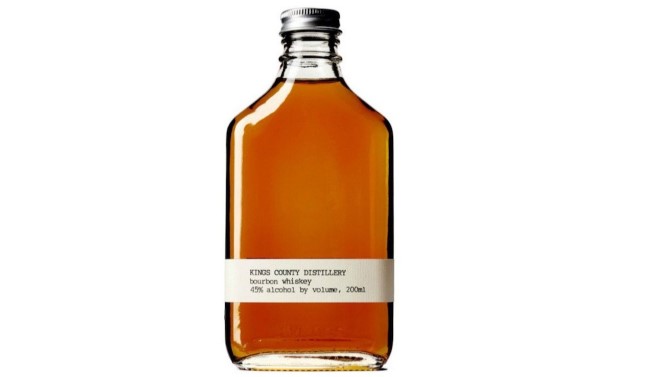 The backbone of the company is their original straight bourbon whiskey, made with a mash of corn and malted barley—there's no mention of either rye or wheat on the company website, which is a tad unusual. The description also uses the phrase "small barrels," implying that their bourbon is matured in vessels smaller than the standard, 53-gallon American oak whiskey barrel, which speeds up the maturation process through increased surface area contact with the wood—something that, in my experience, is sometimes successful and sometimes the source of unpleasant astringency. Regardless, as a "straight" bourbon, this is aged for at least two years, and is bottled at a respectable 45% ABV (90 proof).
On the nose, I'm getting impressions of crisp red apples, cinnamon, ginger, pepper and a good degree of baking spices. It certainly is more spice-forward than most two-year-old bourbons would be expected to be, although the ethanol character on the nose is slightly harsh and solventy. On the palate, however, this alcohol presence is negligible—indeed, I'm shocked by just how easily this bourbon drinks. Its oak character is somewhat on the green side, but assertive impressions of baking spices, salted caramel and toffee are really the stars of the show, making for a profile that is slightly "molasses cookie" in terms of character. Combined with moderate residual sweetness and a remarkably restrained level of heat, it makes this bourbon seem like it would be a real crowd pleaser.
Rating: 7.8
---
Kings County Bottled-in-Bond Bourbon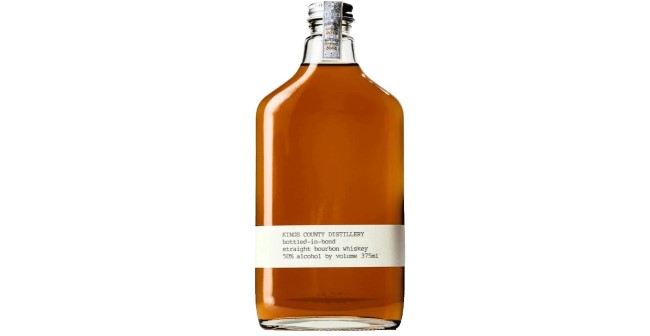 We hopefully don't need to explain the definition of the bottled-in-bond distinction at this point, beyond stating that it means a bourbon that is at least four years of age, from a single distilling season, and bottled at 50% ABV (100 proof). In the case of Kings County, that means the BiB bourbon is serving as the premium version of their flagship product; something that has become very common among microdistilleries that have now been around for more than half a decade. The BiB label in general has been reclaimed by these younger distilleries, moving it away from an association with bottom-shelf "value" bourbons from major distillers and in the direction of premiumized products.
For Kings County, though, the smaller jump in ABV, considering that the straight bourbon is already bottled at 90 proof, makes for a less dramatic difference between the two bottles than you likely would have seen otherwise. Compared with the straight bourbon, the BiB release is more fruit-forward on the nose, with impression of cherry and plum. On the palate, I get a lot of caramel and biscuit, with a graham cracker-like sweetness and impressions of caramelized apple pie filling. Cinnamon and Werther's Original candies are big on the finish, while the alcohol is a bit more expressive than in the straight bourbon, but still quite tidy for 100 proof. All in all, it's a very solid BiB bourbon that would probably make a bang-up Old Fashioned.
Rating: 8.0
---
Kings County Peated Bourbon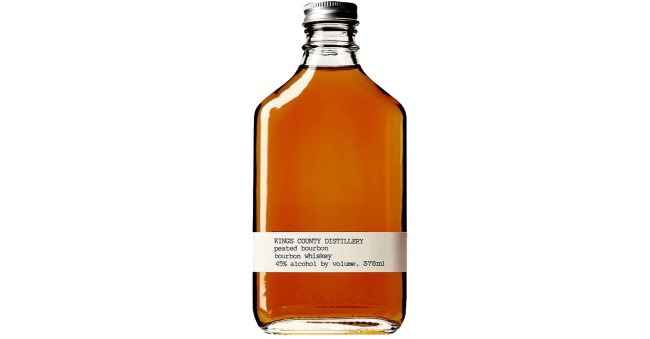 "Peated bourbon" isn't exactly something you see on the regular, even in a microdistillery landscape where scotch-style "American single malts" have gained plenty of traction. This appears to be exactly what you'd expect it to be, though: Simply a bourbon mashbill, wherein a portion of the malted barley presence is peat smoked. Just because it's not common doesn't mean it has to be particularly complicated. Like the straight bourbon, it's bottled at 45% ABV (90 proof).
On the nose, this is fairly "doughy" in character and a tad musty, and not really as smoke forward as I was expecting. I'm fine with that, being more sensitive in general to smoke flavors than many tasters seem to be. The nose reminds me a bit of a wheated bourbon, without as much suggestion of sweetness, or of an American single malt.
Like several of the other whiskeys, I'm immediately struck by the very light and well-integrated alcohol presence here—Kings County seems to have figured out how to present their younger whiskeys at a respectable proof with very little "raw ethanol" detractors, which is a feather in their cap. On the palate, I'm getting biscuity/doughy malt impressions, honey sweetness and a light, well-calculated level of smoke and peat. In general, I'm struck also by how malt-forward this seems to be, coming off more like a malt whiskey than a bourbon, in my estimation—it has been transformed in an interesting way. The level of peat assertiveness is dialed in to a good place, although I expect some drinkers would expect it to present itself more strongly. All in all, this is fairly well realized, although it sort of falls into the "who is this for, exactly?" category, especially given that Kings County also produces a peat-heavy single malt. The Peated Bourbon, on the other hand, is more for drinkers who want a little taste of the peaty scotch profile, without fully committing to it.
Rating: 7.6
---
Kings County Single Malt Whiskey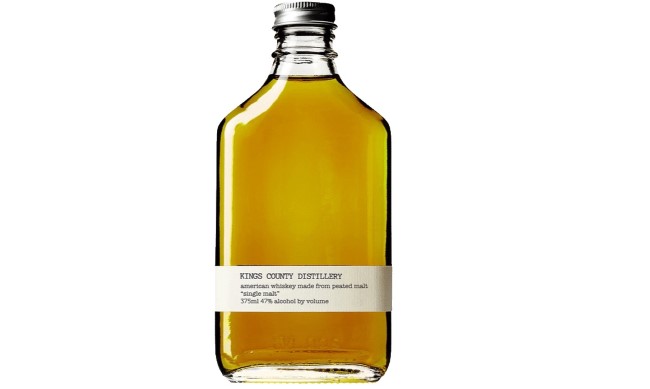 "American single malt" is a style that has been widely embraced by micro-distillers, although it isn't quite clear, in my opinion, whether the average whiskey drinker truly understands what it means quite yet—or whether they're interested in scotch-style whiskeys made in the U.S., often with newly charred barrels rather than the traditional used barrels, which can result in very different profiles. Kings County, to their credit, keeps this one pretty traditional, aging their all-malt whiskey in the used barrels that previously matured batches of their straight bourbon and BiB bourbon. It lands in between them in terms of strength, at 47% ABV (94 proof).
On the nose, this whiskey (it is indeed still "whiskey" with American single malts, not "whisky") features fairly subtle aromas of clover honey, green apple and earth peat/brine, without being super assertive, ending on malty notes and biscuit/shortbread. It strikes me as noticeably more "scotchy" on the nose than many of the other American single malts I've sampled, which tend to contain a lot of bourbon characteristics.
On the palate, this is a considerably more explosive dram than the nose initially suggested. Fairly strong smoke and intense earthiness are the feature here, as this is heavily peated in comparison with the peated bourbon, to the point that it's a bit overbearing to my palate. This isn't exactly the fault of Kings County, as I seem to be more sensitive to smoke than most, but if you prefer fruity or grassy Speyside or Lowland scotches, this isn't likely to be to your taste. Eventually, the smoke subsides, letting you get at notes of biscuit, honey and orchard fruit, but it's hard to look past the brashness of the iodine and peat. I recognize that there are drinkers who will be all about this, but for me it's just too unbalanced.
Rating: 7.0
---
Kings County Empire Straight Rye Whiskey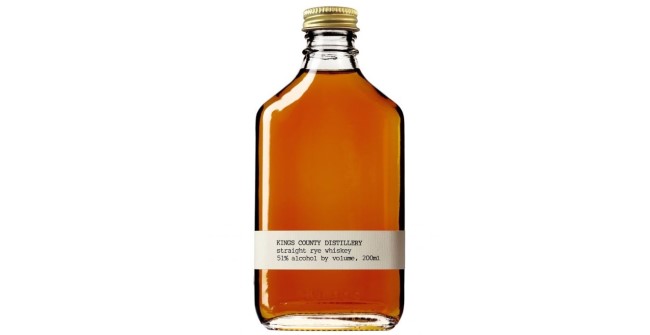 Of all the samples presented by Kings County, it was the straight rye that was ultimately the stand-out, for me. Featuring a very high proportion of rye and a smattering of English barley for balance (no corn here), this bottle is a beautiful celebration of rye grain that tastes quite a lot older than its two years. It's bottled at a cocktail-friendly 51% ABV (102 proof).
On the nose, this rye is expressive and in your face, with big notes of green apple, mint, cinnamon, dusty rye grain and black pepper. On the palate, it follows up with intense baking spices, moderate sweetness, expressive "char" character and deeply caramelized notes of custard and caramel. Suffice to say, this one is very much in my personal rye whiskey wheelhouse, with moderate heat, balanced sweetness, a hint of smoky char and a big focus on toasted holiday spice notes. It can boast a long finish, in which those spice notes of cinnamon, nutmeg, ginger and Chinese five spice slowly ebb and fade out over the course of a few minutes.
Suspecting that this would probably be an excellent whiskey for classic cocktails, I made up a black Manhattan with it, and yep—it's assertive enough for its spice notes to shine through the other ingredients, making a wonderfully characterful cocktail. The fact that this one is only two years old is very impressive—I'd love to sample it with double or triple the age on it some day. This should absolutely be the next whiskey that Kings County gives the 750 ml bottle treatment.
Rating: 8.5
---
Kings County Chocolate Whiskey
From the best, to the … uh, not so best. This Chocolate "Flavored" Whiskey (the air quotes are present on the bottle) is an ambitious experiment on the part of the distillery to say the least, but it's my duty to report that it doesn't work at all. The distillery says the following: "Kings County's Chocolate Whiskey infuses our Moonshine with ground cacao bean husks from Mast Brothers Chocolate, whose factory is nearby. Bitter and surprising, this rich whiskey tastes like dark chocolate and works great in cocktails or on its own as an after-dinner drink."
The cacao nib thing makes sense, as this is exactly what I wrote—it has the strong nuttiness of unprocessed cacao nibs, except it comes off with the intensity of an artificial extract of some kind. On the nose, it reminds me of a fudge Pop-Tart and dark fruit compote of some sort, which probably sounds nice, but is gaggingly strong in practice. On the palate, the texture seems oddly gritty to me, as if there are still tiny bits of cacao nib in suspension. In general, this just doesn't work for me at all—it is absolutely overpowered by the chosen flavor, and I found it more or less undrinkable.
With that said—hey, it's a novelty product, not some kind of core expression. They'll find people out there who like this; it just won't be me. Leave me with more of the Empire Straight Rye, and I'll be very happy.
Rating: 4.0
---
Jim Vorel is a Paste staff writer and resident brown liquor geek. You can follow him on Twitter for more drink writing.