Tasting: 2 Noble Oak Whiskeys (Double Oak Bourbon, Double Oak Rye)
Photos via Noble Oak Whiskey
Drink
Features
whiskey
Sometimes, when a whiskey pitch ends up in my inbox, I know that it will end up being an interesting tasting regardless of the relative quality of the spirit, simply because of the novel techniques, or mission, of the distillery in question. Noble Oak Whiskey is absolutely one of those situations–a company with an absolutely commendable ethos and mission, coupled with a decidedly unusual (and proprietary) way of making bourbon and rye whiskey. Effectively, what we have here is an experiment in producing flavors that replicate well-aged, "finished" whiskeys involving sherry and port casks, albeit done at a budget price with non-age-stated whiskeys.
Couple that with an ambitious environmental mission statement, and you have an interesting company. Noble Oak Whiskey is dedicated to the transformative power of wood and wood barrel aging, so they complement the wood-focused side of their aging system with an initiative to plant one tree for every single bottle sold, in the name of sustainability. This is no small program–by the end of 2023, Noble Oak plans to have planted more than 1 million trees to date. That's absolutely something to be applauded.
On the whiskey aging side, meanwhile, Noble Oak Whiskey is effectively trying to transform young bourbon and young rye into something more than how it began. They say they source their spirit from a "partner location" in Indiana, which almost certainly means MGP, but notably the label does not read as "straight bourbon" or rye, meaning this spirit may possibly be under two years of age, and definitely less than 4. However, it is then transformed through the use of the proprietary "WoodCraft" process, which apparently involves not only the insertion of staves of sherry oak or port oak casks, but heating and pressurization that is used to physically force the spirit more deeply into the staves during what is presumably a short finishing process. As any whiskey geek would tell you, this is a thoroughly untraditional process, but an interesting way to potentially speed up the maturation process. Does it yield better results than other methods, such as smaller barrels, or "honeycombed" barrels that increase surface area? We'll taste and see.
So with that said, let's taste these two Noble Oak Whiskeys (Double Oak Bourbon, Double Oak Rye), which both have MSRPs of $35.
---
Noble Oak Double Oak BourbonABV: 45% (90 proof)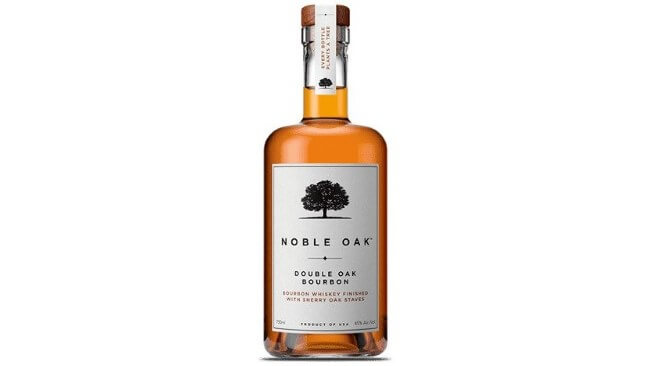 Each of the Noble Oak Whiskeys here have been paired with a different type of stave–the young bourbon with staves from sherry casks, and the young rye whiskey with staves from port casks. The nose here is interesting–sweet and rich in character, it gives off aromas of toasted grain, dark fruit and distinctly vinous tones, with brighter citrus underneath. At the same time, it seems a bit overtly boozy for the relatively lower proof, possibly a function of its age, or lack thereof. I'm also getting honeycomb, and maybe traces of dried herbs. Overall, the nose doesn't necessarily say "youth," though, which is impressive on its own.
On the palate, things start to turn in a particularly saccharine direction. This is quite sweet and syrupy in texture, with big, macerated dark fruitiness and tons of vanilla extra. I'm also getting ginger snaps and cinnamon brown sugar, and again it's a little hot in terms of ethanol presence for the proof point. The sweetness becomes really the star of the show, pushing past merely sweet and into distinctly "sugary." It's not a terribly, overtly artificial seeming sweetness, but there's a certain, nebulous oddity to it. I don't know quite how to categorize it, because I feel that some drinkers likely wouldn't note that sweetness at all, but some others might find it a little unnerving.
At the same time, I think Noble Oak should get some credit for genuinely transforming the spirit they've been given, because this doesn't really seem like young MGP bourbon to me. It's been made more mature, but also slightly uncanny at the same time.
---
Noble Oak Double Oak Rye WhiskeyABV: 48% (96 proof)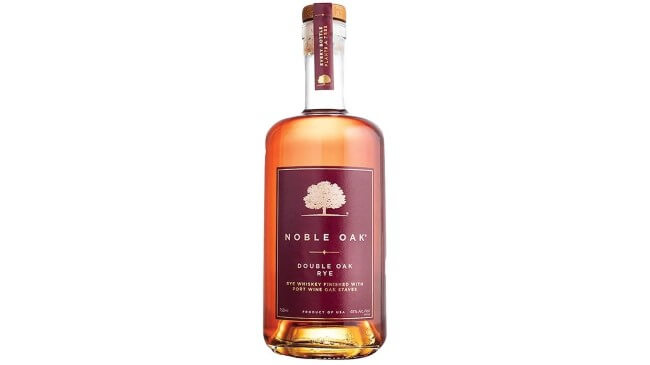 Noble Oak's rye whiskey gets the port cask stave treatment rather than the sherry cask one, and it gets a nice bump in proof point at the same time as well. Like the other bottle, this has been finished with the brand's proprietary "WoodCraft" process, to force as much interaction with the port cask staves as possible during its secondary maturation.
And woah, folks, it's safe to say that they definitely forced some interaction here. The nose is again intriguing, with significant earthy rye and some herbal tones, paired with faint dark fruit and a little leather, along with an unexpected and slightly odd bit of cola spice. On the palate, though, this one explodes–it has been deeply infused with the pot cask oak, much more dramatically than the bourbon's sherry finish. Deep molasses and brown sugar are joined by syrupy dark fruit (blackberry compote), and then coupled with intense baking spices and sticky maple sweetness. There are huge, French oak-type spice notes that along with the sweetness are a little on the overwhelming side at times. The bombastic flavors largely hide the underlying rye whiskey underneath, turning this into a finishing wood showcase.
Again I find myself torn as I try to evaluate such an odd, novel spirit. Noble Oak genuinely does offer a pretty good facsimile of a well-aged spirit that is then finished in a fortified wine cask, and they're doing it at a value price point. But at the same time, the uncanniness is still there, manifesting as excessive sweetness and bombastic wood and spice flavors, which I think would probably turn off some palates more appreciative of subtlety. At the same time, I think there's a large segment of drinkers would would probably love the sweetness and intensity of flavors, especially given the price point. At the end of the day, I have a feeling that Noble Oak Whiskeys would probably generate some divisive ratings, but they're probably the sort of experiment you'll know if you're going to appreciate before you ever raise the glass to your lips. At $35, you can try it for yourself without much risk.
---
Jim Vorel is a Paste staff writer and resident beer and liquor geek. You can follow him on Twitter for more drink writing.