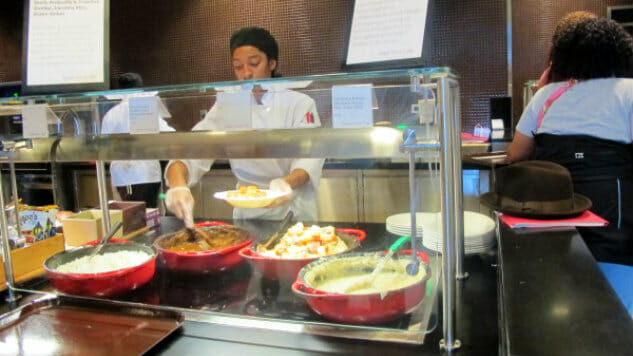 There is a massive 360-degree video looping — a video that ends with former President Barack Obama saying, "Obama out," and then literally dropping the mic. That's the equivalent power with which the Smithsonian National Museum of African-American History and Culture (NMAAHC) proves how essential African-American foodways have been to the development of American culture.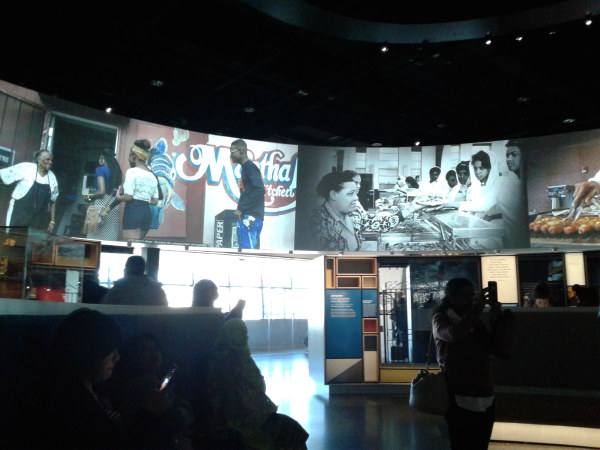 For hundreds of years, African-American chefs, street vendors, store owners, farmers, sharecroppers, wage laborers and diners have been making American food what it is. That food history is vividly brought to life by the museum's displays, as well as in the dishes of the Sweet Home Cafe, the delectable museum cafeteria divided by geographical sections of food. There, I sampled, from food traditions spanning the country, the perfectly al dente hoppin' john, the comforting greens, the tender pulled pork and the flavorburst of gumbo.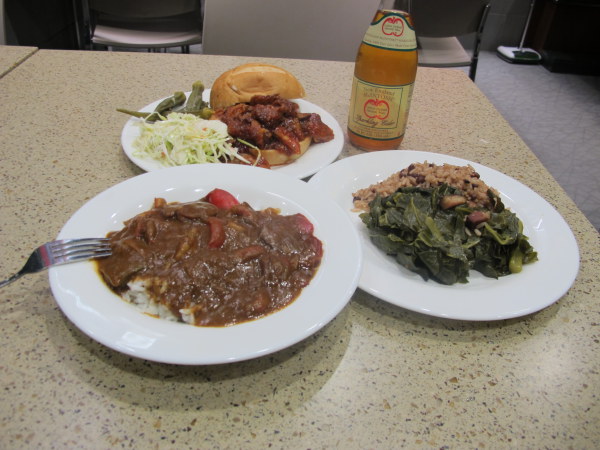 At NMAAHC, you'll find that the very words we use for food are imbued with African languages, including the words "yam," yambi in Mende, "goober," nguba in Kimbundu, and "gumbo," gamba in Umbundu. Just a few feet away, visitors learn about the cuisines of African-American chefs, from Joe Randall to Leah Chase to Edna Lewis, who carried the history of their inherited foodways into modern American food culture. As detailed by Adrian Miller in his recently-released book, The President's Kitchen Cabinet: The Story of the African Americans Who Have Fed Our First Families, from the Washingtons to the Obamas, the food service members of the White House have long brought African-American traditions to the forefront of American dining culture.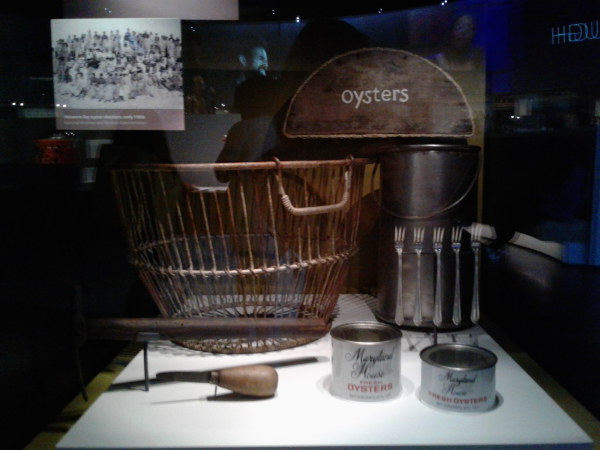 In the Food and Foodways Exhibition, visitors learn about oyster farmers and vendors. Oyster baskets, shuckers and forks from the forties and fifties were displayed, along with a photo of Delaware bay oyster shuckers from the early 1900s. "Along the East Coast, African-Americans worked on schooners as hired captains, operators and crew; hogged or gathered oysters along the shore; and planted, harvested and shucked them for oyster companies," the placard detailed. African-American street vendors served oysters every which way, stewed, fried and raw, and America couldn't get enough of the briny delights in the late 1800s and early 1900s.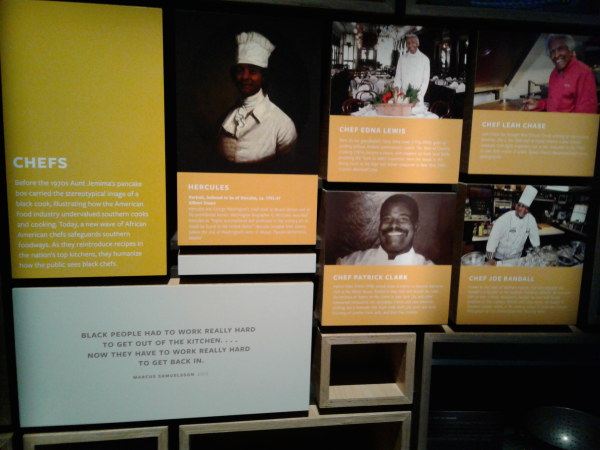 Food artifacts were sprinkled throughout the museum, including a Florida Avenue Grill pot used to cook traditional African-American greens for over 20 years; a red chef's jacket from Dooky Chase's, Leah Chase's legendary restaurant; and a copy of A Taste of Heritage: The New African-American Cuisine by Joe Randall. These small pieces of memory bore testament to the obscured role African-American chefs played in developing America's food culture. "For decades, chefs, food critics and writers neglected Southern cooking," the placard read. "Edna Lewis's books, including In Pursuit of Flavor, drew attention to Southern foodways in the 1970s and 1980s." Nearby, a beautiful fleur-de-lis artwork made by Myesha Francis from red beans and rice illustrated the painful and difficult, yet beautiful and nourishing, history of these two African-American foods in the context of New Orleans and Louisiana.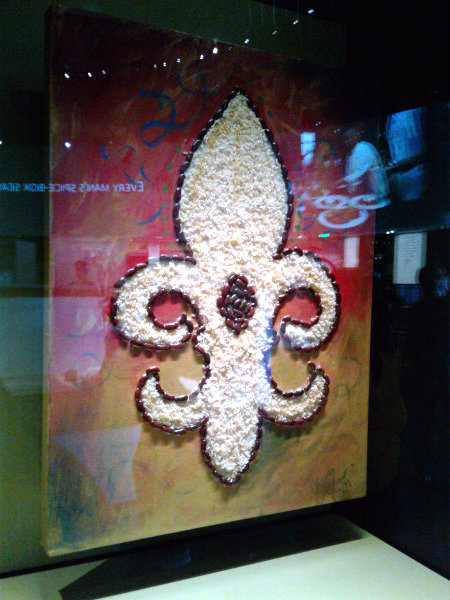 On the education floor, visitors could sit in a classic car with a touch display that allowed them to simulate the experience of driving across America as an African-American during Jim Crow. Options were often limited for a meal, lodging, or using the restroom, and when the cold shoebox lunch ran out, sometimes African-American drivers would go without food or a place to sleep. Eventually, The Negro Motorist Green Book was established to give African-American drivers an idea of where they could find a hot meal.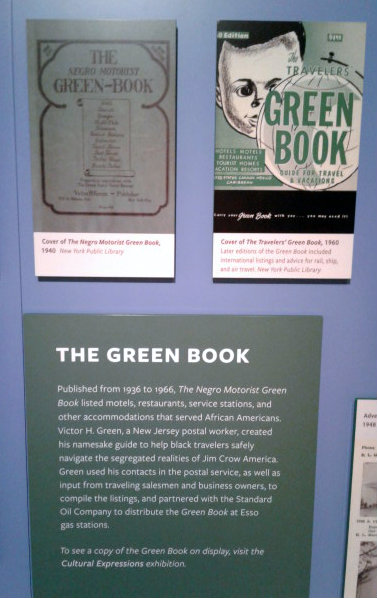 In the basement's historical interactive exhibit, visitors could participate in a lunch counter strike, demanding to be served food just like other guests and refusing to leave even when other patrons inflicted violence upon them in the restaurant. One floor down, a replica of a slave shack displayed daily living for antebellum slaves, including a storage jar for grains and liquids from 1852 and an iron pot for stewing food, from cornmeal to rice seasoned with a bit of pork fat, since slaves did not have access to cuts of meat. "Creative cooking helped nourish enslaved families," the placard read. "Inadequate food supplied by slave owners provided only two-thirds of the calories necessary to sustain a hardworking adult. Often working in the dark after a long day in the fields, African-Americans hunted, fished and grew vegetables and medicinal herbs to keep themselves strong."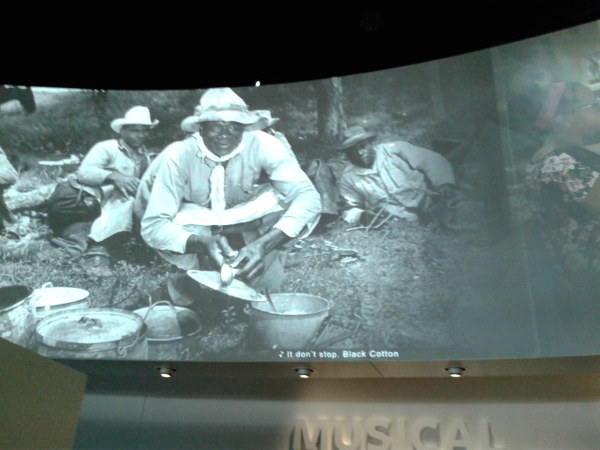 The heritage and legacy of African-American farmers has mostly been ignored, though the farmland between Maryland and Texas was caretaken by African-American slaves. "Much of America's most fertile farmland from Maryland to Texas was cultivated with the knowledge and skill of enslaved African Americans," the placard detailed. "Many died from the hard labor. Under harsh conditions, they turned swamps into fields, controlled rivers with large dams and levees, and expertly planted and harvested tobacco, indigo, rice, cotton, sugar and corn. Their labor fed, clothed and financed America."
For that reason, and for so many others, the NMAAHC is an important visit for all American food lovers, and for every visitor to D.C. Tickets are extremely limited online, but a visit to the museum around 12:30 p.m. can sometimes yield an entry via the standby line. The museum's first special exhibition, "More Than a Picture," featuring photographs from 19th-century daguerreotypes to contemporary digital prints, opens May 5.