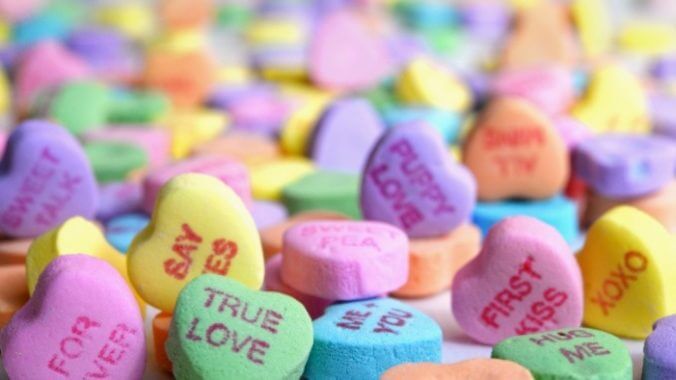 To all the people who are undoubtedly obsessed with me and are just waiting until Valentine's Day to make themselves known, I'm giving you the cheat codes. They say the way to the heart is through the stomach, and that's certainly the case when it comes to Valentine's Day candies. Unfortunately, a lot of holiday-themed candy is sub-par and is bound to be thrown in the trash after the grateful giftee braves a bite or two, only to realize that it tastes of sugar and not much else. On the other hand, some Valentine's Day candy is truly a treat I wish we could savor year-round.
I've done the hard work of rounding up some of the best Valentine's Day candies on the market, as well as some of the worst. Let's take a closer look at the winners and the offenders.
---
Worst: Swedish Fish Hearts
Swedish Fish are already notoriously unenjoyable, with their plastic-y texture and weirdly medicinal taste. But because of their iconic shape, they've managed to survive. I can honestly say I've never enjoyed eating a Swedish Fish, but they still seem like an essential for any good snack board or movie night. Take away the shape, as is the case with Swedish Fish Hearts, and it's a pointless purchase.
---
Best: Chocolate-Covered Strawberries
If you ask me, chocolate-covered strawberries are the essential Valentine's Day treat. How can you not like juicy strawberries covered in a thin layer of rich dark chocolate? (In my mind, milk chocolate is not an option here.) Although you can buy them pre-made, they're exceptionally easy to make at home, which makes them perfect for a Valentine's Day celebration on a budget.
---
Worst: Brach's Cinnamon Imperial Hearts
I've never been a big cinnamon person, so Brach's Cinnamon Imperial Hearts are the last thing I want to be snacking on during the most romantic day of the year. They have that distinct cinnamon spiciness to them, but they're so sweet that you can't even really enjoy it.
---
Best: Conversation Hearts
Are conversation hearts particularly tasty? No. They taste like little more than sugar and a bit of artificial flavoring. However, they're one of my favorite Valentine's Day candies because they're just so iconic. What would the holiday be if it weren't for a box of these cute candies? You may not want to eat them, but getting a box of conversation hearts on Valentine's Day is undeniably fun.
---
Worst: Heart-Shaped Peeps
Do we even have to explain this one? Peeps, the signature candy of Easter, made the sad attempt to work their way into the Valentine's Day market. And because of that sin, some poor albeit loved person is going to have to pretend that they enjoy snacking on tasteless sugar-covered marshmallows forced into the shape of a heart.
---
Best: Reese's Hearts
Reese's peanut butter cups are perhaps the world's greatest chocolate candy, so it's no wonder that the brand's heart-shaped peanut butter cups are no exception. Honestly, I prefer the texture of standard Reese's, but I'm not going to turn down salty peanut butter dipped into luscious milk chocolate in any form.
---
Worst: Chocolate Roses
Chocolate roses are undeniably cute, and they're a fun gift for a loved one who prefers food over actual flowers. But most of the time, the chocolate in these things is pretty bad. Every time I've had a chocolate rose, the chocolate has been exceptionally dry and way, way too sweet for just about anyone's palate.
---
Best: Lindor Raspberry Cheesecake White Chocolate Truffles
I'm not usually a white chocolate person, but even I can't get over how good Lindor Raspberry Cheesecake White Chocolate Truffles are. They're sweet and have that signature soft center that makes them such a hit. Add in the raspberry flavor, and it's easy to understand why they're a success. This candy doesn't sacrifice taste for appearance, but it gets high marks on both counts.
---
Worst: Heart-Shaped Boxes of Assorted Chocolates
It has to be said. Sometimes, these boxes of assorted chocolates can be solid. However, there's nothing worse biting into what you thought was supposed to be a chocolate-on-chocolate truffle only to find out that you must endure a mouthful of lemon-flavored créme. And this is coming from a person who's supposed to love you.
---
Best: Cordial Cherries
A juicy cherry bathed in liqueur and covered in chocolate? It's the ideal Valentine's Day gift. Personally, I prefer the alcoholic ones, but you can also find them in alcohol-free versions.
---
Samantha Maxwell is a food writer and editor based in Boston. Follow her on Twitter at @samseating.